Domain authority is one of the key elements of SEO. I hope you probably know what domain authority is? If you don't know, I recommend you read my earlier guide.
The best way to win the SEO game is to increase domain authority and earn high-quality backlinks. In fact, these components depend on each other.
I mean if you improve your backlink quality, it can increase your domain authority.
However, your question remains how to improve the domain authority.
In today's guide, I'm going to show you some best practices to improve your DA. I will also share with you some strategies that helped me increase my authority and traffic.
By the end of this guide, you will be able to increase your ranking by applying these methods.
Before joining this, I want to share with you a case study that helps you understand the impact of domain authority on ranking in Google.
CASE STUDY: I only analyzed single categories 'SEO' to get the curve, so don't compare it to other resources available on the web, such as Brian Dean's study of domain authority and ranking. He took all categories including SEO to achieve the curve.
To find out the effect of domain authority on ranking for specific category SEO. I analyzed over 3,000 URLs based on SEO keywords. My main objective was to calculate the competition of the SEO industry.
I came up with a lot of keyword ideas related to SEO and made a complete list of URLs.
Then I generated a curve, which clearly depicts the competition for keywords that contains SEO on the first page of Google. Let's look at the trajectory.
What do you understand from here?
The average domain authority of the URL is 65, which is very high. It may take 6 to 9 years to achieve this score. So, you can say that the SEO industry is ancient and relatively difficult as compared to other industries.

The average domain authority for a URL that ranks first on Google is 72.

The first page shows the difficulty for each location.

If you want to rank any keyword related to SEO (eg SEO Tools, SEO Strategy), then your site's DA should be above 50. This does not mean that you cannot rank for those positions with low DA. Some other factors affect your ranking. This curve only shows you the effect of DA.

I was surprised when I ranked some URLs with a DA of 27 for these same keywords. (Exceptional result!)
These are the results that I have obtained from the case study. Now you know the difficulty of the SEO industry and how high domain authority sites are involved in SEO. This is why you should improve your domain authority.
You should increase domain authority because it –
Improves your ranking

Increases traffic

Increases your site visibility

Boosts your trust score

A site with good DA can easily outperform other lesser DA sites.

If your site has a good DA score (DA 45 is good for the SEO category) and you write excellent content, there you are more likely to rank on Google.
Now, let's move ahead and learn how to improve DA quickly.
6 Ways That Will Inevitably Increase Domain Authority
Backlinks are the fastest way to increase DA. If you can make high-quality backlinks, you can definitely increase your DA.
But there are some obstacles which you may have to face: –
Newly Launched Website: When you create your first blog, no one knows you. Therefore, you cannot inspire anyone to mention them on their blog. When I started my blog, I was so lonely and baby, nobody knows me.

No one will link you to your blog until your site appears on the first page of Google.

Nobody believes you.

Even if your site is performing better in search results, it is harder to get high-quality backlinks.

No one accepts your guest blog offer due to low visibility and authority.
These are some of the common problems that every new blogger may face after launching a new site.
Now how can you gain that credibility so that people can find you and link back to you?
One solution is to create visual content, and the other is to create content that involves some real case study.
I'm not kidding!
Believe it or not, Monitor-Backlink has mentioned me because of my actual case study on the importance of backlinks.
These natural backlinks are awesome. The great thing is that you are not violating Google's link-building policy.
If you want to get mentions on official sites, you need to create your article that looks professional, in-depth, and has some unique visuals that people can't find elsewhere.
It makes your article visually appealing and unique which encourages people to mention you in their articles.
Now, I am going to reveal to you my three best strategies that I am currently working on, and I am sure these strategies will work for you too.
Create visuals/infographics: As I mentioned, visuals capture people's attention. So it is better that you create visuals of your existing article and share it on social media platforms. Especially on Pinterest.

Case Study: As you know the Internet has become one of the most important sources of knowledge. Here you can find anything you can think of. Therefore, it is impossible to create purely unique content. You can revise them only by revealing case studies, statistics, and your secrets.

Guest-O-Graphics: Like guest posting, guest-o-graphics is the best way to get high authority backlinks. It is straightforward, first search some official blogs and select any article then make infographics. Now send them an email to offer your infographic. And if you get a positive response you can ask them to mention your blog as a reward later. Guest-O-Graphics provides you with branded anchor text backlinks that are more valuable than bio anchor text.
Once you are on any good blog or site, this cycle goes on, and you will get better results.
If you follow these rules and successfully create backlinks, you can significantly increase domain authority.
Bottom line: Increase domain authority by creating infographics, case study posts, and guest-o-graphics.
2. JOIN FORUMS (LIKE QUORA & BLACKHATWORLD)
Some of you are wondering how Forum enhances DA? Let me explain to you.
By tomorrow, you might be thinking that forums help you create backlinks. But you know that you can increase your page authority by using forums which ultimately increases your domain authority.
I am saying this from my experience. But if you doubt me, here is my complete story with evidence.
Since 2016, I have been using Quora. So far I have answered more than 250 questions, and some of them have received extensive attention.
When I analyzed my site, I found that some posts are doing well. And when I checked the visibility of posts on search engines; I found QUORA with the same question that I have already answered. After opening that URL, I found my solution at the top. The response had 3000 views and six up-votes.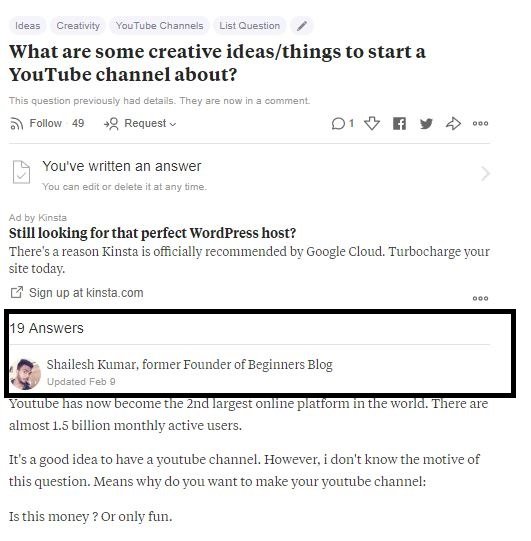 Now, I think you will believe me. So, here you have seen how QUORA helps me to increase my ranking and page authority which has ultimately improved the domain authority of my site.
3. FOCUS ON USER-EXPERIENCE
It has always been said that if you want to improve your SEO then pay attention to the user experience. The more knowledge you provide to users, the more Google will take you to the top which increases domain authority.
Every blogger/website should know about the user experience. Here are the best practices to improve UX.
More than 50% of the searches now come from Mobile devices, says Google
According to Global stats StatCounter.com, 51% of searches come from mobile devices.
Best practices to improve the mobile experience
Use responsive, dynamic serving, or parallel design model according to your business to provide the mobile-friendly

Use light themes.

Fewer plugins and popups.
#2. Loading Speed:
A slow-loading website harms your SEO efforts. So make sure you optimize your site for speed.
Follow these instructions to increase your loading speed
Use CDN: I prefer MAXCDN because it is cheap and reliable. After configuring my site with MAXCDN, my site loading time is reduced by 160%. Now my site is loading within 3 to 4 seconds. (How to configure WordPress blog with MAXCDN)
Minimize HTTP requests: When someone visits your site, the browser makes these requests. The number of requests depends on plugins, JavaScript, and images. The more elements you use, the browser sends more requests to the server which slows down your site. I suggest you use CSS sprites to combine multiple images with each other, shortening your HTML by removing comments and unwanted elements from the HTML source code.

Use professional Themes.
Attention: Free WordPress blog themes to start a professional blog
#3. Use Google Search console to tack your technical aspect of SEO
By now you have come to know the things that are under your control. But other things that are beyond your control.
How Google is rendering your page

Server errors

DNS error

Sitemap errors

Security issues

Indexing errors

Crawl errors
Google Search Console is a great SEO tool for webmasters to monitor the performance of your site. With this, you improve technically by fixing DNS, indexing, and crawl errors.
Google always encourages you to take corrective action to reduce further complaints.
If you do not care about these aspects, Google may discourage you from search results, and you may also lose both traffic and domain authority.
Now you can ask how you can make your site technically healthy.
A few steps that you can take to minimize technical issues: –
Choose website hosting wisely. For better server and 100% uptime I recommend you to use Bluehost, Hostgator, and Dreamhost. If your site runs any of these hosting companies, there will be very few server errors.

I recommend you buy the domain from Godaddy.

Yoast SEO plugin is one of the best plugins that can automatically generate SEO optimized sitemaps for your site which increases web crawling rate.

Visit Google Search Console on a weekly basis to see indexing, rendering, and crawl errors. If you find anything suspicious, check your robots.txt file to make sure that your site's resources are not blocked by Google bots. In addition, you can use the 'structure data' option to fix errors and improve the rendering of your site.

Secure your site with Wordfence, Sucuri, or Sitelock, and keep your site away from hackers. (How to remove malware from WordPress using Sitelock)
4. DISAVOW BAD LINKS
As you know, your site is visible to everyone. Anyone can share your website or submit your link on social media or any media platform, but some bad backlinks can harm your site authority. Therefore, make sure that you remove those backlinks immediately.
The disadvantage of bad linking
Toxic links reduce your domain authority and trust.

Google considers your domain less reliable and trustworthy.

The link profile looks spammy
It is difficult to check every link and disavow them separately. To make it easier you use tools like Ahrefs.
#5. SINGLE NICHE WEBSITE (increase your topic authority)
Google always prefers a single niche site at the top.
Still confused, don't worry. Let me explain to you…
If your site has multiple categories, Google splits your subject value, which decreases subject authority and reduces priority. This significantly reduces your domain authority.
So it is better that you choose a single niche and start working on it. This will help you increase domain authority faster.
#6. Share your content on social media sites
It is also a ranking signal. Google encourages you to share your content on social media as it not only increases your traffic but also helps you diversify your traffic.
The more people share your content, the higher authority Google will give you.
I use Facebook, Twitter, and Reddit to share my content. And I saw a significant increase in DA.
[See the proof below]
CONCLUSION
These six tweaks help increase my domain authority. I bought my domain in June 2017 and so far my DA is 23 which is not great but fine. I am sure, by using these tips you will undoubtedly increase domain authority.
If you are using any of these strategies, then share your experience…
If you like this article, please take a step to share it on social media sites [Facebook, Twitter, LinkedIn, Reddit, and Digg].