Would you like to start a blog?.
If yes, then you are in the right place.
In today's article, I will cover all the steps that you should follow to make a blog by following 3 easy steps.
So grab a cup of tea and start creating a professional Blog on WordPress.
If you are a newbie blogger, then first you need to ask some questions to yourself. Do I like writing? 
Before going to start your blogging career, you need to ensure whether you like writing or not.
Which one is the best blogging platform?
If you want to start a blog, then your first step would be choosing a blogging platform. There are plenty of blogging platforms like Blogspot, WordPress and Wix where you can start with. But As a blogger, I suggest You go with WordPress because it is popular among the bloggers and quite flexible to use. If you want to open an e-commerce Website, then you can go to Magento or Woocommerce or Shopify.
Which type of niche do I need to select?
Once you know the right choice, the next step is to go ahead and select the interesting topic and profitable niche that you're more interested in you and your readers as well.
How much money do I need to spend to set up a professional blog?
If you are financially weak, then you don't want to invest money. In this case, you can go with blgogers.com. But if you have little investment then WordPress could be a great place. It provides you with an opportunity to starts with 10$. As you know, the domain and Web hosting both are the backbones of your website. 
The domain name is an address to your directory so that search engines can find your content. For creating a blog on WordPress, you have to spend at least 10 to 20$ per month.
These questions may help you wash your mind. Now let's get started…
How To Start a Blog On WordPress In Next 30 Minutes
Here I walk you through a step-by-step guide to start a professional blog. 
WordPress.org is a self-hosted open-source CMS (content management system) that requires two initial things to start with. 
The first one is a Web Hosting and the second one is a domain name. 
I purchased And domain from Godaddy. 
1. BUY A DOMAIN NAME FROM GODADDY
The first step is to buy a domain. Godaddy is the most popular domain name provider company. You can choose any domain name that you want. But your domain name that is readable, short and clean.
Also Read: What you should remember before purchasing A Domain name for your blog
Sign Up to Godaddy.

Put the Domain name that you want and choose the extensions like .com, .org etc.
Click on search domain button and get your domain availability. If your domain is available, you can add it to cart.
Next, click the Select button and then ok to Continue to Cart Button.

After that, you will see the following options.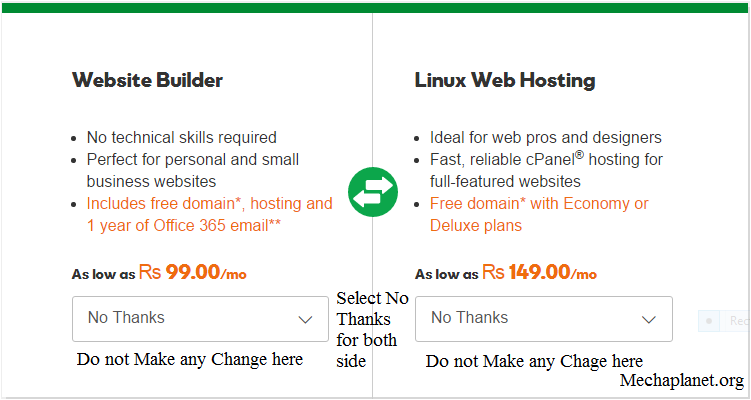 You also see other options like select plans & create an email address that matches your domain. If you want any of them, then select your options. Otherwise, don't make any changes and click on the continue with these options button.
As you click on 'continue with these options' button, you will be redirected to the checkout page (See Below). Here you will see your final price of your domain name. You can also find some additional products if you want to add any of them then add them. Otherwise, make your payment by clicking to proceed checkout button. (Please check the payment status whether it is matching with the earlier price or not ).
Now Make your payment by filling out your card Information.

After that, you will receive an email from Godaddy which confirms that your domain has successfully registered.
2. BUY HOSTING  FROM HostGator
Hosting plays a vital role in blogging. So take time to choose which hosting suits your business model.
As I've been using HostGator for 4 years, I would recommend you to buy HostGator hosting. Because it is very reliable & affordable and I've great experience with this hosting. 
You can even go with Bluehost hosting. (It's your choice). 
Now let's get started with Hostgator.
Related Articles:-
Sign Up for Hostgator Hosting.

If you are a beginner, I recommend you to choose the shared Baby plan. Because this hosting plan let you allow to host a huge number of domain names to your single control panel. But in case if you do not want to make more than one WordPress site, then you better go with the Hatchling Plan.

Add additional service panel (here Hostgator provides you with some other services which you don't need to buy initially. So please uncheck these options, if you don't want. You can purchase these services later).
Note: HostGator has now added the free SSL certificate that is suitable for bloggers. 
 Fill out the order form carefully. During this, you have to check the following options.
Choose your domain name. If you want to buy a domain name from the Hostgator, then you can select the register a new domain option. But here you can put the already existing domain that you have bought earlier from Godaddy.
Cross-check your Hosting plan

Billing information. (Do check your country & city)

Enter Coupon code if you have one

Review the final order details and click on Checkout.
After doing this, you will receive an email where you will find all the Information regarding Hosting username, a password for Cpanel and Nameservers to point your domain to the hosted account.
Now Switch to Godaddy account and then go to My Products. Here you find the following options.
Click on First option Domain > Manage Button.

As you click the Manage button, you will see the active domain name that you have earlier purchased.
Click on the set nameservers option and copy the nameservers that you have earlier received in your email from HostGator. And then, paste these nameservers in the nameservers settings.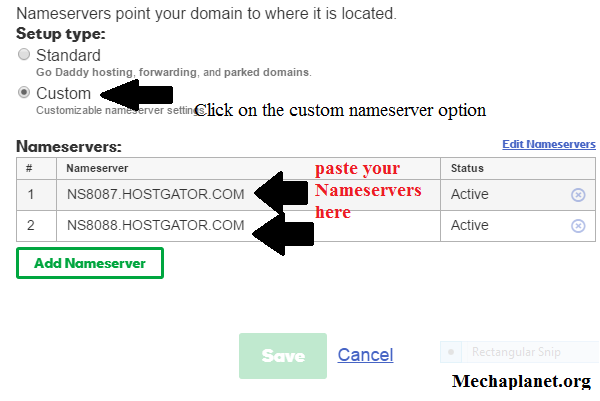 Your professional WordPress blog is ready to Use. Now you need to configure your Website.
3. How To Configure WordPress blog Professionally
Now you have done your essential steps. Now It's time to configure your site. First of all, you need to install WordPress on your public.html folder.
However, you don't need to go anywhere just switch to your Cpanel. (You can find your cPanel Credentials from HostGator welcome email.)
Now follow these steps here
Switch to your Cpanel account.

Click on the Software > Quick Install.
After Clicking on the Quick Install, You see something I have shown you below. Here you can choose your domain on which you want to install WordPress. In the directory section, you don't need to put anything. Go ahead and click next.
Further, you need to fill the WordPress blog title name (you can put your site title here.). Then put your Admin username. It may be your name. Now put your name and email address. Tick on both the options underneath the admin email. Click on Install Now.
Congratulation, you have successfully installed WordPress on the root directory of Cpanel. Now your professional blog on WordPress is ready to use. You have to install a beautiful & user-friendly theme and Some plugins to start with.
See the video tutorial: –
You can find Some Important WordPress plugins on my blog. Please read this guide.
For Themes, please read this guide:-
After Completing all Compulsory tasks, it's time to Create some mandatory pages. However, it takes some additional 5 minutes.
About Me / Us: This page is crucial for all types of websites and blogs. In this page, you need to provide your additional information. If you are running a business through your site, then you need to introduce your business. Means what is the name of your company and also what is your business all about?.
Terms & Policies: Here you can mention your website (Business) Terms & policies. It is essential for all businesses.
Contact Us / Contact Me: You can provide your company's address, email, phone number and also all other information that is important to know your audience/customers.
Privacy Page: "A privacy policy is a statement or a legal document (in privacy law) that discloses some or all of the ways a party gathers, uses, discloses, and manages a customer or client's data." (from Wikipedia ) 
These pages are essential for a business and a blog. So I strongly recommend you to create these pages for your blog & Websites.
So finally you've finished reading this article. And I hope you've got a clear picture of how to start a blog on WordPress.
CONCLUSION
After Reading this Article, you can make a professional blog which is hosted on Hostgator. I have covered everything in this article, but there is something you need to do yourself like finding a niche for your WordPress website & Spend some time to writing on killers posts.
If you want to start with Bluehost Instead of Hostgator hosting, then you can read this article Guided by Jeffbulls.
If you like this post, then do share on Facebook & Twitter, Reddit.
Save
Save
Save