The biggest challenge for most bloggers is to write a blog post and publish it on their blog every day. It takes time, effort, and sometimes even money to get your content published every day. 
New bloggers spend days if not weeks writing 2,000 words blog posts. In fact, I wrote my first 2,000 words of the blog post in one week.
It's quite overwhelming when you think about how much time it takes to write a good quality blog post that will attract readers and keep them coming back. 
But what if there was an easy way to generate a 2,000+ words blog post in less than two hours? 
This is where the power of frase.io comes in handy. It's an AI writing tool that allows you to generate ideas and long-form content for your blog posts, without having to spend hours brainstorming.
In this article, I will show you how to use Frase.io to generate a blog post in less than two hours. 
It's going to be so exciting, so let's take a deep breath and start with the process.
What is Frase.io?
Frase.io is an AI writing tool that helps you create high-quality blog posts by generating ideas and writing long-form content.
The idea behind Frase.io is simple: it uses artificial intelligence (AI) to help you come up with creative ideas and then write long-form content. 
Not just that, you can even generate Quora answers, Instagram captions, and YouTube video ideas using in-built AI templates.
Now let's see how to use Frase to generate a blog post within 2 hours.
Step – 0: Getting Started With Frase.io
First thing first, Go to Frase.io and choose a plan. Frase has two pricing plans. 
The first one is the basic plan that cost you around $44.99/month and an extra $35/month to get access to additional SEO features and unlimited AI writing. That means you need to pay $80/month to generate unlimited AI content. 
But for now, they have an exclusive offer of 60% Off for the first month, so, it won't cost you more than $48. You can Grab this deal here. 
The second plan is for teams and agencies who need maximum flexibility. It'll cost you around $114.99/month for 3 seats. 
Once you've chosen the suitable plan,  click the "Get started" button. It redirects you to a signup page. Where you need to Fill out all the required details like name, email address, etc. And hit enter.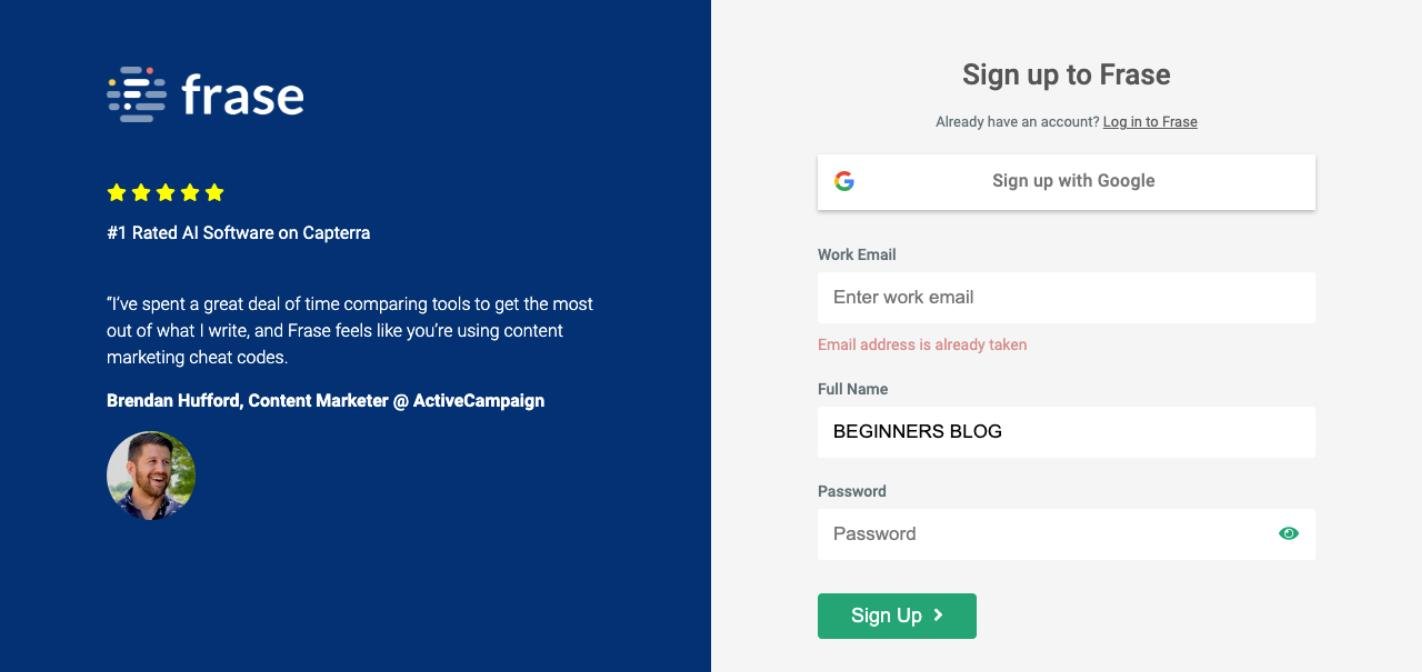 Now that you have created an account, you need to select one plan to get started.
In the next step, you're required to add credit card information for buying a monthly subscription. Once you've purchased a monthly subscription, you'll see a dashboard like this…
From the dashboard, you can head to the 'AI templates' page where you can find the list of 35+ templates available with Frase. 
These AI templates can help you generate long-form blog posts, blog titles, blog outlines, How-to posts, Instagram captions, and more. 
You just need to choose the template you want to work on and click on the "Use This Tool" button. 
After selecting the template, you will be asked to fill in some details like title, description, keywords, etc. 
Once you are done filling in all the details, frase.io AI will then analyze the data and give you the results. 
In case you don't like the result, you can re-generate more ideas again by clicking the 'Re-generate' button. 
You can even use Frase SEO tools to optimize content for better search rankings. 
The next option is "Account" where you can manage your account, change your password…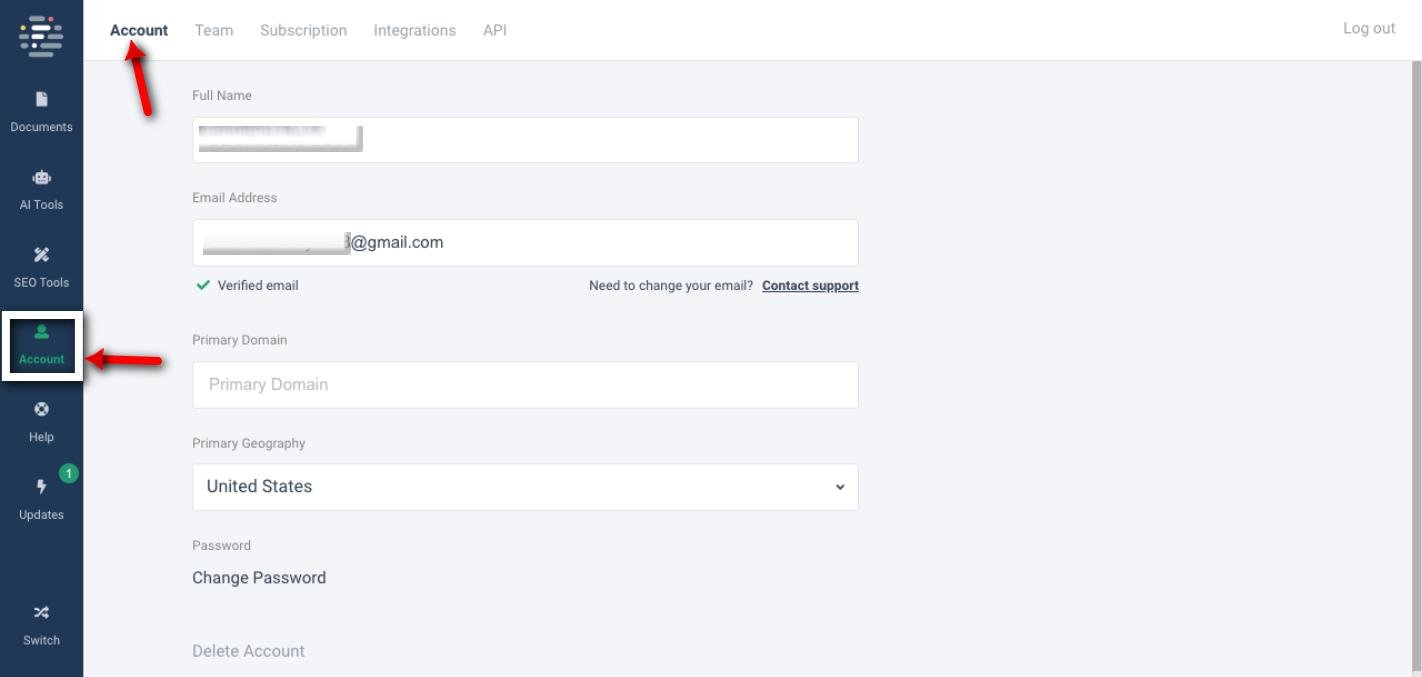 Manage your subscription…
Next is Integration. With frase.io integration, you can incorporate its functionality into WordPress, Google search console, and Google Docs. 
The last option is 'HELP'. Here, you can submit an issue, or ask any question related to Frase.io or AI writing tool to the Help center. 
Apart from that, frase.io has a crash course that can help you learn how to use Frase effectively.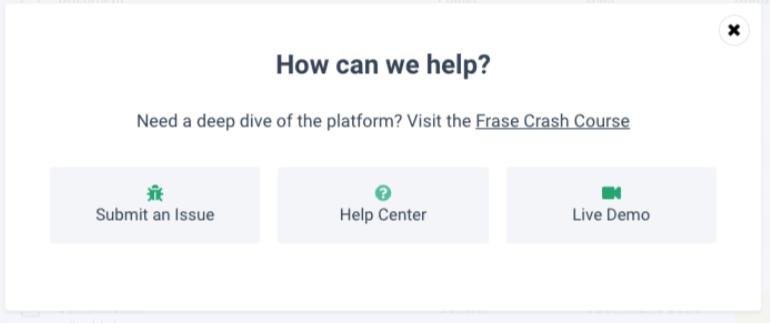 Now that you know the basics of Frase, it's time to start learning how to generate A 2,000 Words Blog Post In Less Than 2 Hours using the Frase AI writing tool. 
STEP – 1: Go To Frase Document Dashboard 
Click the "New Document" from the top right corner. 
A popup will appear…
Enter a title or search query you want to rank for. For example, if you want to write about logo makers, then your title could be "Best Logo Makers". 
You can even use Frase Title Generator to come up with more title ideas. Once you have a catchy title, click the green button that says "Create Document". 
Now, it takes you to a draft where you can do SERPs Research, create/generate a content brief, and outline. It's a content editor where you're going to spend your next 2 hours. 
STEP – 2: Create a Content Brief 
What is a content brief?

It's basically a quick overview of what you plan to write about. You can also call it a topic guide. Content briefs are great because they help you focus on one particular idea. They allow you to get started quickly without wasting too much time.  
To begin with, you can either import a template from Frase content brief template library… (Click the little hyperlink that says "import Template" just above the post title to get access to the Content Brief Templates.)
Or use the 'Automate Content Brief' option from the right sidebar to insert Brief into the editor.
However, I barely use the content brief feature but whenever I do, I use "Automate Content Brief" Instead of importing templates. 
The best thing about frase.io content brief generator is that you have a quick summary of your content, a list of questions, stats, and topics you can cover. You can even add statistics right from the Content brief to save time and energy. 
So, next time whenever you create a content brief, make sure to include People also ask, statistics, SEPRs, headers, and questions.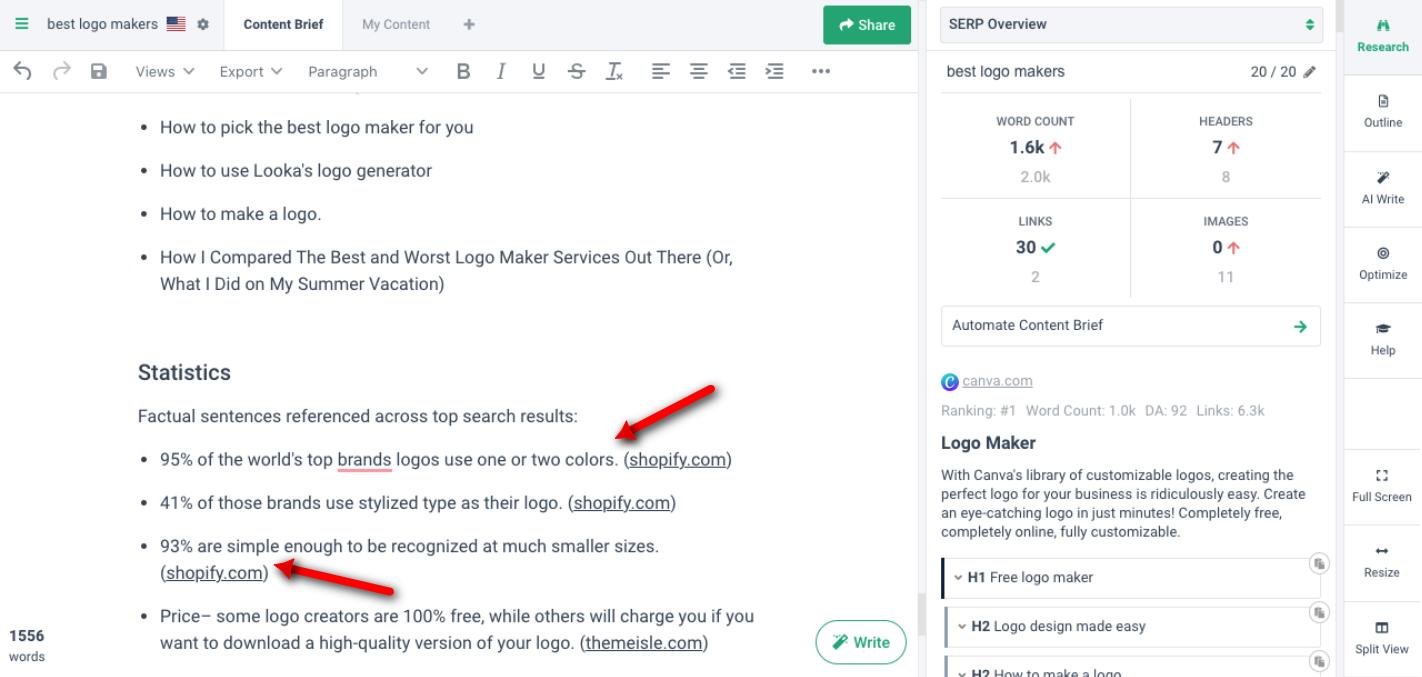 STEP – 3: Create Content Outline
Once you've created a content brief, it's time to create a content outline. This will help you organize all the information you gathered in the previous STEP. The content outline is like a roadmap for your content. 
To create a content outline, first, switch to the My Content tab and then click the "Outline" on the top right side of the screen. 
Once you have your content outline ready, click the "save outline" button.
Now you are almost ready to start writing your content. Let's start with a little introduction…
STEP – 4: Write An Introduction
There are two methods to write a blog intro with frase.io. 
By Pressing Command + enter (On Mac) OR Control + Enter (On Windows/Linux/PC) to activate the Frase AI writer. 

Use "Blog Introduction" frase.io AI template 
Let's start with the first method…
NOTE: Before starting, make sure you turn your title into something more catchy headline so that Frase AI can understand the context and generate a compelling and meaningful intro.
Depending on the Operating System you need to press the corresponding commands. Doing so instantly initiates the AI writer which generates an intro based on the TITLE. Something like this (Have a look at the screenshot given below)
Within 10 seconds, Frase AI generates over 200 words. You can check if it makes sense or not. If it doesn't make sense, you can edit it manually or delete the entire intro and re-write it again.
Now let's try the second method…
I barely use this method. But sometimes when I'm stuck, I prefer to use this method. Sometimes, it works well for me. So here we go…
To get started, head to the "AI write" option on the right sidebar. And then look for the 'Blog Introduction' AI template. 
Once you're in, Enter your Blog Title and Run the template. Within a few seconds, you'll see the result. It looks like this (See the screenshot given below).
 You can load more results by clicking the "Load More" button. 
This is how you create a short intro in just a few seconds. Now let's move on to the main part of our post.
I have been using frase.io for almost 5–6 months and it won't let me down so far. It's the best ai content writing tool for bloggers and businesses. I'm fully confident that if you try it once, you are going to continue its subscription for years to come.
STEP – 5: Write Your Body, Subheadings, and Conclusion 
Now that you have an intro, it's time to write down the rest of the article. In this step, you don't need to use any AI template. You can use the content outline from the 3rd step.
Just add subheadings, questions, and sub-topics from the content outline, and press command + enter (Mac) to get started. You can even click the "write" button at the bottom right corner of the editor to enable the Frase AI. 
Frase AI generates 100 – 200 words in just one click. You can edit, delete, or even re-generate content anytime to make it look professional, unique, and relevant to the topic.
Frase AI scans previously generated content in order to write relevant content. You have to take your cursor just below the subheading you are about to write and then press Command + enter (Mac). Repeat this process for all subheadings, questions, and sub-topics. 
Here is what my final body looked like after adding all the subheadings and topics.
NOTE: Do not add any styling or formatting to your text elements while using Frase.ai because it can affect the quality of Frase AI writing and content relevancy. 
The following example was just to show you how Frase AI writer can help you skyrocket your content production process. However, you can add statistics and questions to generate even more detailed blog posts or articles. 
Congratulations! Now you have successfully learned how to write a 2,000-word blog post in just 2 hours or less using Frase ai writer. 
This is how productive Frase is. Writers can literally churn out quality content within 1-2 hours. This is why I love Frase AI writer. 
What are your thoughts? let me know in the comment section. I'll be happy to hear from you. 
Before closing this, l would like to add Frase features and Frase pricing. 
Frase Features
With frase.io, you can integrate your Google search console for better SEO.

Frase's AI uses a different language model other than GPT-3 which is used by most AI writing tools.

30+ Built-in templates to generate content in seconds. You can also create custom templates tailored to your needs.

Frase helps you identify new content opportunities by analyzing Google search console data.

You can uncover keyword search volume, Domain authority, and backlink profile for the top google search results using the SEO add-on.

Unlimited access to AI writing for an additional $35/month.

Automated content briefing helps you generate detailed SEO content briefs that help you produce content that ranks.

Content scoring to measure ON-PAGE-SEO.

The content editor comes with all word processing features to help you format your content.

100% plagiarism-free content.

Frase supports multilingual optimization in English, Spanish, French, German, Italian, Dutch, Portuguese, and Danish.
Recently added features
The Long Form AI Tool. Instead of creating content snippets, our brand new longer-form AI Tools will generate long-form content on their own.

Generate an entire blog post on a 'How-To' in just one click.

Listicle Post Generator. Create the Listicle Post with a click.

Search results summarizer. Automatically summaries the content from search results.

Full Draft Generator. Build your outline by using headings from SERP. Frase will then summarise your sections and build your draft.

Article rewriter. Rewrite an entire article in a single click.

"Write About This" Button. You can use AI to create content for specific areas of your competition's content.
Pricing
With a 5-day money-back guarantee, Frase offers three pricing plans…
Basic — 44.99/month; $39.99/month, if paid annually

Team — 114.99/month; $99.99/month, if paid annually

Enterprise — Custom pricing plans as per demand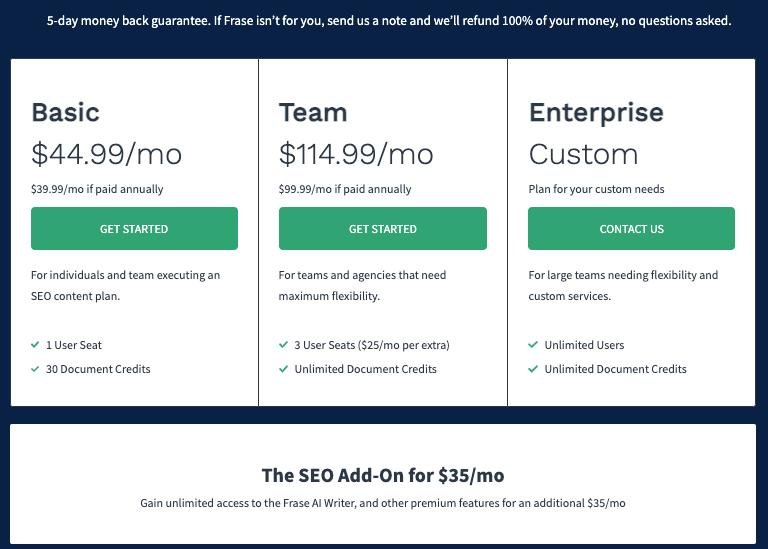 *Note — You can get access to unlimited AI writing, and other premium features for an additional $35/month.
Conclusion
In this tutorial, I've shown you how to write a 2,000-word blog post in under 2 hours. The best part about this is that you can do this without having to hire a ghostwriter or pay someone to write your content for you. All you need is Frase AI.
I hope you enjoyed reading my review about Frase AI Writer. If you have any questions, feel free to leave them below. I'd be happy to answer them.