If you're about to start your blog, then take a few minutes to read my guide. In this guide, I will tell you some useful blog niche ideas that could help you get massive traffic immediately.
One thing you must remember: If you could make people hungry or curious then you don't need to do anything. Everything will be ready for you.
Starting a blog could be easy, but it's difficult to feed to your blog regularly. The problems come into account when you select the wrong blog niche.
A wrong decision could make you feel regret so; I convince you to spend some time to decide what niche idea suit your profile better.
I'm saying this because I was also in the same situation when I started my blogging career. I was like a fool. I launched my blog without typing 'what is blog niche'. It was my first mistake that troubled me a lot later.
Finally, I changed my blog niche from 'mechatronics' to 'Beginnersblog | Learn how to Blog'. But one thing I'm still suffering from is my domain name and blog name which were not identical.
I don't want you to ride on the same horse. That's why I decided to give you the right direction to follow so that you never end up regretting.
If you're serious about blogging, then don't squander this opportunity.
By reading this guide, you will learn what blog niche is? Why should you choose a profitable blog topic? And what are the best blog niche ideas?
What is the blog niche?
In simple words, a niche is a specific category or topic that talks about a single product. For example 'weight loss' here you always talk about articles related to weight loss. So it's a niche blog.
The primary motive to create a niche blog is to earn money online by recommending products and services.
But it is not always the case. You can even share your knowledge in a specific category. For example, Searchengineland always talks about 'SEO' is also a niche blog.
Besides that, my blog is a multi-niche blog because it talks about various categories like SEO, WordPress, AdSense and Technology.
Now, you know about niche blog and next, I want to tell why you should have a niche blog?
Google prefers those blogs that contain specific information. For example, if you search for the keyword 'chocolate cake recipe', most of the top searches would be a food or recipe blog.
From the above screenshot, you can understand how niche blog dominates the other multi-niche blogs.
Similarly, if you take another example of weight loss, then you'll see 70% of the top results related to fitness & health that is closely related to your query.
Now you're much aware of the niche blogging. So, let's move further to know some best blog niche ideas that could take your blog to the next level.
As you know, to increase blog traffic your blog must be ranked on top of Google, and for that, you need SEO that helps you boost your organic presence.
Major ranking factors of Google
Social signals
Also Read:  17 ways to create high-quality backlinks
Above three are the primary ranking signals that help you the most. But every blog category has its SEO level.
You don't need to score 100 to take the benefits. In fact, I've found that if your blog niche is less competitive and have the potential to attract the audience, you can boost your blog traffic significantly without having much domain authority.
For example, voucher plus is a website that talks about coupon code and referrals have the monthly traffic of 164k and the domain authority is only 9. On the other hand, my domain authority is 21.
It is because of blog-niche. These type of blogs mostly generate native traffic. However, they have low domain authority, but they are very specific to a single topic.
They always publish those topics that are closely relevant to their blog niche that's why their topic authority is much higher than others.
And that is the reason these blogs always ranked higher on Google for their keyword search.
Best Profitable Blog Niche Ideas to Get Massive Traffic Instantly
The final goal of webmasters or bloggers is to drive traffic to their blogs. Most of the bloggers say that driving traffic is very easy and others say that it's tough.
I think both are right because it depends on the blog niche. If your niche has the potential to acquire a significant amount of audience you'll get massive traffic.
But if your niche doesn't acquire any potential audience, then you won't achieve your goals within your time span.
So make sure you choose those categories that account some reasonable traffic share so that there is massive exposure to your work.
Now let's get started…
To get instant traffic to your blog, make sure you know these things
Find out what makes people happy.

First, always try to choose country-specific categories. I mean select those topics that can give you exposure to your country. For example, country news & trends [Target native traffic]

Write thorough articles and do proper SEO.

Never publish irrelevant content that doesn't match your blog niche

The only way to get instant traffic is to increase your topic-authority rather than domain authority. [I've proved this above]
So, here we go…
#1. News, rumours & gossips
People always eager to acknowledge what is going on outside. If you also one of those then you can share news updates to those people and help them without even knowing them.
When I researched, I found that 'News' sites have become a great source of knowledge. Every second person wants to know daily news updates. So if you could provide this, you can get immense attention.
See the screenshot given below, bcc.com which is one of the top news sites getting around 400M monthly traffic. You can find every category related to the news.
Pros:
It is easier to find unique ideas for your news site.

You don't need to invest much time on keyword researching.

You can cover world news to attract international traffic.

It's easier to build a community on Facebook & Twitter.

You can drive tons of traffic immediately if you pick trendy topics.
Cons:
Regular updating is a must. If you are not much active, you can't keep pace with the trends.

Every day you need to read the latest news article, newspapers and top sites to get daily updates.

News sites require ample space to store extensive data. It is because of regular updating on your site which results in more server space is needed.

You need to be super active on social media.

People don't want to read the old news. It means old articles are no longer generate traffic to your blog.
Bottom line: New sites could give you a significant amount of traffic instantly. So, it could be a profitable niche idea for you. Make sure; it is only possible if you can follow the instructions given above in the 'cons' section.
Also Read:  Best ideas for YouTube channel to start
#2. Write about Fitness & Health issues
People want to keep their body fit and healthy so that they can live long and enjoy their life. Today's atmosphere is not safe. Nature has been destroying because of pollution.
Nonetheless, you can protect yourself and also protect others too so that people can live together.
If you know something that helps you keep your body fit and healthy, then you can share your knowledge with others so that they can also live like you.
Nowadays people encounter tons of health issues, but they don't want to go to a doctor to take the treatment. And in this condition, they are more likely to search the solutions on the search engines.
Some of the best sub-categories of Health industry: Some of the best profitable blog niche ideas. 
Weight loss: According to EUROMONITOR INTERNATIONAL report, by 2017, the health industry has crossed the 1 trillion dollar wealth.
Male enhancement

Home Remedy

Hair fall

Skincare and solution

Causes of cancer disease and its possible cure

Cosmetics and creams

Review the health products that you have already used

Pain

Depression

Nutrition and healthy food

Acne removal

Quit smoking

Diabetes
The list keeps going on. You can pick any topic in which you are good at.
Pros:
Niches like Weight loss, Male enhancement and hair fall are most profitable niches. It is more beneficial for those who live in the US, Africa and Australia.
Affiliate networks offer high commission. Means you can earn more money.

You can generate natural traffic if you target the right audience.

AdSense CPC is very high.

You can even choose more than one sub-categories.

Evergreen content. You don't need to publish daily.
Cons:
Lack of knowledge: However, there are tons of blogs that talks about health but they are all limited to a certain level. You can't find the in-depth information until you're a medical student or a doctor.

Keyword difficulty is high due to the high competition level.

If you don't know about health then never choose this niche because you will be no longer able to write new ideas for your blog.
Also Read:  keysearch tool – Affordable keyword research tool
#3. Fun & Entertainment
If your blog niche belongs to any of the categories related to fun or entertainment, then you can get instant traffic to your blog.
Blogs that are running in these categories are generating the right amount of traffic effortlessly.
Some of the unique blog ideas:
Movie reviews

Create a blog that talks about a specific TV serial.

Hollywood and Bollywood news

Create a site the allow people to download free music and videos

Funny wallpapers

Comics

Cute pics
Pros:
These types of blog niches have a huge search volume.

Creating articles is easy.

This is the core interest of people. Almost everyone likes to read and watch funny stuff.

LOW keyword difficulty. It means easy to rank on Google's top.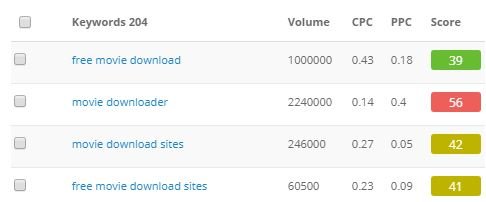 Cons:
If you upload music & videos without permission, then your content may be removed from a web

CPC and CPM both are low.
#4. Technology
Technology surrounds Today's world. People are living with technology and always curious to know about new inventions that can enhance their lifestyle.
If you are tech-savvy, then you can start sharing your knowledge from your website. There are so many ideas that you could pick according to your expertise.
Technology is much broader than any other niche. There are tons of options. Choose one out of these best blog category ideas…
Tech news: Similar to general news, you can also create your separate blog that only talks about tech news, new tech foundation and invention. (For example TechCrunch, Mashable and TNW)
Review tech products: This is best for the affiliate marketer to earn a considerable amount of money. But remember it might take time to get traffic. In this niche, you can even choose further micro-niches like Smartphone reviews, laptop reviews and more.
Security: Cybersecurity, hacking malware etc.
 Pros:
Technology is the leading blog category. You can publish the latest content until the last breath of your life.

You can pick any tech product and create your blog. For example, if you know much more about mobile devices than you can start a tech review site right now and explore your mobile expertise.

Easy to grasp people's attention.

If you've latest blog post ideas, then you can pitch big publications (Forbes & Huff post) to grow your blog network.
Cons:
Competition is very high. So make sure, you do SEO correctly to outrank your competitors

Try to research long-tail keywords to get instant ranking on Google.
#5. Yoga exercise
Yoga helps you strengthen and detox your body. If you do Yoga regularly, then you will live a healthy life.
You need just to take a few steps ahead and start creating your videos while doing yoga. It is the best idea to make your blog look different from any other blog available out there.
If you have some time, then start your blog and publish the benefits of yoga. You can even earn money out of it by joining affiliate marketing and promotional products that you have been using for a while.
Why you should choose yoga as a niche blogging for affiliate marketing because it has grown over $9 billion and has become a big marketing industry in the world. By promoting mats, yoga clothes and accessories you can earn some profits.
Conclusion:
A niche blog has much potential to outrank the competitors those that have a multi-niche blog. The reason is simple because niche blog talks about a single topic and have much relevancy than multi-niche blogging and Google always prefer relevant content.
Google concerns about content RELEVANCY and topic authority rather than domain authority. So make sure you choose a single niche blog.
I have personally realised that Google is giving more value to those sites that are entirely based on a single niche.
The above guide helps you choose the profitable blog niche ideas to get instant traffic.
I hope you would have enjoyed reading this article, if yes then do share on social media sites.