Are you looking for some extra cash while studying? Or maybe you just need to pay off those student loans faster? Whatever your reason may be, there are plenty of jobs available online that allow students to work remotely. From writing articles to tutoring kids, there are endless possibilities when it comes to making money online.
If you're still deciding what type of job you want to pursue, check out the list of top 9 online jobs for students. 
Let's begin…
1. Get paid for typing simple words and phrases (Become a Slogan Seller)
Not all jobs are suitable for everyone. But if you have the patience to type simple words and phrases, there's no reason why you shouldn't be able to find one that pays you.
Yes! It's right… Slogan writing is a lucrative and exciting way to make money with designs and ideas. 
You can learn the secrets of a college dropout who made over $3,000 in a month just by typing a few simple words on his computer…
"If you can type a few words…You have what it takes to earn recurring passive income in your spare time, right from the comfort of home!"
2. Become A Resume Writer 
If you consider yourself to be skilled at writing compelling resumes that can help job seekers get hired, then you can start working as a resume writer.
It is one of the best ways you can make money as a student. And the best part is that you don't need any previous experience to become a resume writer. All you need is a computer and internet access.
However, you can master your resume writing skills by taking online courses. And also become a certified resume writer here – 
 Skills  – 
Strong Copywriting skills 

Basic computer skills 

Communication skills

Having 1-2 years of experience in the Human Resources Department is a  plus

Critical creative thinking

Attention to detail

Planning, organizing, and scheduling
This will help you gain the necessary skills to write resumes professionally and let employers know why they should hire you.
So, if you have experience in this field and know how to write resumes that will make employers take notice, then this is definitely an option worth considering.
A few places where you can find resume-writing job opportunities – 
3. Social Media Jobs (Make $25/hr.)
Whether you love watching YouTube videos or scrolling photos on Instagram, you can get paid doing easy tasks like handling a social media account for businesses, uploading Travel videos on behalf of others, and replaying comments on Facebook.
Let's take Facebook as an Example…
As you all know that Facebook is one of the best social media networks for businesses to get targeted reach and engagement. Comments play a vital role in boosting engagement and reach. That's why businesses always involve in online discussions to reach out to a new audience. It helps them build trust and a loyal fanbase.
But every business owner can't manage to sit in front of their computers and reply to every comment they get. That's why they need people like you to do it better than them. And that's how you can make money commenting on Facebook or other social media platforms.
You can even make money chatting on Facebook messenger. There are companies looking for remote workers to join their Facebook Messenger customer support team. Here are the details…
Not just that, you can even make money uploading videos on YouTube, asking questions on quora, and helping a gamer posting content on his YouTube channel.
These are just a few examples of social media jobs you can do to earn up to $500 each week. So, are you ready? You can find a few job opportunities below…
4. Become a content writer as a student
Content writers write articles, blog posts, press releases, etc. You usually work as a freelance.
Your main responsibility is to provide quality content for your clients. You must be familiar with SEO (Search Engine Optimization) techniques; especially "The On-Page-SEO". You also need to know how to write compelling headlines, intros, and conclusions to get more leads and conversions. 
You can earn anywhere from $20-$100 per article as a freelancer. 
Skills – 
High School Diploma/GED

Copywriting skills

Keyword & Topic research

SEO (Search engine optimization)

You must be able to write at least 1500 words a day

Time management

Good English Writing Skills

Oral communication skills

Strong writing and editing skills

Strong command of Google Drive
 Helpful – Learn how to become a freelance writer – Step by step guide
Where can I find content writing jobs as a student
Head over to your LinkedIn profile, click the briefcase icon from the top header, and search for your desired job. In this case, you're looking for a content writing job. Type in content writing in the search bar and hit enter.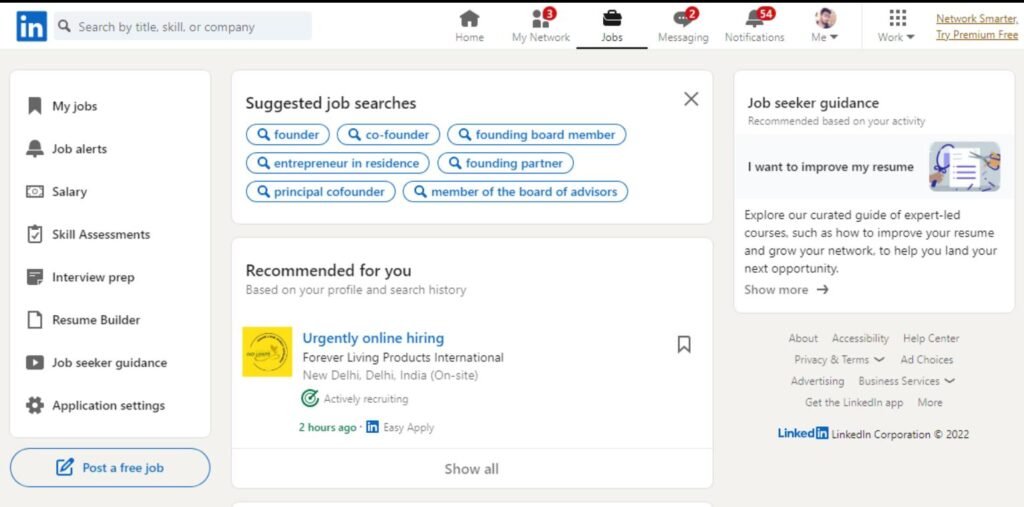 Within a few seconds, you'll see a list of top companies or recruiters in your region, who are actively looking to hire content writers. 
Now all you need to do is, go through the list and find a suitable job posting for you. 
I'm sure, you'll find a job for sure. But in case, you didn't find anything, you can follow the same instructions on Indeed. 
If you love writing, then you can be qualified for a paid online writing job and make earn up to $35/hour.

A few online writing jobs are —

Get paid to write on Twitter

Get paid to write letters

Get paid to write blog posts

Get paid to write emails

Get paid to write product description

And so on…

There are so many writing jobs available to you. So if you're interested in getting one of these Writing jobs, You can go apply here…
5. Become a Virtual Assistant
Virtual assistants do everything from answering emails to scheduling meetings. They are basically freelancers who work on projects for clients.
And since virtual assistants usually work from home, they can easily fit their schedule around school hours.
While it takes dedication and commitment to become a virtual assistant, the pay is great. Depending on what type of client you choose, you could make anywhere from $20 per hour up to over $100 per hour.
And you don't necessarily need previous experience to land a gig. Most companies offer training programs to teach you everything you need to know about becoming a virtual assistant. 
However, having prior skills can be a plus point to getting hired quite early in the process. 
➤ If you are a complete beginner, you can get this free Virtual Assistant Checklist & Starter Kit to start your VA career.

" Or you can take Abbey Ashley's Virtual Savvy training to become a successful virtual assistant,join Abbey's free VAtraining today!"
Related — How To Become A Virtual Assistant As A Beginner (Get Your First Client)
6. Become a Transcriptionist
Transcribing means listening to audio files and typing them out word for word. It is a perfect way to earn money while studying.
You can transcribe anything from interviews to lectures. The only requirement is that you must be able to listen to audio files and type fast enough so that you can keep up with the pace of the speaker.
Transcription is a specialized skill that transcribes spoken words into text files. It involves listening carefully, paying close attention to details, and knowing what it means to turn an audio file into a text file.
A transcriptionist's primary task is to transcribe recordings accurately, provide relevant, high-quality searches and indexes for each recording, and work well under pressure. Transcriptionists may work from their homes or remote locations.
The average rate for transcriptionists varies depending on the company. But most people charge between $15-$25 per hour.
You'll work independently, so you'll need to manage your own workflow, deadlines, and deliverables. 
If you want to become a transcriptionist, here are some guides you might consider doing:
Helpful Resource:
Training: If you want to learn everything about transcription and want to turn your skills into a business that can make you $20K — $40K per year, then you can take the 'General Transcription: Theory & Practice' course by Janet Shaughnessy.
7. Become A Social Media Manager
Social media managers help businesses create social media accounts and manage these accounts. They also monitor comments made on posts and respond accordingly.
Social media managers work directly with brands to help grow their businesses on Facebook, Twitter, Instagram, and Pinterest. They manage multiple accounts and monitor performance. They write posts, schedule tweets, and respond to comments. Some even use analytics tools to track traffic and conversions.
The average salary for a social media manager ranges from $20K-$60K per year depending on experience. 
How to become a social media manager
The main duties of a social media manager are –
Manage, create and plan the social media content calendars

Write captions and copy for

Monitor comments and likes

Post new content on the client's page

Write blog articles

Build social community & Manage community engagement

Analyze engagement and follower data

Schedule posts and Respond to messages

Maintain relationships with influencers
You should possess these skills to apply for Social Media Manager  job:
1-2 years of  Social Media experience

Degree in Marketing, PR, and communication

Time management skills

Analytical thinker & data analyzer 

Diligent self-starter

Good communication skills

Excellent written and verbal communication skills

Ability to multitask

Strong attention to details

General communication skills 

Marketing Psychology to understand human behavior
How to become a Social Media Manager
#1. Get experienced in social media marketing strategy:  
In order to become a social media manager, first, you need to master the basics of social media management. You can start by learning how to use different social media platforms, How to read analytics, and how to write engaging content, increase followers, and plan content strategy weeks ahead. 
You can even learn advanced techniques such as paid social media marketing, SEO, content optimization, etc. 
#2. Earn a degree or gain relevant work experience:
Most social media managers don't require a bachelor's degree, but some companies want employees with some kind of formal education. 
#3. Find a Job or work as a freelancer
Once you've gained some experience, you can search for Social Media manager jobs. The best way you can do this is by going to SimplyHired.com. It's a powerful job portal where you can find part-time or full-time social media manager jobs that can earn you $20K to $100K  per year. 
8. Data Entry Clerk
This position involves entering data into databases.  It may involve typing emails, filling out forms, and other similar tasks.
It requires typing skills and knowledge of computers. Most people use this type of job when they need to make quick cash.
It's one of the ideal online jobs for students because it doesn't involve much physical effort. All you need to do is sit behind a computer screen all day long.
This type of job requires you to type at least 45 words per minute. But there are many tools available online which can improve your typing speed.
Some of them include:
Type Master – Typing Master is a web application that lets you practice typing at high speeds. It is one of our top recommended typing programs for Windows PCs.
The Typing Cat – Typing Cat is an online typing tutor that teaches you to type faster by using different keyboard layout options.
How to become a data entry clerk as a student
#1. Get some education and develop skills 
The minimum educational requirement is a high school diploma. However, some employers prefer applicants who hold a bachelor's degree or have some prior work experience. 
Data entry clerk skills –
Typing

Attention to detail

MS Office Suite

Basics of  Excel sheet 

Computer Skills

Data entry workers usually work without supervision and must be able to handle themselves independently. They also need to have good character and confidentiality skills because much of their work entails reading clients' personal information.

1-2 years of experience in customer service

High school diploma OR general education degree (GED) 

Ability to read, write, and speak in English 

Ability to read and understand technical documents such as Safety Data Sheets, Certificates of Analysis, and procedure manuals.

Ability to write routine reports, engage in correspondence, and complete forms. 

Ability to speak effectively with employees, peers, management, and suppliers.
#2. Find entry-level data entry jobs
Once you have the required skills, you can go to Indeed or Upwork to find entry-level data entry jobs.
How much can I earn as a data entry clerk?
According to Glassdoor, the average salary for data entry clerks is $12 per hour. Some companies offer higher wages but these tend to be seasonal. However, the median annual income for data entry clerks is around $30,000/yr.
9. Become a Graphic Designer
The term "graphic designer" encompasses a wide variety of skills and expertise, ranging from the creation of logos to the design of cover pictures, social media ad graphics, brochures, and other printed materials. It's one of the best online jobs for students to make a decent amount of money on the side. 
Graphic designers are responsible for creating visual elements like logos, advertisements, brochures, posters, flyers, and more. These days, many businesses rely heavily on graphics to communicate their message, and graphic designers play a vital role in that process.
The graphic design industry is booming right now, with many new companies opening up every day. If you're looking for an entry-level job in this field, there are plenty of opportunities available.
In fact, according to the Bureau of Labor Statistics (BLS), The median annual wage for graphic designers was $50,710 in May 2021.
However, you can start out as a graphic designer without any previous experience at all, but it helps to have some experience under your belt. You may be able to find work as a freelance graphic designer.
Graphic designing skills you need to get hired
In order to get a job as a graphic designer, you should master Photoshop, InDesign, and illustrator. 

Apart from that, you should also know Typography, Photography, Adobe CS, Microsoft Word, Powerpoint, etc. 

Basic of HTML

2-3 years of work experience is required to get a high-paying job. (

TIP –

You can do freelance graphic designing before applying for a full-time job

)

For working with big brands, you need to get a degree (Bachelor's in Graphic Design.)

Detail-oriented with strong organizational skills.

Proficient command of Adobe Creative Suite.

Creative problem-solving skills
If you want to become a graphic designer, here are some tips that will help you get started:
#1. Learn how to use Adobe Photoshop
Adobe Photoshop is one of the most popular graphics software packages used today. It allows users to create images, edit photos, and manipulate them into different shapes and sizes.
#2. Get involved in online communities
There are several online communities where you can share ideas and discuss topics related to graphic design. These include forums, blogs, and social media sites such as Facebook and Twitter.
You can also join groups on LinkedIn which allow you to connect with people who have similar interests. 
#3. Find a mentor or coach
A good mentor can provide valuable advice and guidance throughout your career. They can also give you feedback on your designs so you know if they are effective.
#4. Create a portfolio
You should always keep a portfolio of your best work. This gives potential employers a chance to see what kind of work you do well.
#5. Start working
Once you feel confident enough to show off your work, you can begin applying for jobs. There are many ways to go about finding a job, including networking, posting ads on job boards, and sending out resumes.
#7. Network
Networking is another great way to land a job. When you meet someone who works in a company that you would like to work for, ask them for a referral.
#8. Be Creative
Graphic design isn't just about creating pretty pictures. In order to succeed, you need to think outside the box and come up with unique & creative design ideas.
#9. Use Social Media to grow your graphic design business
Social media is a powerful tool for marketing yourself and growing your business. By using these platforms, you can reach more clients and build relationships with them.
Where can I find Graphic Designer Jobs?
Nowadays, Graphic Designers are high in demand. And you can easily find a high-paying job opportunity in your region on SimplyHired and earn up to $70,000 Per year. 
Conclusion
Being a student doesn't mean you have to live with debt. In fact, many of these ideas can help you earn extra cash while still maintaining a full schedule of classes. So, whether you're looking for a new hobby to spend your spare time on or just trying to save up enough money to buy that next textbook or pay for bills, you need a side hustle to keep yourself afloat.
For example, you can make enough money writing slogans, creating compelling resume templates, writing content, or even designing logos. So, go through the list, choose one of these suitable jobs, and start making money.
These are just nine online job ideas off the top of my head. I'm sure you can think of many more ways to earn extra cash. But even these ideas should give you plenty to consider!
I hope this article was helpful to you. Please leave any comments or questions below.
Also, don't forget to share it on social media platforms like Facebook, Twitter, LinkedIn, Reddit, and Pinterest.