How would you describe yourself? Are you a Creative social media creator, copywriter, or blogger? If the answer to the above question is yes, then becoming a virtual assistant might be perfect for you.
Virtual assistants are professionals who assist businesses with their day-to-day operations. They answer emails, schedule meetings, manage social media accounts, and much more.
The demand for Virtual Assistant services has grown rapidly over the last decade. In fact, According to ZipRecruiter, the average annual pay for a Remote Virtual Assistant Job in the US is $53930 a year.
What is a Virtual Assistant?
A virtual assistant, also known as a VA, is essentially a personal assistant for businesses. They are usually employed by companies to help them run their day-to-day operations.
A virtual assistant works remotely, meaning they don't necessarily have to be physically present in the same room as their client. Depending on what type of job they do, they could be responsible for everything from scheduling meetings to managing social media accounts.
In some instances, a virtual assistant might perform tasks similar to those of a secretary or receptionist. But because they are working remotely, they often have far greater freedom and flexibility than traditional employees.
Types Of Virtual Assistants
There are many different types of virtual assistants. Here are a few common ones:
Email/Chat Support – This is probably the most popular form of virtual assistance. Email support involves answering customer questions via email. Chat support involves having conversations through instant messaging programs like Facebook messenger.
Social Media Management – Many people use social media platforms such as Facebook, Twitter, Instagram, etc., to promote themselves and their businesses. It can be difficult to keep up with all these accounts, so a virtual assistant can take care of them.
Data Entry – Some virtual assistants work from home and enter data into spreadsheets or databases. Others may transcribe audio files or create documents.
Administrative & Office Support – These include things like bookkeeping, payroll, and filing.
Writing Services – Writers, bloggers, or businesses always looking to hire virtual assistants to write articles, blog posts, press releases, white papers, etc.
Research & Information Gathering – Researching information online can be time-consuming, which is why virtual assistants are hired.
Customer Service – Customer service representatives handle phone calls and other inquiries from customers.
These are just a few types of virtual assistant jobs that exist today. There are plenty of others, including marketing, sales, and even programming.
Now let's look at the type of skills you are going to have in order to become a successful VA.
What Skills Do I Need to Become a Virtual Assistant?
To become a successful virtual assistant, you'll need to possess certain skills. You should be able to communicate effectively both verbally and in writing. You should also be organized and have excellent attention to detail. Finally, you must be self-motivated and have strong problem-solving abilities.
Computer proficiency, writing, and communication skills are a few basic skills that you need to have even if you're not specifically looking to become a virtual assistant.
Computer proficiency: As a virtual assistant, you'll frequently use a variety of computer programs to complete tasks. This includes Microsoft Office products like Word, Excel, and PowerPoint; online productivity tools like Gmail, Dropbox, and Slack; and software used to manage multiple accounts and devices, such as Trello, Zendesk, and Freshdesk.
Writing: Writing is one of the most important aspects of being a virtual assistant. Many companies hire VAs based solely on their written communications. If you write professionally, you'll stand out among the crowd.
Communication: Communication skills are essential when interacting with clients, colleagues, and supervisors. Being able to communicate effectively will allow you to establish strong relationships and earn trust.
Apart from these basic skills, you should also be familiar with social media platforms like LinkedIn, Facebook, Pinterest, Twitter, YouTube, etc. If you're not already using these sites, you'll want to learn how to utilize them effectively.
Finally, you'll need to know how to market yourself and your services to potential customers or prospects. You can do this through networking events, posting your resume online, and reaching out to people who might recommend you.
You can learn how to become a virtual assistant through online courses. However, there are several reputable training programs available. One of the best courses to get started is to take Abbey Ashley's Virtual Savvy training to become a successful virtual assistant, I encourage you to join Abbey's free VA training today!
Equipment That You Need As A Virtual Assistant
A computer or laptop is essential to work remotely. You'll want one that runs Windows 10 or macOS, depending on what operating system you prefer. If you're working from home, it's likely you won't need a high-end desktop PC, but you do need a powerful processor, lots of RAM, and plenty of storage space.
Your computer needs to be able to handle multiple applications running simultaneously, including email, chat programs like Slack and Zoom, document editing software, video conferencing tools, and more. A good monitor is also important — ideally, you'd get a 4K display, but anything above 1080p resolution will suffice.
In addition, you'll want a telephone connection, since you'll likely need to make calls to clients or colleagues during the day. 
Apart from that, you also need a nice working environment. It doesn't matter if you're at home or at an office, as long as you have enough room to spread out comfortably. You'll also need some privacy, so consider getting a separate office area where you can focus on your tasks without distractions.
If you're looking for a new job, you may want to invest in a headset or microphone. These devices allow you to talk to clients and colleagues while keeping your hands free. They're especially useful when you're making phone calls.
If you're planning to work from home full time, you'll probably want to buy a desk chair. 
And finally, you'll need a place to store your files. There are several options, but cloud storage is often the best option because it lets you access your documents from anywhere.
Helpful: How to become a Freelance Writer: Best Freelance Writing Jobs
What Makes a Good Virtual Assistant?
A great candidate for a virtual assistant position possesses many qualities including being organized, detail-oriented, and able to manage multiple projects simultaneously.
A good virtual assistant is always willing to go above and beyond what is expected of them and offers solutions to problems rather than just pointing out issues. They are reliable, trustworthy, and easy to work with. They know how to communicate effectively and are skilled at building rapport with others.
They are flexible and adaptable, which means they are able to quickly adjust their approach based on client feedback. They are self-motivated and eager to learn new skills. They are honest and ethical and don't tolerate unethical behavior. They are passionate about helping others succeed.
In-Demand Virtual Assistant Services in 2022
While there are many types of virtual assistants, most fall into one of three categories: customer service, administrative support, and finance management. These are the highest-demand jobs right now.
Customer service includes tasks such as answering emails, scheduling appointments, managing social media accounts, providing product recommendations, and resolving billing issues. In addition to being able to answer questions about products and services, it helps to have experience working directly with customers because it gives you the opportunity to build rapport and learn how to solve problems quickly.
Administrative support involves tasks such as data entry, project management, and graphic design. Many companies hire virtual assistants to help with routine tasks and paperwork, freeing up employees to focus on projects and creative endeavors.
Finance management includes tasks such as accounting, invoicing, and bookkeeping. Some businesses hire virtual assistants to handle financial matters while their owners take care of more complex tasks.
How to become a virtual assistant: Easy Steps 
So far, you have learned that becoming a virtual assistant requires some skills and dedication. You also learned that this career path can be lucrative if you do it well. But how exactly does someone get started? Here is the step-by-step process of becoming a virtual assistant.
1. Take a Virtual Assistant Training Course
The first step to becoming a virtual assistant is taking a training course to understand everything about VA and learn the necessary skills to start a Virtual Assistant career.
A true training course  GIVES you a step-by-step process that can guide you through the process and help you succeed with the Virtual Assistant. The cool thing about an online training course is that it saves you a lot of time. You don't need to waste time finding other resources that lead to dead ends or duplicate information. 
However, if you are a complete beginner, you can get this free Virtual Assistant Checklist & Starter Kit to get started with VA.
You can even become a booked-out virtual assistant by joining Abbey Ashley's free VA training 
NOTE: You can skip this process if you have enough time to learn on your own. 
2. Identify your skills
Now that you have taken a training course, you know how you can use your skills to get started as a virtual assistant.  
With that said, you need to figure out what sets you apart from other VAs. Do you have the skills to handle Social Media Accounts? Are you familiar with Microsoft Office programs like Word and Excel? Can you create professional-looking graphics and logos? If so, then you may be qualified to perform certain Virtual assistant services. 
For example, if you are an intermediate blogger, you already possess the most demanding skills like copywriting and graphic designing that can be served as VA services. 
So, the best way to identify your skills is by looking into your existing core skills and finding out which ones you are more comfortable offering. 
3. Hone your skills 
Before you can become a professional Virtual Assistant, you need to hone your skills by offering your service as a freelance worker. This is one of the best ways to test your skills and see whether they are marketable.
If you are not sure where to begin, try starting small. Offer your services for free to a few members who might be willing to give feedback.
This will allow you to build up your portfolio and gain confidence before you offer your services to clients.
This way, you can find out what kind of clients you can attract and what type of tasks you can take on. Once you have identified your strengths and weaknesses, you can focus on improving them.
Not just that, it will also help you build a portfolio. That way, when you apply for jobs, you won't have to worry about not having any previous work experience.
4. Find Clients: 4 Simple Methods
After you have honed your skills, you should look for clients. There are many different types of clients you can choose from. Some of them include:
Business owners who need assistance with their social media accounts

Bloggers who need content writing

Freelancers who need proofreading done

Writers who need editing

Graphic designers who need a logo design

Copywriters who need content writing

Marketing experts who need SEO optimization

Personal assistants who need scheduling

Businesses or companies who need administrative support
4 Simple Methods To Get Clients As a Virtual Assistant
Method – 1: Social Media
You can go to Instagram, Facebook, or LinkedIn and look for businesses that could benefit from your services.
Just DM or contact via email those companies and ask if they would be interested in hiring you. You can even post ads online and place flyers at local coffee shops or restaurants.
Method -2: Job boards
There are job boards available online that you can search through to find potential clients. These sites usually list all kinds of positions ranging from customer service to marketing.
You can look for companies that are interested in hiring virtual assistants and send them your resume.
A few top job boards to find Virtual Assistant jobs – 
Is it possible to find legitimate work-from-home jobs without having to wade through hundreds of scammy sites? Yes! We're talking about FlexJobs. This site allows you to search for flexible gigs such as customer support, transcription, writing, editing, data entry, research, social media management, graphic design, web development, sales, marketing, administrative, and much more. You'll even find some remote and telecommuting positions.
The best thing about FlexJobs is that they screen every single opportunity to ensure that each one meets its high standards for quality. So whether you're looking for a side hustle, full-time income, or something in between, this is the place to go.
Fancy Hands is a great way to find tasks like writing, proofreading, data entry, etc. If you've ever wanted to work from home, but didn't know how to start, FancyHands is a good place to start. As a virtual assistant, you'll be able to manage multiple projects at once, set your own hours, and choose what types of projects you want to do. This allows you to pick up side gigs while working full-time.
You can earn anywhere from $3-$7 per task. To sign up, you must complete a short application form. Once approved, you'll eligible to take assignments. Payments are made weekly by direct deposit into your bank account.
#3. Freelance Marketplaces
Freelancing marketplaces such as Upwork, PeoplePerHour, Guru, Fiverr, and Amazon Mechanical Turk are becoming more common. They connect individuals (freelancers and virtual assistants) looking for specific skill sets with business owners (clients).
Method 3: Tag Your best work on Twitter
You can set up a profile on Twitter like this one…
And make posts like this one to drive people's attention
Twitter is an excellent social media platform for promoting yourself and your skills. It's also a great way to get new clients.
If you have any experience as a VA, then you should tag your best work on Twitter. All you need to do is create a tweet sharing your best sample works, add your portfolio link, and use hashtags like #VA, #VirtualAssistant #virtualassistant.  And also don't forget to tag companies, businesses, or individuals who might be interested in hiring you.
This will help you gain exposure and attract potential customers.
Method 4: Use LinkedIn
Set up a profile on LinkedIn and post like this…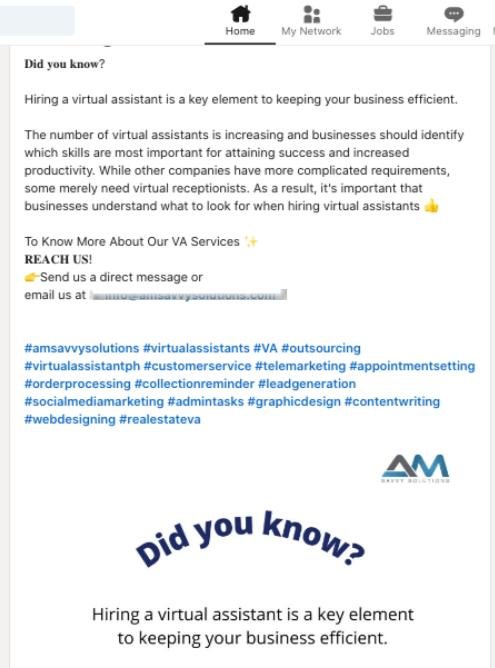 LinkedIn has become one of the most popular platforms for finding freelance work opportunities. There are many people who use LinkedIn to promote their services and offer their expertise to others.
It's important to make sure that your profile is updated regularly so that you can maintain your professional presence.
Your profile includes your personal information, education, career history, and other relevant details. Make sure that all these sections are filled out correctly.
Your summary section is where you include a brief description of your skills and expertise.
There is a separate place where you can include links to your website, certification, blog, and online portfolios.
5. Build your portfolio
Offering your freelance services can help you build your portfolio.
The best way to do this is by creating a website showcasing your work. It doesn't matter if you are using WordPress, Blogger, or another platform. All you need to do is make sure that your site has a clear layout and design.
Your site needs to include all the necessary elements such as contact info, testimonials, pricing, and samples of your work.
In addition, you should add links to social media accounts so people can follow you and stay updated on your latest projects.
How to build a portfolio
Go to sites like Behance, Squarespace, or WordPress 

Create an account and set up your profile 

Choose a template that suits your criteria

Edit the template, add necessary details, customer reviews, pricing, contact info, and services you provide. 

Finally, publish it!
This is how you can make a portfolio that showcases your skills to help you gain exposure in the online Virtual Assistant World.
6. Get hired as a virtual assistant
Once you have built a strong portfolio, it is time to start applying for jobs. You can either go through job boards or directly approach companies and ask them if they are hiring VAs.
You can even post your resume on websites like Upwork and Freelancer. These platforms allow you to connect with potential clients and get paid for your work.
However, there are companies that prefer to hire freelancers & VAs for remote work.
A few Companies Hiring Virtual Assistants
#1. Belaysolutions
It is a virtual solution company offering remote job opportunities for freelancers and virtual assistants. They are actively hiring VAs for administrative support services, consulting, sales, accounting & finance. (Learn More Here >>).
#2. Boldly
Boldly is an innovative executive assistant company offering exciting opportunities for people seeking meaningful employment. They offer a unique opportunity to work remotely in a fast-paced environment where your talents can make a huge impact. Their clients include Fortune 500 companies, startups, and small businesses. They're currently hiring for multiple roles including Executive Assistant, Bilingual Executive Assistant (English/French), Administrative & Marketing Assistant, and Legal Assistant. (Learn more >>)
#3. Trusty Oak 
Trusty Oak is a US-based company looking to hire Virtual Assistants to help businesses with social media marketing, content creation, and Administrative support. They actively recruit top freelancers & VAs in the US. (Learn More >>)
7. Start Your Virtual Assistant Business
So far,  you have understood how to start with a Virtual Assistant, How to find clients, and Where to Find Virtual Assistant jobs Online. Now it's time to turn VA skills Into a successful Virtual Assistant business.
#1. What Services You Want to Offer
The first step is to determine what type of services you will be offering. This includes skills like:
Social Media Management

Content Creation

Email Support

Data Entry

Project Management

Customer Service

Researching

Graphic Design

Copywriting

Digital Marketing

Sales

Accounting

Finance

Bookkeeping

Technical Support
#2. Structure Your Business
Now that you know what kind of services you want to offer, it's time to decide on the structure of your business. There are many different ways to run a business. Some people choose to operate their own business while others opt to outsource all aspects of running their business.
Here are some options to consider when deciding on the structure of your new business:
Sole Proprietor – Own everything yourself

Limited Liability Company(LLC) – Have limited liability protection
Sole Proprietor: If you plan to do everything by yourself then this is the best option for you. If you don't need any outside assistance or if you just want to keep costs low then this may be the best choice for you. However, if you are planning on growing your business then you should consider outsourcing certain tasks to other professionals.
Limited Liability Company: This is probably the most common way to set up a business. In order to protect yourself from lawsuits, you must form a corporation. The LLC protects you from personal liability as well as protecting your assets.
#3. Set up the company's website
A website is essential for every business. It allows potential customers to learn about your business and provides them with the information they need to contact you. It also helps you build credibility and trust among your target audience.
There are many free web hosting platforms available online. These websites allow you to create a professional-looking website without having to pay anything upfront. Here are some popular ones:
I have a complete guide to setting up a professional blog Or website on WordPress from scratch. Go check it out here. 
#4. Set competitive rates
Now you know what types of services you will provide and the structure of your business so it's time for you to set your prices. It's important to price your services competitively because you don't want to lose potential customers due to high fees.
However, your rates must be covering your taxes, monthly expenses, and business overheads. 
#5. Find potential clients
I've already discussed how you can get clients to your business or service page. You can apply some of those techniques here too. For example, you could create an online profile where you list your services and include testimonials from previous clients. You could also use Facebook ads to target specific demographics.
#6. Create a powerful marketing strategy
Without clients, your business is nowhere. So, it's important to develop a strong marketing strategy. Here are some ideas to help you market your business effectively:
Use social media platforms such as Twitter, Instagram, LinkedIn, and Facebook to connect with current and prospective clients

Develop content that attracts visitors to your website

Utilize email marketing to promote your services

Promote your services through paid advertising(Google Adwords)

Offer freebies in exchange for contact information

Join industry groups

Attend networking events
#7. Start building your client base
Once you have developed a solid marketing strategy, it's now time to start building your client base. This means getting in touch with past and present clients to see if they would like to continue working with you.
For this, you can send emails asking them to fill out a survey or ask them to leave feedback on your site. You can also offer discounts to existing clients who refer new clients to you.
Tips to build a client base
Offer a discount to your first few clients

Ask your friends and family to recommend you to their contacts

Use free giveaways to attract attention

Promote yourself at local events

Join industry associations

Attend networking events  
#8. Grow your business
Now that you have built a client base, it's time to grow your business. There are several ways to do this including:
Increase the number of hours you work per week

Add more services to your portfolio

Hire additional staff members
#9. Keep track of your finances
It's important to keep track of your finances at all times. This includes tracking your income, spending money, and keeping records of your expenses.
You can use tools like Quickbooks to track your financial data.
 Bonus: Are you ready to level up your business? Learn the skills to scale your VA business
8. Keep improving your skills
As your business grows, there will be new challenges to face. Therefore, it's crucial to keep learning new things to improve your skills. Some areas you should focus on include:
Social Media Marketing

Email Marketing

Search Engine Optimization (SEO)
That's it!
Now that you have learned all the steps needed to become a virtual assistant, you are well on your way to becoming a successful Virtual Assistant.
If you're serious about your Virtual Assistant career and want to learn how to start your Virtual Assistant Business then I invite you to join Abbey Ashley's Virtual Assistant Training program. 
Abbey Ashley is the Founder of The Virtual Savvy. She helps aspiring virtual assistants launch and grow their own VA at-home business from scratch. To become a successful virtual assistant, I encourage you join Abbey's free VA training today!
Pros & Cons Of Working As A Virtual Assistant
There are pros and cons to working as a virtual assistant. Let's take a look at them below.
PROS OF WORKING AS A VIRTUAL ASSISTANT
Flexible Hours: Working as a virtual assistant allows you to choose when and where you work. This means you can pick your own schedule which gives you flexibility. However, you may not always find clients who are willing to pay for flexible hours.
Work From Home: Working from home allows you to save money by cutting down on office space costs. Also, you can avoid commuting costs.
No Office Politics: Office politics can be stressful especially if you are dealing with difficult people. But, working as a virtual assistant doesn't involve any office politics.
Low Overhead Costs: When you work from home, you don't need to invest in office furniture and other equipment. In addition, you won't incur any rent or utility bills.
Freedom: Being able to set your own schedule helps you gain freedom. You no longer have to worry about being late to work because you were stuck in traffic.
CONS OF WORKING AS A VA
Lack Of Support: While working as a virtual assistant offers many benefits, it also comes with its share of drawbacks. For example, you might feel isolated since you're working alone most of the time.
Unstable Income: You might earn less than what you expected while working as a virtual assistant due to unpredictable workloads.
High-Stress Levels: Working as a virtual assistant is very demanding. It requires you to multitask and meet tight deadlines.
Lack Of Benefits: Unlike employees who work in an office environment, virtual assistants don't get paid vacation days or medical insurance.
Potential Health Issues: Due to the nature of your job, you could experience health problems such as stress and anxiety.
Best Tools for Virtual Assistants
Now that we've discussed some of the advantages and disadvantages of working as a virtual assistant, let's take a look at some tools that can help you succeed.
1. Canva 
Canva Pro is the design software that makes design simple, convenient, and reliable. Create what you need in no time! Jam-packed with time-saving tools that make anyone look like a professional designer.
2. Quickbooks
Quickbooks is an accounting program designed specifically for small businesses. It helps you manage your finances and keep track of your income and expenses. You can easily set up recurring bills and make automatic payments. You can even sync data from your bank accounts and credit cards.
3. LastPass 
LastPass is a secure password manager that allows users to save all of their logins and passwords in one place. With LastPass, you can easily access any website without having to worry about remembering multiple usernames and passwords. You can also share your login information with others if you choose to do so.
4. Google Drive
Google Drive is another great tool that enables you to store files securely. You can use this tool to upload documents, spreadsheets, presentations, etc.
5. Hunter.io (For your business outreach strategy)
Hunter.io is an excellent tool for finding contact details, verifying emails, and generating leads. Add the Chrome Extension, Bulk Domain Research, and Hunter.io becomes an excellent addition to any business outreach strategy.
6. Email marketing tools
Email marketing has become one of the best ways to reach out to potential customers. There are several email marketing tools available online that allow you to create personalized messages and send them to targeted audiences. Some of these tools are GetResponse, Aweber, and ActiveCampaign.
Helpful –
7. HubSpot (CRM Software)
HubSpot can be a helpful software for Virtual Assistant. This tool provides you with everything you need to build a successful business. From lead generation to sales automation, HubSpot has it covered.
8. Trello (Project management tool)
Trello is a project management tool that lets you organize tasks into boards. Boards can contain lists of items, projects, or anything else that needs to be completed. You can assign different members to each board to ensure that everyone stays on task.
9. Slack (Communication app)
Slack is a communication platform that allows you to chat with colleagues, clients, and other people. The interface is very easy to understand and it comes with many useful features.
10. Hosting Service (To set up your website)
I recommend you go with Bluehost for setting up your VA business site on WordPress. They have a 30-day money-back guarantee which means you can try it risk-free.
Or if you are looking for affordable web hosting, then you must go with HostGator. They are awesome hosting service providers.
FAQs (Frequently Asked Questions)
1. Do virtual assistants pay taxes?
Watch this video…
2. How much does it cost to start my Virtual Assistant Business?
It costs you around at least $60 – $100 to set up a Virtual Assistant Business. This includes domain name registration, hosting, email marketing tools, and other basic requirements.
However, if you are forming a complete business entity might require you to have patents, copyrights, LLCs, and trademarks. In this case, it costs you around $15,000 to $30,000 to start a VA business. (Learn more here >>)
3. Which Social Networks Should I Use?
Social media platforms are everywhere. You've got Facebook, Twitter, Instagram, LinkedIn, Pinterest, Tumblr, Snapchat, YouTube, and many others. But do you know which ones are actually worth your time? And which one(s) should you focus on?
In my opinion, Instagram, Pinterest, YouTube, and Twitter are a few Social Media Platforms for starting a Virtual Assistant Business. 
4. How Do I Set my Rates as a Virtual Assistant?
Setting your rates and billing clients can be one of the most challenging parts of starting a virtual assistant business. You want to make sure you're charging enough money to cover expenses while still making enough profit to live comfortably. But how do you go about doing that? 
According to Abbey Ashley, there are 6 steps you can take to set your rates. Please watch this video to learn more.
5. Do I Need a Website for My Virtual Assistant Business?
A website is an essential part of any business. Whether you run a small home-based business or a large corporation, having a website will help you reach out to new customers and grow your business. So having a website will ultimately help grow your VA business.
6. Do I Need a Business License?
A business license is required for most types of businesses, including VIRTUAL ASSISTANT. However, not all states require a business license. Check with your local government to see what type of license you need to comply with the state government.
Conclusion
Starting a Virtual Assistant Business is not difficult. It just takes some planning, dedication, and hard work. However, in this post, I have covered all the basic steps you need to take to become a virtual assistant. 
But if you are interested in starting your Virtual Assistant business, you'll love to become a booked-out virtual assistant. Or you can scale up your existing VA business by following these 6 Steps.
I hope you enjoyed reading this article. If so, please share it on social media platforms.