How it feels when you wake up in the morning and see a sudden drop in your traffic stats.
It's terrible… isn't it?

I know the pain because I've been there for almost 2.5 months. And you might be there too and looking for a similar guide to help you overcome the pain.
In this post, I've shared my experience and given you a clear picture OF 'Pinterest Sudden Traffic Drop'. The primary reason behind publishing this post is that "When Pinterest Sudden Drop happened to me, I was unable to figure out the exact reason.
That's why I decided to share my real-life experience to give you every single piece of information about the issue. So you no longer have to look elsewhere. And I assure you that it will take you from…
HERE –
TO
HERE –
So if you haven't done anything wrong, you don't need to be hopeless. You can recover all your traffic for sure.
Just continue reading!
I started using Pinterest in May of 2019. And of course, I knew nothing initially. But, I learned things gradually. And 1 year later I Cracked the Pinterest code and achieved my first milestone 1.7m Monthly impressions.
It was a great time. But we all know, good times don't last long. And suddenly things begin to dawn on me. The first time I encountered this incident was on 1st June 2020. When I woke up in the morning and checked my site traffic stats.
THIS is what I saw…

I was like…. What? I was gloom and had no choice other than to find the solution to why Sudden Traffic Drop on Pinterest happened to me.
So, let's discuss things in detail…
Why Do You Encounter This Issue?
The first thing comes to my mind was 'WHY ME'? Of course, this is how we all think. Whenever we face something unexpected, we always wish to know 'why this happened to me.' So I did the same and spent hours figuring out the real monster behind this issue.
I read hundreds of blog posts, forms, and watched videos with the hope that someday, I could find something useful. Unfortunately, I didn't get much out of it.
THIS Guide is well-cooked, so you no longer have to look elsewhere. Let's go and see the exact process I followed to figure out the possible reason.
The first thing I did was 'ask people', I went to REDDIT, FACEBOOK and Forums to ask people 'Why MY Pinterest Traffic Suddenly Went to Zero'.
And it helped me understand that I'm not the only one who was encountering the issue. There were thousands of Pinterest creators with the same issue.
Some said it's an update, Pinterest doing their stuff, it's a bug. Don't worry, your traffic will be recovered… blah, blah.
It made me calm for a moment. But still, I was curious to know the root cause of it. A few of them advised me to contact Pinterest support again (I contacted once already). So this is the second thing I did.
And here was my email to Pinterest support…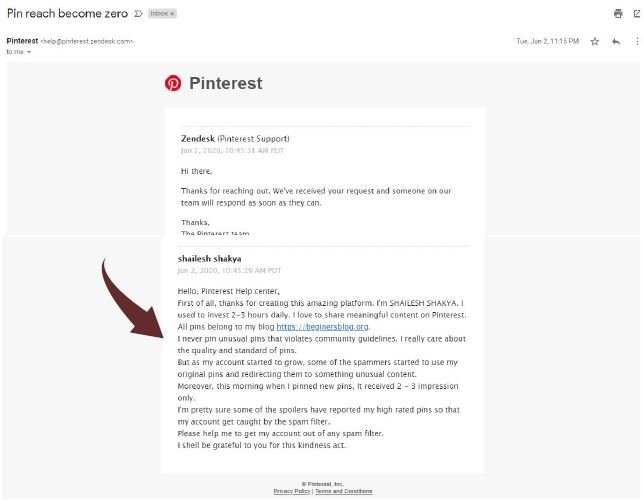 I WAITED FOR 24 HOURS…
Unfortunately, they didn't respond to me. So I contacted again. And this time, I wrote something like this…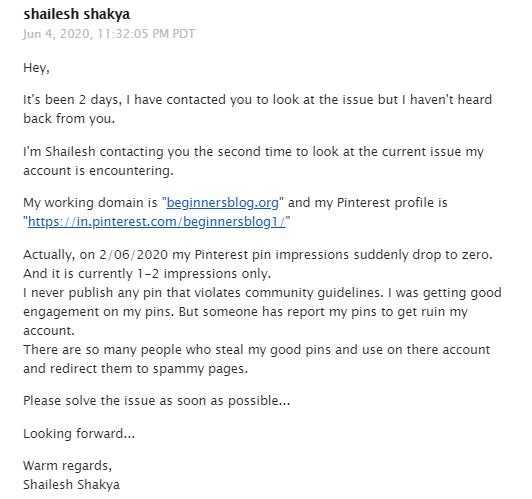 And this was what they replied to me… The first was Pinterest Zendesk; auto response.
And here is the official reply from Pinterest…
To be honest, they never told the exact reason behind the sudden traffic drop. But I had some hope because I didn't do anything wrong. I had 10 conversations with Pinterest support.
The most common response I received from Pinterest Support was like this… (You might be getting a similar response as mine.)
Hi Shailesh, Thank you for your patience,
I completely understand your concerns. Like other organic distribution
platforms, Pinterest sees natural ebbs and flows with content distribution,
which results in variations in impression volume and viewership.
Oftentimes, fluctuations can result from changes in seasonality, related
interests for content, format type, engagement rates, or updates that Pinterest
makes to our system to better deliver valuable ideas to Pinners.
Just like our users' interests evolve, we can expect the distribution of content
to see natural ups and downs as well.
We encourage creators to continue to post high-quality, inspiring ideas to
see what resonates with their audience on Pinterest.
In some cases, recent changes may be due to updates we are making to
prioritize new Pins over already-Pinned content.
Pinterest encourages creators to publish new, original content on a regular
basis as the best way to build an audience on Pinterest.
We encourage new publishing over Saving others' or your own already pinned
content.
Pinners come to our platform to find new ideas and as we continue to
update our service, we'll prioritize new original content published by
creators over Saves.
During the time period, I contacted Pinterest Support 10 – 15 times.
After reading all this, I came to the conclusion that Pinterest was explicitly focusing on fresh content. And that's why they advised me to keep posting new pins.
But I've been doing it since I started. But nothing worked out as I expected. I thought it could be due to the Pinterest algorithm update. Or maybe a technical issue…
You probably know Pinterest's new algorithm is all about creating fresher and high-quality content.
Let's forget everything for a moment and try to understand what could be the possibility of this outbreak.
The first thing is CONSISTENCY (you know already).
YES!
Believe it or not, you need to keep pinning on Pinterest regularly. In fact, whenever I post a few pins, my traffic goes down seamlessly.
Another thing that you need to understand is that 'Pinterest is not a complete search engine'. It has a few mixed features similar to social media and search engines. That's why Pinterest can rank your content and keep it up for days, months, or even years similar to any other search engine.
But here is a problem…
Unlike Google, Pinterest allows creators to pin the same content over and over again and it makes the feed over-saturated.
As a result, Pinterest's Home feed fills with duplicate, old and outdated content which irritates the consumers (aka users).
That's the reason Pinterest detain (Cut the reach and de-indexed all pins temporally) already pinned content for weeks, and gives more months to add new and fresh pins to the home feed.
And this's why Pinterest updates its algorithm and encourages creators to pin more fresh content.
KEY POINTS: Why Do You Encounter This Issue…?
1. The primary reason is to favor fresh pins with the aim to keep the search feed fresh. (It simply means that Pinterest wants to show NEW & FRESH content to consumers. )
2. Pinterest's new algorithm introduces the new term 'controllable distribution' with the aim of distributing video, story, and product pin types within the home feed. Resulting, less space, and eyeballs to exiting pins.
3. The one last thing that I notice based on my experience is that "either your account contains pinned content or fresh/new pins, Pinterest puts every account down. You could be lucky for 1-2 or maybe 3 years but they'll catch you someday and detain your account for weeks or even for months."
NOTE: It doesn't matter if you're following creative best practices, you could still be in the red zone and become the victim of this downfall.
I'm not scaring you. But it's the reality that's why you need to learn how I overcome this pain and so you can too do the same. Don't despair.
Creative best practices: – https://business.pinterest.com/en-gb/creative-best-practices/
4. Pinning too little or too high. Or pinning irregularly.
What Pinterest says about THE new updates. [Pinterest algorithm update 2020]
What Are The Symptoms?
So, you know the most possible reasons why Pinterest deters your account.
In this section, I'm going to explain what happens to your account once you encounter this issue. So sit tight and read carefully…
01. Drastic drop in Pinterest Analytics – if you see a sudden traffic drop, then make sure to check Pinterest Analytics, pin impressions and google analytics report.
02. Drop in existing pin impressions – Your pins get only 1-2 Impressions on newly published pins.
03. Pinterest removes all your pins/video pins temporarily from its search feed.
04. The pins no longer be recommended to your followers
05. You can't search your existing pins with your domain name (your actual domain name) or URL (yourdomainanme.com)
These are the things that happen to your account…
Note: Sometimes Pinterest marks your account/or domain as spam to limit certain activity like 'Too much pinning at the same time or adding exiting pins again and again.
If you do so, Pinterest blocks your domain for an hour, day, or maybe a week. It's a different issue. Please do not mix it with the current issue.
If Pinterest has marked you as spam then go and check one of my articles about How I Unblocked My Domain
from Pinterest within a Week.
Overall Pinterest Impression Report
(Traffic Fluctuation over the year)
In this section, I'm going to share with you my overall Pinterest report. The initial visual report shows MY daily impressions that I used to get in May 2019.
After switching Pinterest's regular account to a business account, my stats went from 600 to 2K a day. After two months… in August 2019, it went up to 5.25K impressions daily but again went down to 1-2K impressions daily.
And in December, my impressions went up to 45K a day and it was the turning point.
Similarly, if you check my January 2020 report, it had 30K – 50K daily impressions.
Let's take a look at the full Pinterest analytics report that shows my entire Pinterest journey.
Here you can see the ebbs and flows, breakpoint, and a point where my Pinterest analytics suddenly went to zero.
How Long Will It Be Last?
I know you could be asking the same question… How Long Will It Be Last?
Okay, let's face it… Initially, I thought that Pinterest has suspended my account permanently and all engagement and traffic had gone forever.
I was feeling so numb. I raised the issue on the Facebook group, Reddit, and other social media platforms to know how long it will be last. (Is it a temporary suspension or a permanent?)
After a few days, I came to the conclusion. (SEE BELOW…)
I collected people's opinions who had encountered the same issue once in a while. Some said it took a minimum of one week or a month. I even contacted Pinterest support, they told me that it would take 7 – 10 days.
But some Pinterest executives said something like this, 'Pinterest algorithm changes from time to time, and hence this is expected and there is no guarantee that the traffic will be rebound.'
I went to the Facebook groups and raised the same issue again. And this time, some said, it takes 3 – 8 months (15 – 40 weeks expected!).
Everyone was bluffing and it disturbed me a lot. I kept searching on google, Pinterest, Reddit, and Facebook; no solution.
But after overcoming the issue I can confidently say that it doesn't take longer than 5 months. And one more thing I learned from this incident is that it's also by luck, some accounts fixed within 15 – 30 days. (No one knows why?)
But don't worry if you are not lucky…. You always have the second choice to be lucky. In fact, one said, "Harder I work, the more luck I seem to have". And this is true. So, have some faith…
THE KEY POINTS: How Long Will It Be Last?
Pinterest never tells you the exact date of expiry. It may take longer than usual.

As per my experience, it doesn't take more than 5 months. (Note: there is no official declaration from Pinterest. It's based on my experience.)

Consistency is the KEY! (Don't stop pinning during that time period. I advise you to pin more fresh content, and do fewer re-pins). If you do so, your account may be recovered within a month or two.

Don't spam on Pinterest. You're not alone, Pinterest can suspend your account permanently.

Pin in limit; don't go beyond 40 -50 daily pins.

Stay in touch with Pinterest support. (required!)
What Are The Possible Ways To Recover The Pinterest Traffic Loss?
So far you've learned why this happened to you. Now, I'm going to introduce you to the most possible ways to recover the losses.
I had 1.7m monthly impressions. And within a few weeks, my stats went down to 25K only.
Believe it or not, I lost 90% of my traffic in just one day. Unfortunately, there is no exact formula to recover from this outbreak. There was no magic trick…
It was just the 'consistency' and 'never give up attitude that helped me recover from it. So, I advise you to follow these things… (Do Not Skip it…)
NOTE: Take these actions at least for 1 month.
1. Do not despair especially if you never disregard Pinterest community guidelines. I was too despair but as I looked back to my Pinterest journey, I found nothing suspicious. It just all happened suddenly.
2. Patience: It takes time. So don't expect immediate results. It's the time when you have to show how strong you are. Stay calm, work more, and don't settle.
3. Consistency: As I told you that consistency is the key, so never stop producing new pins. I guarantee you that if you create 4– 10 new pins daily, Pinterest will start ranking some of your newly published pins soon.
4. Create Video Pins: I was told that video pins are a great way to get additional reach. Pinterest suggested that I have to pin at least one video pin daily. And luckily one day, when I published a video pin, it did work. And you can do the same… (It was my turning point.)
5. Try changing your pinning strategy: Tweak with a number of pins, pin type, and pin timing. (Pin 4-5 new or fresh pins and do fewer re-pins…
6. Design More Beautiful Pins: Pin design matters a lot. So, don't underestimate this! Try a completely different design, tweak with size. (Tip: – try 735×1250 px or 600×1200 px, try premium images.)
7. Spend More Time On Pinterest: Go, search and read more articles on Pinterest. The more you use Pinterest, the more visible your profile will be. And it encourages users to follow you and re-pin your newly published pins.
8. Create Fresh Content: Publish new posts on your blog and create 5 different pins around each post. (Tip: A fresh pin is just a new image whether it is created for existing blog posts or new blog posts.
9. Create a new board: In the same way experimenting with a number of pins and boards, you can create a new board and start publishing Fresh pins there. As Pinterest loves fresh and new content, your account may get back to normal within a month.
10. Don't Forget Pinterest Support: No matter what people say about Pinterest support, you can't ignore it. In fact, I contacted Pinterest 10 – 15 times in 2 months and learned how to handle this situation. So stay in touch with Pinterest support. if you do so, they'll get you soon.
MOST IMPORTANTLY, YOU NEED TO LEARN HOW TO CONTACT PINTEREST IN THE RIGHT WAY… For this, you need to go to the Pinterest help center (https://help.pinterest.com/en-gb/contact)
Head to overview > Appeals > Pinterest blocked my site
And then choose the 'something else' option from 'describe the issue' and hit continue… Next, you're asked for contact information like name, Pinterest Username, and email address. Enter all the information carefully.
After filling in this information, describe the issue in detail… Here you are required to Enter a subject, description (describe your issue here), and other information related to your issue.
Finally, submit your application. That's it… Above I've explained how you can contact Pinterest Support to know whether or not your account is marked as spam.
Once it's confirmed that your account is clean, you can contact Pinterest Support again. But this time you need to do the same thing in a different way…
LET'S SEE WHAT TO DO…
The entire process is similar to the above one but you need to make two changes… Instead of 'Appeal', choose the 'Business and Advertising' option…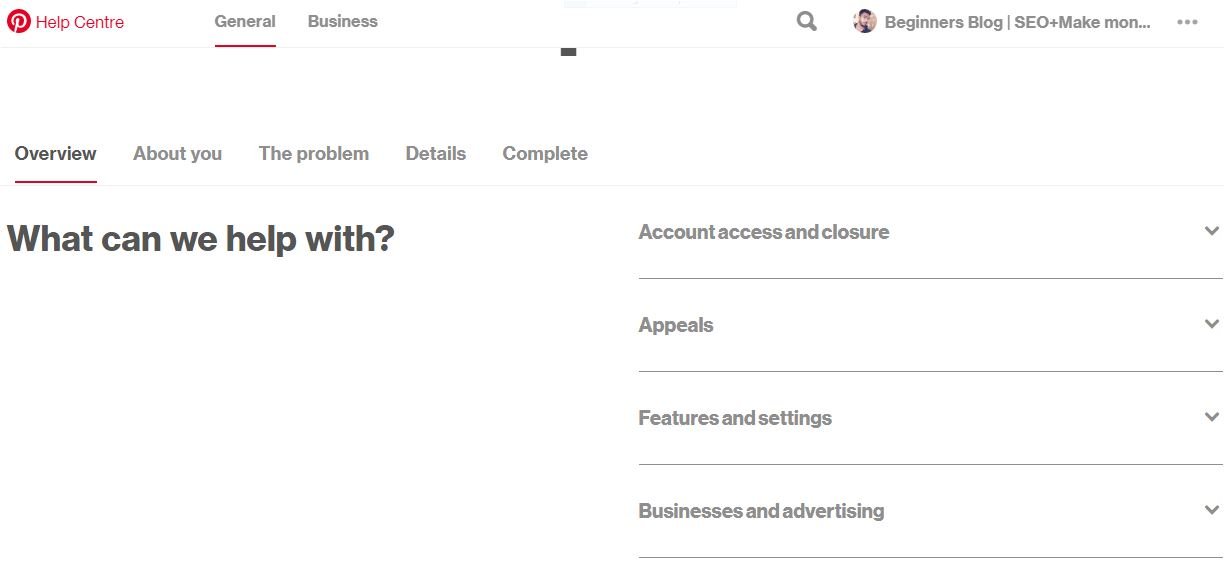 And then select 'Measurement and analytics'…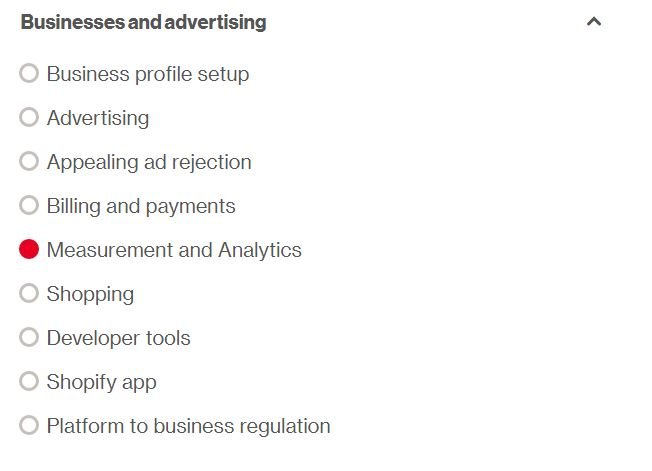 Once you're in, choose an option. You can either choose 'Pin stats', 'Pinterest analytics' or 'Audience insights'.
The second most important thing is 'Advertiser ID'. You need to find your advertiser ID.
Every business has an Advertiser identification number that you can find here. (SEE BELOW…)
First of all, visit 'ads.pinterest.com'. And then look for a 12 digit number present in the URL.
https://ads.pinterest.com/advertiser/xxxx5987xxxx/
Copy and paste it to the Advertiser ID section shown in the next step. The remaining steps are similar to the above one. (Like describing your issue and other related details).
This is how you can contact Pinterest support in the right way…
NOTE: Whenever you encounter this issue, instead of going to the appeal, always contact in the 'business and advertising' section.
What Are The Possible Solutions To Overcome This Issue?
To be honest, there is no guaranteed solution. But here are a few things that I did during this time period to get my account recovered. And you can do the same.
1. I used to create 5 – 10 fresh pins daily. (Don't complain, just start creating fresh pins)
2. I uploaded 15 -20 pins daily. (You can pin equally or more but don't re-pin older pins more than the number of fresher pins)
3. I contacted Pinterest support regularly; At least twice a week. (Scroll up to see how to contact Pinterest support)
4. I created one video pin daily.
5. I did use Pinterest more than ever during this time period
Overall, I worked hard, never give up, and it helps me get everything back to normal within 2.5 months.
PRECAUTION
I've been there for 2.5 months. (1 June 2020 – 13 August 2020)
To me, it was a horrible experience. And I never expect it again in the future.
In fact, no one wants to be there for months. Pinterest never discloses the exact reason behind the sudden traffic
drop. But here the most possible reason is the ' Pinterest new update'.
So, your main focus is to publish fresh content on Pinterest. If you're capable of doing it, your account will get back to normal within a month.
Remember, "The fresher content you publish, the lesser you encounter this issue in the future."
SEE HOW YOU DO IT…
1. Limit re-pins: Some of the Pinterest creators used to re-pin old content and create fewer fresh pins. You need to reverse it and create more fresh pins.
2. The number of pins: There is no magic number. You can either publish 15 pins a day or 30-40 pins a day. It's up to you. But remember you don't cross the limit of 50 pins a day.
3. Don't delete existing pins and boards (if the board is completely irrelevant then you can delete it, otherwise don't.)
4. Don't create unnecessary boards. Be specific.
5. Don't publish the same pin to the same board multiple times on the same day.
6. Don't publish antagonistic, explicit, false or misleading, harmful, hateful, adult, or violent content on Pinterest.
Follow creative best practices.
7. Pin consistently.
8. Don't copy other's pins.
9. Don't use sneaky redirections.
10. Don't add affiliate links directly to your pins.
NOTE: By following the above practices, you can reduce the chances of an upsurge in the future. But not completely avoid it.
FREQUENTLY ASKED QUESTIONS
1. Things that did remain the same in my account after Pinterest Sudden Traffic Drop?
The weird thing I noticed that I was still gaining followers even after suffering from the issue. Another thing was that there were no abnormalities in my account.
Everything was working fine excepting I was seeing a continuous decrease in impressions and engagement.
2. When does this happen? (The most possible time when I can experience sudden traffic drop on Pinterest)
In my opinion, it was June – October. It's the possible time when you can experience a sudden traffic drop.
Most probably Pinterest cleans its search directory during this time interval. Although you may see traffic fluctuation during this time, it's not necessarily the same issue I'm discussing here. It could be a natural drop that happens to each and everyone at any time. So be careful!
3. Is it happen to all Pinterest creators at the same time for the same time period?
Not all accounts but Pinterest picks some popular accounts at a time and detains their content temporarily.
A few days, weeks, or months later, it picks more accounts again and does the same. It keeps on going until the Pinterest algorithm start to serve fresh content to the user's feed. To make the feed look richer and fresh, Pinterest suspends thousands of accounts AND reward fresh but less-pinned content.
4. Is my account suspended or Blacklisted?
Pinterest can suspend, ban or blacklist your domain/account if some activity goes against its spam policies.
It CAN be…
Saving a lot of unwanted or repetitive content.

Trying to game the system.

Posting fraudulent.

Deceptive or unsolicited commercial messages.
NOTE: Pinterest usually sends a suspension/ban notice to inform, if the account is actually banned or suspended. In that case, Pinterest seizes your account and you can't publish new or repin content on Pinterest anymore.
But if your account is still active but getting low impressions, it means your account is the victim of a 'sudden traffic drop' issue. And in this case, Pinterest doesn't inform you anything.
5. Can a Pinterest course help me overcome the issue?
NOPE! I also thought the same… And because of this, I bought the 'Pinterest traffic avalanche' course by Lauren and Alex with the hope that it could be helpful.
I paid $197 for this course… and guess what, it's was nothing but the basic information about Pinterest.
This course didn't help me with anything. It's fine if you're a complete beginner, but if you already know how to pin on Pinterest, you don't need to waste $197.
It's too basic and too theoretical. However, they have great headings but when you go inside, you find the common information which you can FIND elsewhere for free. So make your choice wisely.
I don't guarantee if any other course can help you, but this one can't.
6. What are some helpful resources and community forums where I can raise the issue?
The day I encountered this issue, I looked for helpful resources and community forums.
Unfortunately, I didn't find any helpful resources. I read tons of blog posts and watched videos. All told me about the issue but didn't give me the complete solution.
But there are some community forums that you can join to start a discussion with people who have already encountered this issue.
Community forums: –
Facebook group: One that I joined was the 'Blogging like We Mean It'. You can join it to raise the issue and start a discussion with other members encountering the same issue.
Reddit: r/pinterest is a subreddit where you can raise the 'Pinterest sudden traffic drop' issue. I also did the same and many people came to my thread and share their thoughts. It helps me understand that I'm not the only one suffering from this issue.
(Go to https://reddit.com/r/pinterest to post your thread) Pinterest community biz: The best advice comes from people who've been there. So you can raise the issue here too and get some best advice. (Visit: – https://community.pinterest.biz/)
Pinterest official Page: Pinterest Official Page on Medium to Know
More About Technical Advancement and Latest Updates on
Pinterest.
visit – (https://medium.com/pinterest-engineering/machine-learning/home)
7. For whom this guide is?
This guide is dedicated to those who have encountered sudden traffic drop on Pinterest and looking for answers to
questions like what this issue is? How long will it be last? And so on…
It is helpful for those who have lost hope and also afraid of losing their business on Pinterest. Someone who wants to know my real-life experience and learn to deal with this issue.
For those who want to know the possible ways to overcome this outbreak.
If you love this guide please leave a comment below and share it with your friends who are encountering this issue.