Back in the days, Pinterest blocked my site and mark as spam.
I was so disappointed… And curious to know 'How to unblock pins on Pinterest?'
Finally, I got the solution…
And In this guide, I'm going to reveal what I did to unblock my site on Pinterest in less than 7 days.
Let's face it…
A LITTLE STORY OF MINE
On 3 August 2019, When I logged in to my Pinterest account and clicked one of my pins, here what I got…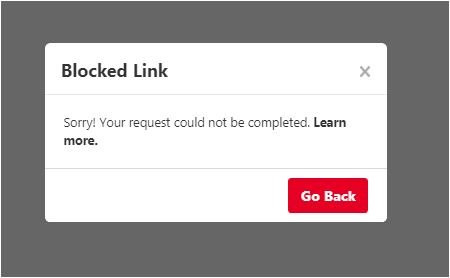 My domain was completely blocked from Pinterest. And all pins on my account were redirected to an error message shown above…
It's terrible…Right!
All my Pinterest traffic went to zero. It was totally new to me.
After further investigation, I found an email from Pinterest saying, "We wanted to let you know we've blocked your website on Pinterest because of some activity that goes against our spam policies."

Now let's talk about what I exactly did to unblock my site.
THIS IS HOW PINTEREST UNBLOCKED MY SITE IN 7 DAYS   
STEP 1. CONTACT PINTEREST HELP
If Pinterest has marked your site as spam then the first step is to contact Pinterest help.
Many people say that Pinterest's help is helpless.
But to be honest, it helps. All you need is 'patience'
Let me show you how to deal with it…
The only way to unblock your site from Pinterest is 'contact Pinterest help'
So this was the exact message I shot to Pinterest.
You can also write something like this…
Hello, Pinterest support,
I'm [Shailesh Shakya]. Thanks for creating such an awesome platform. I love using Pinterest daily.
But something wrong happened to me on [03/08/2019].
And I was unable to create pins and Repins from my verified domain [https://beginnersblog.org].
Whenever I tried to create a pin, I got an error message saying "sorry! This request can't be completed" and also when I clicked on existing pins I got the error message saying "sorry! This pin is blocked, this request can't be completed"
To be honest, my domain doesn't hold any spam or inappropriate content.
I'm just adding value to this platform like others. And mistakenly, my domain is reported as spam. I think some of my competitors have reported my domain as spam to kick me out of the competition.
But I'm sure, I haven't done anything wrong.
Therefore I request you to unblock my site. I shall be grateful to you for this kind act.
Thank you…
NOTE: – If you copy the above message then make sure you replace name, date, and URL with your name, date, and URL.
After that, I got an auto-reply something like this…
NEXT…
STEP 2. WAIT FOR TWO DAYS
Once you've contacted, it's time to wait for at least two days.
Usually, Pinterest unlocks good sites within 24 hours. But sometimes, it may take a week or more.
So you need to wait for two days and contact Pinterest again.
My second message to Pinterest
But it's my bad luck again I got a reply from Pinterest like this…
And it disappointed me a lot. But I didn't give up.
So…
STEP 3. CONTACT AGAIN
I contacted Pinterest many times.
And finally, I got this reply…
 On 9 August 2019, Pinterest unblocked my site completely.
That's it…
If you follow these steps, you'll get your domain unbanned from Pinterest.
Now let me tell you…
How to contact Pinterest Help support and unblock your site & pins [with screenshots]
First, head over to the Pinterest help section
Here you see a couple of options…
Next, Click the "APPEALS" option and from there choose the last option 'Pinterest block my site'
Now scroll down and click the 'continue' button.
As you click, it will ask you about the issue. (You can choose the first option as shown in the screenshot)
Once you have completed the overview section, you can now jump to the 'About You' section.
Here Pinterest asks about your name and email address.
Just fill up this section and click the continue button.
Now you will move to the 'The Problem' section where you're asked to describe the issue in detail.
In this section, you need to answer the following questions…
Subject: – Your subject is 'Pinterest blocked my site'
Description: – Here you need to describe everything as I did above. You can copy & paste the above msg I sent to Pinterest [But make sure you replace the name, date, and URL with your name, your data, and URL]
What's the link to the page or Pin we should look at?: – Here you need to put a link that pops out 'Pinterest error'. (Your URL format similar to this: –
https://in.pinterest.com/offsite/?token=925-384&url=https%3A%2F%2Fbeginnersblog.org%2Fpunctuation-checker-tools%2F&pin=859343172631308312&client_tracking_params=CwABAAAAEDYwMzM2MzUzMTE4NzgxNDIA~0)
Content Removal Reason: – Do not put anything here. Just leave it as it is.
Is this a secret board or a public board?: – CHOOSE your preferred option
Are you trying to create a Pin, or is the Pin already on Pinterest?: – Choose the second option.
Link to the Pin, board, or account: – Put your Pinterest profile URL. (Similar to this: – https://in.pinterest.com/beginnersblog1/)
Next, CHECK all details thoroughly…
If everything is good, click to continue button.
Next, tell Pinterest about your device.
Once you've filled this out, hit the continue button.
Then, Pinterest asks you about the 'error message'.
You need to write about the error message that you are getting while clicking on your pin.
Lastly, you can add an image or a video that better describe your error message.
And submit your request.
That's it…
Congratulations!!! finally, you've submitted your issue for review. 
Last thing I would like to say that if you don't get any response within one week then try again. Keep contacting and submitting your issue until Pinterest unblock your site.
CONCLUSION
I've explained everything to unblock pins on Pinterest.
Now, it's over to you. If you follow these steps then I'm sure Pinterest will consider your issue and remove your site from spam. 
Lastly, I would like to say that you don't post inappropriate content on Pinterest. If you do, your Pinterest account will be suspended forever.
If this article has helped you in any way then please share it on social media platforms like Facebook, Reddit, Twitter, LinkedIn, and Pinterest.