All the Adsense publishers know that "To increase the Ad revenue you need to optimize your website for Adsense ". But this is not enough to earn revenue from Adsense. If you want to become successful in Adsense, then you need to do experiments and try to figure out which fact is suitable for you. Page-level ads are the best for optimizing your ads for mobile devices. So let me introduce you to what page-level ads are and how they affect your Google Adsense earnings.
What are page Level ads?
These are the family of ad formats that reduce the efforts to implementation of ad code.
Page-level ads are not available for all publishers. Most of the publishers who are beginners will not be able to run this ad format
because these ads are still experimental and not suitable for all websites. Due to this reason sometimes they work well and sometimes not. So do not bother about it.
What is the difference between Normal ads and Page-level ads?
| | |
| --- | --- |
| Normal Ads | Page-level ads |
| Need to create an ad unit |   No need to create an ad unit |
| Require a Plugin or lengthy way to implement ads | Straightforward to implement |
| Technical skills are required |   No |
| ad Viewability is very low |   Good |
| Viewability changes during scrolling |   Viewability does not change during page scrolling |
| Less CPC & Impression |   High CPC & Impression |
The above table shows you that page-level ads are more optimal than regular ads. But do you believe that these ads can increase your AdSense earnings?
In this article, I will tell you How to use these to increase Adsense earnings and also introduce a case study for a better explanation.
Let's get started…
Before I dive deeper, first learn how to implement these ads on your WordPress site.
Switch to your Adsense Account and Click on My Ads.
Now go to My Ads > Page-level ads.
There are two types of ads anchor/overlay ads & Vignette ads

Click on the toggle buttons to enable both ads.

Now click on the "Get Code" button.
Copy the ad code.

Paste that code on your website in the Appearance>Editor>header.php file. Please make sure to place the code within the head tag.
Finally, test it on your mobile device. Put #googleads at the end of the page URL.
           Syntex – http://www.yourdomain.com/#googleads
If you find everything ok, then you'll see these ads at the bottom or top of your device. But sometimes page-level ads do not appear. It might be due to some code error, or there could be a theme issue. So you can make it fix by just disabling the Page level ad feature and again enabling them. 
Or you can check out this Google AdSense forum to solve this issue: https://productforums.google.com/forum/#!topic/adsense/hGcVzxwum5E
Now let me tell the different types of page-level ads
Anchor/ Overlay Page-level ads
Although, you know the Adsense program policy that publishers are not allowed to put sticky ads on their web pages. But page-level ads give an opportunity to place the sticky Ads. These ads are highly optimized, and they do not depreciate user experience.
These types of ads engage with the edge of the user's device. These are also called "sticky ads" and are only visible on high-end mobile devices. Adsense automatically shows these ads at optimal times to increase Adsense revenue.
Screenshot of Anchor/overlay ad
Vignette Type Of Page Level Ads
Adsense shows these ads in limit because they affect the user experience. They are inserted within hypertext and visible if someone clicks on those text links. These ads also show on high-end mobile devices.
Screenshot of Vignette ad 
How to Put Page-level Ads in Blogger (BlogSpot)
The process is pretty similar to WordPress. But I am going to tell you everything from the start.
#1. First of all, Go to the Google AdSense dashboard and click the 'page level ad.'
#2. Enable both types of page-level Ads
#3. Now, click the get code and copy that
#4. Next, Head to Blogger dashboard >Theme > Edit HTML
#5. Press Ctrl+F and type in "<head>". It will show you a head tag like this <head></head>
#6. Paste the code  just above the </head> and save changes 
#7. Finally, check whether they are working. (copy this link to check ad appearance: http://www.yourdomain.com/#googleads). Make sure you replace yourdoamin.com with your actual domain. 
Do you need Page-level Ads to Increase AdSense earnings [case study]
Yes, you need these ads because nowadays more than 40% of internet access is from mobile devices. So if you don't optimize your ads for mobile, then you may lose a significant amount of money.
In this topic, I will introduce you to a case study that will be enough to prove the reality of these ads.
When I first saw the page-level ad on my Adsense dashboard, I didn't know about it. But after collecting enough information about it, I implemented these ads on my blog.
The ads start appearing on my blog, and after that when I checked out my account a few hours later, I found a 500% increment in my earnings. Means, I earn 0.25$  instead of 0.05$.
Here the exciting thing to catch is that if I get 500 pageviews per day and consider only 300 page views are countable, then I can earn up to 3$ from these page views which is a good figure.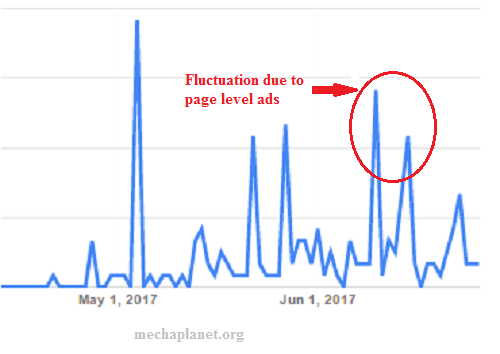 The above screenshot shows fluctuations in Adsense earnings. The curve inside the red circle shows the real variation of the earnings after embedding the ads.
But after using it for more than 2 to 3 weeks, I didn't get many variations. However, my CPC has increased from 20% to 30%, but ad impressions have again become normal.
It means that the installation of these types of ads affects Adsense earnings a little bit. So, I suggest you place these ads on your blog and increase revenues up to 20% to 30%.
I have also found another case study by Saumya Majumder. He explained it very well. He found different results than mine. Because page-level ads depend on site niche, structure, domain authority, page hits, SEO, etc. He found higher conversion than me because his blog is more visible than mine.
His findings 
700% increment  in earnings only for the single day

275% increment in CPC

50% increment in Avg CPC
Read more about the case study
Final Thoughts
Page-level ads work for me a lot, and I believe that these also work for you. So go ahead and install these ads on your blog/website.
These ads are available for all the publishers.  You can receive an invitation from the Adsense team automatically,  once your website starts getting sufficient page views & get high domain authority.
Please do share your experience with us and do let us know how they work for you.
Do not forget to share this article on social media.
Save
Save