So, you're running your business but still confronting less engagement and conversion rate. There could be so many reasons that are responsible for this mess up. 'Live chat support' is also one of those reasons that you should consider. If your business page doesn't include any of these WordPress chat plugins; unknowingly, you're losing a massive chunk of sales which result in fewer conversions.
Sometimes customer encounters some technical problems while purchasing your products or services. These end problems are the causes of unsuccessful conversions. So to resolve it, you need to develop a live chat interface that enables buyers to communicate immediately and fix issues.
In fact, the Growth of live chat is continuously increasing and 56% of online customers more likely to communicate and buy after the live chat session.
As the proliferation of online broadcast is increasing, people want a real-time solution and live chat supports are the best options to solve customer's problems in real-time.
Moreover, 92% of customers like to interact with live chat rather than any other communication because it is fast, reliable and convenient.
Aside from that, 63% of online visitors visit a website repeatedly that provides live chat support.
Above statistics show how it is helpful for a website to have 'live chat support'. It means now you must care about setting up a chat widget on your site to know your customer better.
Setting up a chat widget on your site will become easy if I give you a list of best live chat plugins for WordPress.
Once you go through with this article, you will come across with some excellent WordPress chat plugins. You need to select one plugin that you like the most.
So, without further due let's get started…
List of best live chat plugins for a WordPress site: –
Olark

LiveChat

Tidio Live Chat

SUMO me

Pure Chat

WP Live Chat Support

ZOPIM

Kayako

Velaro
9 Best Chat Plugins For WordPress
Chat data should be part of your process because it helps you collect the customer's behaviour. It enables you to improve customer satisfaction.
The best thing is that you can integrate it into your WordPress site easily. All you need to do is copy the code provided by Olark software and paste it into your WordPress widget area.
If you're not familiar with coding, then use Olark WP plugin.
FEATURES
It has tons of customisation options like changing chatbox colour, text, background colour, chat box position, language and so on.

Real-time reporting

Automated messages

Unlimited chat history or conversations

Chat data is searchable. It means you can retrieve your recent discussions to collect customer product feedback, qualitative data and insights. The data can help your business to understand customer behaviour and their demands.

Real-time chat helps you uncover more leads and conversions. And also respond to any question immediately which makes the user feel better.

You can integrate Olark software with other software (Google Analytics, MailChimp and HubSpot) including WordPress.

It uses Shortcut feature to save your time and help you reply to some common questions quickly.
PRICING
The free version is not available. Pay $17 /month; if you want one month access. The yearly plan can save you 12%. You need to pay $15/ month for a year plan. Select 2-year plan to save 29%. You've to pay only $12 on a monthly basis.
---
Another chat software for your site that can help you bring your leads and increase conversation rate.
FEATURES
Easy to set up by installing 'LiveChat WordPress. '

You can sneak on your customer's mind because LiveChat software has a visible message window where you can see what customer is typing.

It has an exciting feature 'canned response' which allow you to answer common questions quickly.

It collects all visitor's information before starting a chat, the necessary information like e-mail address, name and location can help you generate your email list.

It has a file sharing option that enables both agent and customer to share attachments without leaving the chat window.

You can block any disruptive visitor quickly

In case, if you can't handle chats, you can transfer them towards the higher-level agent

Similar to Olark, it generates chat transcript that you or your customer can use for future reference.

You can integrate it with Facebook, Google Analytics, MailChimp and Salesforce, WordPress, Dropbox, zendex and join me.

Moreover, the customer can rate a chat conversation that can help you improve the support service.

It Generates chat performance report to see how well your support team is performing.

It offers a couple of customisation options (Change chatbox theme colour & company logo, Social icons, additional CSS and more) that can help you make the chat box is an integral part of your website.

The chat window can translate into 45 languages.

Customize greeting graphics

Eye-catching graphics help customer or visitor to make sure that a live chat option is available on your site.

You can add unlimited members to your chat portal for useful
PRICING
Starter plan: $16/month

Team plan: $33/month

Business plan: $50/month

Enterprise plan: $149/month
---
It is also one of the best live chat plugins for WordPress. It helps you grow customer reach and brings you more business leads and increase the conversion rate.
The best thing is that you can use it for free. However, the free version offers limited features, but it is still useful.
Feature (Free version):
You can add only up to 3 members

Email integration

IOS & Android app

Messenger integration

Third-Party integration
Similar to other live chat software, it also offers you some impressive features. You can add these additional features to your free account.
FEATURES 
Real-time conversation

You can add as many members as you want, to improve your service level.

3rd party app integrations (like Mail-Chip, Google analytics and more).

Multilingual; it can handle visitors from all geolocations.

It shows you the list of visitors who are currently online, also allow you to chat with them.

TIDIO also takes care of how you can customise chat box to match with your brand.

It allows automatic messaging, in case if you or any member of your website is not available

Unlimited tracking

Live typing to see what your customer want to type.
---

SUMO ME is a popular WordPress plugin that offers pretty extensive features. It is all in one pack for those who want to generate email list and Grow business leads.
Aside from Emil list, you can now integrate live chat box to your site to help visitors or customers immediately.
Free membership doesn't offer a live chat feature. To enable it, you need to upgrade your membership.
FEATURES
Chatbox customisation options

Chat history

Chat performance report to analyse your service

In case, if you're not available, it turns into a contact forum and asks the visitor to provide an email. This email is then added to your email list automatically which help you grow your email list.

It generates Visitor behaviour report to help you analyse what type of issues people are reporting the most.
---

PureChat is also another best chat plugin for WordPress. Similar to other live chat software, it also helps you improve customer engagement and unleash their thoughts.
I love this chat software because it offers you both free and PRO version which gives you the freedom to take a free trial without adding credit/debit card.
FEATURES
You can add as many members as you want.

Chat alerts

Canned response; It helps you make quick replies to common questions.

It comes up with SSL security that makes your conversations secure.

File transfer; send attachments without leaving the chat window

Customization options are available to change the chat window.

In case if you are not live, it enables the contact form automatically to collect visitor's information.

Transcript; store all your conversations and generate a transcript

You can integrate third-party apps like Google Analytics, HubSpot, Salesforce, ZOHO, MailChimp and slack. (paid)

30-day money-back guarantee. (paid)

It helps you improve your real-time

Analysis of real-time visitors (paid)

Run-on unlimited websites (paid)
PRICING 
The price depends on the traffic to your site. More traffic your site gets, more money you have to spend.
---

If you don't want to stick with any software, then use this live chat WordPress plugin. It has both a free and pro version.
To add to your site, download the 'WP live chat support' plugin. As available on the WordPress directory, you can set up it quickly.
If you're running a small online business, then it is the perfect choice for you.
FEATURES
You can answer multiple customers simultaneously.

All messages get stored, when you are unavailable

It comes up with six default chatbox theme to give it a professional look.

It generates transcripts of all old conversations.

You can add a survey, before or after a chat.

It supports GIFs

The free version doesn't require any monthly payments

Whenever a visitor opens your site, this plugin allows pop-ups automatically

It doesn't conflict with any catch plugin

A separate option for enabling or disabling it on a mobile device

Stores all recent chats that you can start whenever you're free.

You can add unlimited agents with PRO version

Automatically start to chat with new visitors (PRO)

PRO version comes up with some pre-defined script that allows the agent to answer quickly.

Visible typing preview

Enable/disable chats on specific pages

Transfer chats to another agent

Monitor each behaviour of visitor and generate reports of chat stats, popular pages and ROI tracking. These reports can further help you improve ROI, leads and conversions.

Translate into 25+ languages
PRICING
I must say that the free version is proper fit if you're running a tiny business. But for small business, you need to buy the PRO version of this plugin.
---
Zendesk is another name behind ZOPIM. It is also a great live chat plugin for a website. You can easily configure it on your site by just installing 'ZOPIM live chat' plugin.
FEATURES
When a visitor opens your page, it allows automatic pop-ups to start a conversation with that visitor.

A detailed track record of visitors to find who is looking for your help.

Real-time chat report of agents to measure their performance.

Customize your chatbox theme to match your brand.
PRICING

Want to convert your visitors into customers by offering real-time support, then Kayako does wonder. It is one of the best live chat plugins for WordPress website.
FEATURES
Customization options to make it easier for the customer to communicate.

Enable live chat support on both desktop and mobile version.

Now your customer can message anytime, even when you're offline.

Keep your conversation continue. No need to start a chat again

You can make a chat conversation more interesting by introducing your recent orders and satisfactory customer reviews. It could increase the chances of product sales.

It generates a customer report that can help your future business plans.

Canned response

Monitor customer satisfaction rating and live support team report to better analyse your customer and team.
PRICING 
---

It is another best chat plugin for WordPress.
FEATURES
Integrate social media profile to let your visitor or customer know how reliable you and your services are.

The custom survey reports understanding your customer and visitors deeply.

Canned response

Push pages towards the visitor's browser without even interrupting the chat.

File transfer

Agent roles; assign the roles of an agent to access a specific area of chat profile.

Customize your chat window

A clean report of visitors, real-time visitor dashboard

Page navigation history

View old conversation

Transfer your chat to the high-level agent, in case if you're less skilled

Advance queue-based schedule to set the workflow

It allows visitors to review your live chat support

Response rate report; how fast you're responding to visitors

256 bit SSL security
PRICING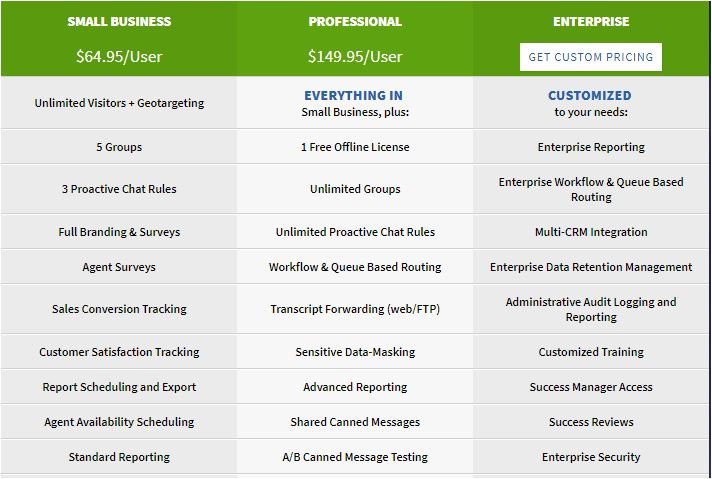 ---
CONCLUSION
When it comes to analysing the success of the business, live chat support can do wonders. Live chat is a good practice to communicate with new visitors in real-time.
Live chat software gives you the opportunity to uncover what your customers are looking for. On behalf of that, you can provide them with what they want.
Often time you get emails from your clients asking I have these issues or that issue. You've no time to check all emails, here the live chat supports come into pictures. So, go ahead and set up the best live chat plugin for your website to handle all your emails more conveniently.
Above listed all software are best and have a similar feature. So you can pick one that best match your business profile.
If you like this guide, then don't forget to share it on a social media platform.
Most similar articles you might want to check out: –
---