You've probably heard of AI proofreading tools like Grammarly and Hemingway, but did you know that there are now even AI tools that can help you come up with ideas for what to write about in the first place? In this article, I'm going to introduce you to 10 AI writing tools that help me generate 100,000 + Words In One Month.
Before diving into it, I would like to tell you…
Why do you need AI content writing tools?

How can these tools enhance your content writing process?
Why do you need AI content writing tools?
Being a blogger, I know how important it is to write quality content and publish it on your blog regularly. Not just that, you also need to focus on the different aspects of blogging like optimizing blog content for SEO, promoting it on social media platforms, creating social media graphics, handling social media accounts, and so on. 
Doing all this can be overwhelming. And you can't afford to spend hours writing content if there is so much to do. 
However, you can hire a freelance writer like me to get this shit done. It's quite expensive and is not a valid option for newbie beginners.
But AI writing tools can be a cheaper option. An AI writing tool can produce high-quality blog posts, social media posts, and more in less time and save you a huge amount of money. It can definitely help you supplement your content writing process. 
Key Points – 
AI writing tools can Save you time & money

They can help you get rid of writer's block

Increase productivity 

An AI content writer can help you generate content ideas, do topic research, and write amazing blog posts.

Boost the content writing process. 
How can these tools enhance your content writing process?
Nowadays, Content writing is the most tedious yet effective process in blogging or any area of digital marketing. And AI writing tools can help you save time and money. For example, hiring a professional writer can cost you around $100/post or even more depending on the project.
That means you need to spend thousands of dollars to produce 20- 50 articles every single month. On the other hand, you can buy a monthly subscription to an AI tool for less than $100 and generate 50 – 100 quality articles every single month without any hustle. And believe me, this can save you a lot of time and money.
Apart from that, AI-powered writing tools can generate thousands of words in less time, write captions for your social media posts, generate content outlines, write ad copy, titles, intro, quora answers, and more. 
However, human writing is indispensable but you can still use an AI content generator to double or triple your work efficiency. And this is how you can save time to focus on the important things that matter the most. 
Well, by now you have understood why AI tools must be a part of your content writing process.  Now let's move ahead and talk about some of the best AI writing tools that can 5 – 10X your content production process.  
Here is a Quick Overview Of AI Writing Tools  – [Comparison Table Of AI Writing Tools]
Let's get into details…
1. Frase.io – Best for bloggers, Freelancers, and SEOs
Frase is one of the best AI writing tools to my knowledge. According to frase documentation, It has learned millions of ways to express ideas on the web. 
With this, you can research, write and optimize your content for SEO. It's an all-in-one content writing solution for bloggers, content creators, and marketers to produce high-quality content in less time. 
The cool thing is that, with Frase, you can produce long-form content within an hour. It comes with all essential tools and features that can help you with researching, briefing/outlining, writing, and optimizing.
The user interface is quite responsive, clean, and easy to navigate. In fact, you can conduct topic research, analyze SERPs competition, and content formatting, and measure your optimization goals right from the dashboard.
Let's talk about its features…
Features
With frase.io, you can integrate your Google search console for better SEO.

Frase's AI uses a different language model other than

GPT-3

which is used by most AI writing tools. 

Built-in templates to generate content in seconds. Or you can create custom templates tailored to your needs. 

Frase helps you identify new content opportunities by analyzing Google search console data

You can uncover keyword search volume, Domain authority, and backlink profile for the top google search results using the SEO add-on. 

Unlimited access to AI writing for an additional $35/month.

Automated content briefing helps you generate detailed SEO content briefs that help you produce content that ranks. 

Content scoring to measure ON-PAGE-SEO.

The content editor comes with all word processing features to help you format your content.

100% plagiarism-free content.

Frase supports

multilingual optimization in English, Spanish, French, German, Italian, Dutch, Portuguese, and Danish.
Recently added features 
The Long Form AI Tool. 

Instead of creating content snippets, the brand new longer-form AI Tools will generate long-form content on their own.

Generate an entire blog post in just one click.

Listicle Post Generator.

Create the Listicle Post with a click.

Search results summarizer.

Automatically summaries the content from search results.

Full Draft Generator.

Build your outline by using headings from SERP. Frase will then summarise your sections and build your draft.  

Article rewriter.

Rewrite an entire article in a single click.  

"Write About This" Button. You can use AI to create content for specific areas of your competition's content.  
Pricing 
With a 5-day money-back guarantee, frase offers three pricing plans…
Basic – 44.99/month; $39.99/month, if paid annually 

Team – 114.99/month; $99.99/month, if paid annually

Enterprise – Custom pricing plans as per demand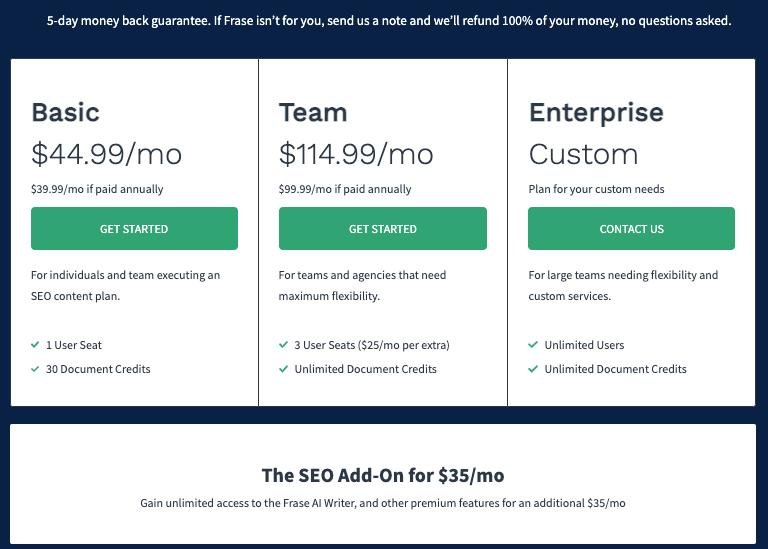 *Note – You can get access to unlimited AI writing, and other premium features for an additional $35/month. 
Who can use frase.io 
Frase is best suited for bloggers, content writers, social media managers, freelancers, SEOs, content managers, editors, and so on. 
I have been using frase.io for almost 5-6 months and it won't let me down so far. It's the best ai content writing tool for bloggers and businesses. I'm fully confident that if you try it once, you are going to continue its subscription for years to come.
Helpful – How I Generate 2000+ Words Of Blog Article In Less Than 2 Hours Using Frase.io
2. Jasper – All-in-one AI writing Software
Jasper is the leading AI writing software trusted by 50,000+ content marketers and companies including Google, Airbnb, IBM, and more. 
Jasper helps you write an in-depth article, create a high-converting ad copy for your marketing campaign, and generate product descriptions in minutes. Just give a little context to Jasper and its AI will do the rest. 
With 50+ built-in AI templates, you can literally produce any content-type real quick. For instance, if you want to write an Amazon product description, then head over to templates and look for the "Amazon product description (paragraph)" template. Here input the product name and hit enter. Jasper AI will start analyzing your query and within a few seconds, you have a beautiful product description. 
Similarly, you can generate SEO meta descriptions, Google ad descriptions, quora answers, and so on with a click.
Feature
50+ pre-built templates to help you start right away.

Similar to frase, Jarvis can help you produce long-form SEO-optimized content for your blog post, reports, email, and stories. (But it is only possible if you have a boss mode on. )

100% plagiarism-free content.

Integrate SEO-surfer and Grammarly to craft SEO-optimized content without worrying about proofreading and grammar. 

Supports 25+ languages 
Who can use Jasper?
Jasper is best suited for content publishers, social media managers, copywriters, and bloggers. 
Pricing
Similar to Frase, Jasper also has a 5-day refund policy. If you feel that Jasper is A GOOD fit for you, then go get a starter plan for $29/month to write your first 20,000 words. 
Or you can even upgrade to a boss mode plan for $59/month to unlock plagiarism checker and Grammarly boss for better content optimization.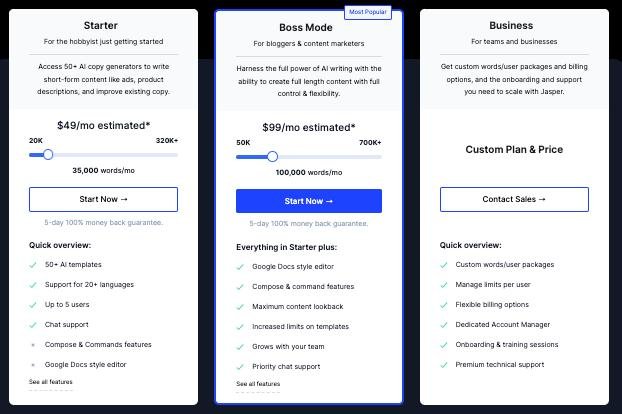 Jasper is a highly powerful AI writing tool with tons of features to help you supplement your content writing process. And I can recommend Jasper to anyone without having second thoughts in my mind.  However,  I chose Frase over Jasper (Formerly known as Jarvis) because Jasper is a little expensive. And I found Frase to be the best fit for my content writing process. 
3. Writesonic – Best for bloggers and advertising agencies
Writesonic claims to be the world's most powerful AI content generator tool which is capable of producing 1500 words of blog posts/articles in 15 seconds.
Upon signing up, they ask you to choose the purpose of using Writesonic. You can choose the appropriate option.
For example, if you want to use Writesonic to write blog posts for your blog then you can select it and continue to the next step. 
In the next step, they ask you to choose 3 features that you would like to try. 
After clicking the Continue button, you'll be taken to the Writesonic project dashboard added with 10 free credits. You can use these credits to get started.
Here you can choose a template that suits your project criteria and start producing content on autopilot. 
Now suggest a topic (example: 5 Ways to make money online). Select one language out of 20. And hit the "generate ideas" button from the left side. 
Within a few seconds, Writesonic suggests 3 titles. 
You can pick one title from the list. After that, AI asks you to generate intro ideas based on the topic/title you selected earlier. 
The third step is to 'Get An Outline'. Choose one out of three outlines. 
You can add, remove or edit any of these subheadings to make your blog post look super unique. 
In the final step, AI generates your draft article in seconds. 
This is how you can generate quality content within a minute with the help of Writesonic AI  writing tool. 
Features 
Write 1500 words blog posts and articles

Rephrase your text using the paraphrasing tool

Summarize your article in one click with the help of an Article summarizer. 

It Supports over 25 languages 

Simple and attractive user interface

Easy to use 

A free trial is available

Develop high converting landing pages

Similar to Jasper, Writesonic enables you to generate answers to questions on Quora, Create high converting ad copy for Facebook/google advertising, and craft epic product descriptions. 

One-click WordPress export

Browser extension 

A sonic editor like Google docs

60+ AI templates

Semrush and Zapier integration 

Plagiarism checker
Pricing
Writesonic has 2 pricing plans. 
Short-form: Starting at $15/month; best for generating social media captions, Facebook ad copy, and product description

Long-form: Starting at $19/month; best for bloggers, writers, publishers, and freelancers. 
Apart from these two plans, Writesonic has a trial plan where you can try all features for free to determine whether or not Writesonic is the right choice for you.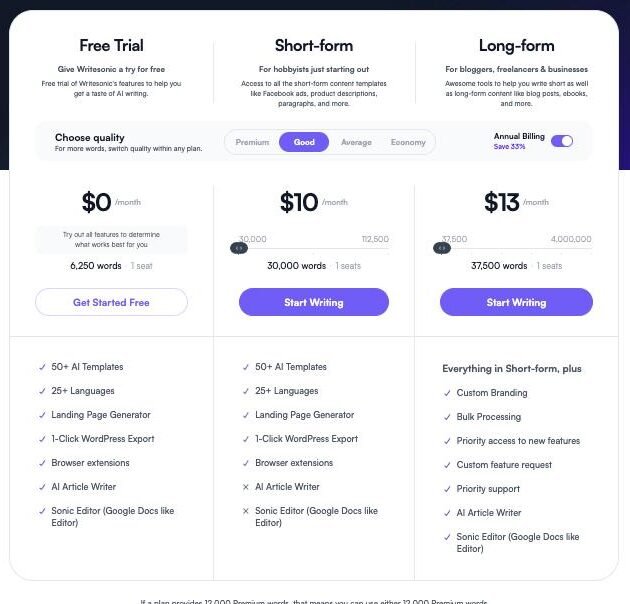 Who can use Writesonic?
Writesonic is the right choice for anyone who wants to create content from marketers to social media managers to agencies. 
After using the Writesonic tool for 1 month, I can say that it's the best choice for advertising agencies, social media content creators, and marketers to create short and long-form content. 

Helpful – Writesonic review: Write Content In Just 5 Seconds
4. CopyAI – Best for generating marketing copy
Back in 2021, I used copy.ai for the first time to create short content blocks for social media. It's really fascinating to me to use tools like copy.ai to supplement my content writing process. 
It's one of my favorite AI writing software which I used before for generating Instagram captions and short post intros. You can also use it to produce high-quality blog posts as well. 
With copy.ai, you can create blog post ideas, content outlines, sales copy, and product descriptions in 25+ different languages. 
Copy.ai helps bloggers, social media managers, and email marketers with writing quality blog posts, creating high converting social media posts and crafting engaging emails respectively. 
Features 
Free Plan – 10 free credits each month

1M+ professionals choose copy.ai 

 90+ tools and templates to streamline your content writing process 

25+ languages
Pricing
It offers 2 plans. The first one is the Free plan and the second one is the Pro plan. 
Free plan – $0/month 
10 credits per month 

20 bonus credits for the first month  

25+ languages  

90+ copywriting tools  

Blog Wizard tool New
Pro plan – $49/month 
Unlimited credits  

Unlimited projects  

25+ languages  

90+ copywriting tools 

Blog Wizard tool 

Priority support  

Access to our newest features
Who can use Copy.ai
Copywriter

Social media manager

Bloggers 

Content creators

Email marketers 
Copy.ai is best suited for copywriters and email marketers. However, bloggers or other content creators can also use it for generating short content and other types of content. One thing I like about this tool is that it has a free forever plan which makes it cheaper and beginner-friendly.
5. Rytr – Best for new bloggers 
Rytr is another AI writing assistant tool trusted by 1.5M+ content writers globally. Its powerful AI helps you generate content for any given topic or niche.
It also has a human-like personality and can understand the tone of the message that needs to be delivered.
Moreover, Rytr is powered by state-of-the-art language AI which is capable of creating high-end unique content in minutes. It collects content from around the web, synthesis it with its own knowledge, and creates unique content for the client. So, If you want to generate high-quality articles/ blog posts that will rank on the first page of a search engine, then Rytr can be a cheaper option. 
Features 
Fast, responsive, and mobile-friendly design.

Affordable pricing

You can generate 5,000 characters per month with the free plan.

Rytr's AI helps you generate 30+ use cases including SEO meta descriptions, blog outlines, business ideas pitches, ad copy, job descriptions, and more. 

It supports 30+ languages.

20+ tones of voice to help you write content in any type of emotion.

Powerful text editor with extensive formatting options.

In-built plagiarism checker.

Use features like paragraph shortening or rewording to improve your writing.

Easy project management and organization.

 Download projects in Docx or HTML format. 

Browser extension to get writing assistance on the go.
Pricing
The company offers two types of premium plans, one for individual use and one for multiple users. The pricing starts at $9 per month, which includes unlimited articles, access to all templates, and support from AI assistants.
Apart from that, Rytr has a free plan that allows you to produce 5000 characters every month.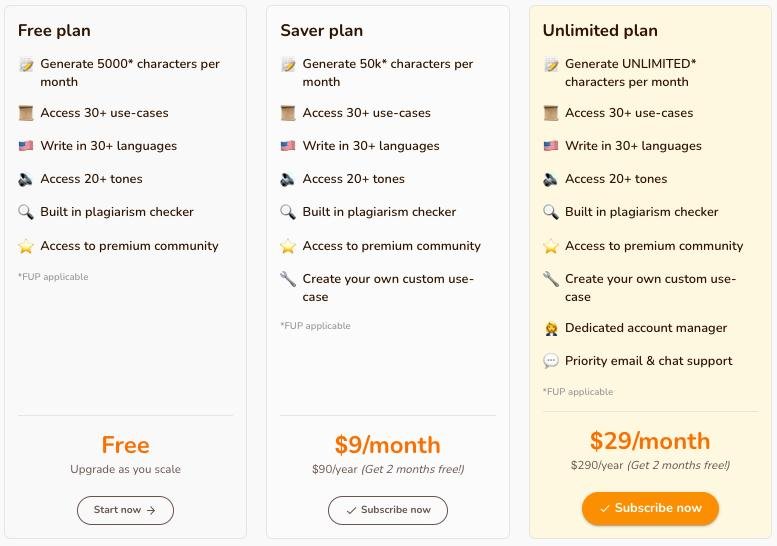 Who can use Rytr
Bloggers 

Content Writers 

Marketing copy

SEOs 

Small businesses 
I used Rytr for almost 1 week and I was so impressed. It's really worth trying Rytr. 
6. Scalenut – Best AI copywriter with topic cluster
Scalenut is also one of the best AI content writer tools trusted by 200+ businesses across 10 countries. If you really want to scale up your content marketing process, you should definitely consider using this AI assistant tool. 
The best thing about Scalenut is its SEO HUB which lets you create content from a single keyword. Just feed in a keyword and its AI will generate a detailed report backed by top 20 search results. 
Best of all, it also comes with a royalty-free image library to help you add images right from the editor.  The Document editor of  Scalenut is quite similar to frase.io as it shows competition in the sidebar. 
Let's have a look at the features of Scalenut…
Features
Easy to use and user-friendly interface 

7-day free trial;

during this time period, you can learn how to use Scalenut and also get to know whether or not it can supplement your content writing process.

 

40+ AI copywriting tools enable you to write in 40 different use-cases including ad copy, social media posts, meta description writer, and more. 

With the help of the SEO HUB feature, you can generate long-form content from start to finish. 

Free chrome extension helps you write compelling email copies, Google ads, social media ad posts, and rephrase the sentences on the go. 

GPT-3 AI technology to help you produce highly engaging and relevant content. 

Its CRUISE MODE is powerful enough to create high-quality blog content in just 5 minutes

24×7 Live Chat & Email Support

Each plan comes with content Grading, competitive research, and content briefing. 

Topic cluster (coming soon)

You can generate 5 SEO reports with the starter plan. 
Scalenut Pricing 
Scalenut offers three pricing plans with a 7-day free trial. 
Individual plan: – Starting at $29/month; $12/month if paid annually.

Growth plan: – $79/month and $32/month if paid annually. 

Pro plan: – $149/month and $60/month if paid annually.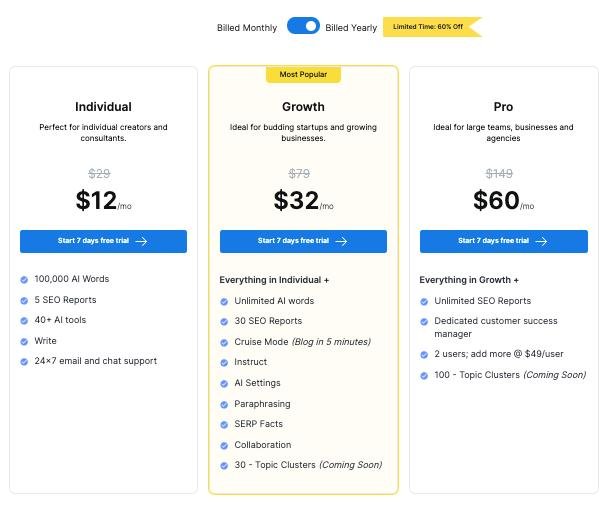 Who can use Scalenut?
Individual creators

Bloggers 

Startups and growing businesses

Agencies 

Freelancers 

Copywriters 
Scalenut is the most productive SEO AI writing tool you can have in your toolkit. It is quite cheaper and gives you extensive features like SEO HUB and image library at a reasonable price. 
7. Peppertype.io – Best Content and Copywriting Tool
Getting started with Peppertype is quite simple. Just head over to peppertype.io and create an account.  
Once you're in, you'll see a nice dashboard along with all tools and features. 
It comes with 20+ use cases to help you get rid of writer's block.  You can generate "Poll questions answers" or "Youtube video topic ideas" in seconds. 
In fact, I used the "Quora questions and answers" tool to examine the quality of answers it can generate for you. 
Well, I was so amazed to see the results as it let you choose from the different-2 tone of voice to generate engaging content. The quality of the content is so clean and intuitive that you can use it without making any changes. 
Let's discuss a few more features of peppertype.io
Features 
Intuitive design & interface.

Easy to use

20+ use cases to help you generate the different content type

Content ideas Twitter, Quora, and YouTube

Content Simplifier is one of those 20+ AI tools that explain your content in simpler terms so even a child can understand.

Generate 100+ copies with the free plan (No credit card required.)

Email support 
Peppertype.ai Pricing 
Peppertype.io comes with three pricing plans. Let's have a look at these…
Starter – $35/month; you will get 50,000 AI words. $25/month; if paid annually

Growth – $199/month; 50,000*5 (2,50,000) AI words for 5 users, $165/month; if paid annually.

Enterprise – Custom pricing
Who can use Peppertype.io
Content Creators (Freelancers, SEOs, email marketers, and social media managers)

Marketers

Startups

Product managers

Agencies
I'm quite impressed with its features, Quality of content, and UI  but not much impressed with its pricing plans. The absence of a long-form AI content tool also makes me think as a blogger. But if you're okay with these two things, then there is no question to go with peppertype.io. 
8. ClosersCopy – A Perfect Choice For Marketers & Copywriters
I've been using ClosersCopy for a while now and I have to say that I am impressed. I am a blogger and copywriter who is always on the lookout for new tools and ways to create high-quality content. ClosersCopy is one of those tools that help me do just that. 
The AI tool is capable of writing at an advanced level and it helps me write niche-specific content based on my keyword research. 
I was a bit skeptical about this tool, but after using it for a few weeks and seeing the results, I'm completely sold. You can set this tool to create long-form content for you in a few minutes, and it always generates original, high-quality content. It's also a lot more affordable than hiring writers to write your content, and it's a lot faster than doing it yourself.
Its dashboard is very simple, intuitive, and clean. You can navigate to different-2 tools from the left sidebar. 
For example, if you want to generate long-form content for your blog, then click the ''LONG-FORM" option from the sidebar, enter a brief or a few talking points and click the "Write for me" button. 
Within a few seconds, ClosersCopy's AI will produce content for you. You can add more subheadings to make your content more in-depth, compelling, and helpful for your readers. 
It supports over 125+ languages to help you produce multilingual content. 
Features
Easy to use 

Similar to frase.io, ClosersCopy also doesn't use GPT-3. It uses its own proprietary AI that is capable of producing high converting irresistible sales and marketing copy. 

14-Day Money-Back Guarantee

50+ AI Templates including BlogAI, StoryAI, and SalesAI

Email and 12K community support

A complete video training course to learn how to use CC

It supports over 125+ languages 

Drag and Drop Builders

Get SEO audits and planner reports

Longform content generator. (Best suited for freelancers and bloggers)
Who can use ClosersCopy?
Email Marketers 

Social Media Managers

Short form content

Agencies
ClosersCopy Pricing
Power – $49.99/month; 300 AI runs, 2 users

Superpower – 79.99/month; Unlimited AI writing & unlimited SEO updates, 3 users 

Superpower squad – 99.99/month; 5 users 
SalesAI and storyAI tools are what make it quite unique from others. Moreover, its lifetime deal saves you 30%. In my opinion, it's the best AI copywriting tool for copywriters and marketers who want to produce Sales copy. 
9. INK for All:  A really simple AI copywriter for small bloggers and copywriters
With over 65+ AI writing tools, INK_for_all is one of the most powerful AI copywriting tools available on the list. 
To get started, first head over to INK_for_all official website, create an account and click "AI WRITING" from the top-left side. It takes you to a page where all AI writing tools are listed. You just need to choose one out of 65 and start creating a draft. 
For instance, I want to produce a long-form blog post. So, I'll select "LONG-FORM WRITING" from the list. And it takes me to the AI document writing area.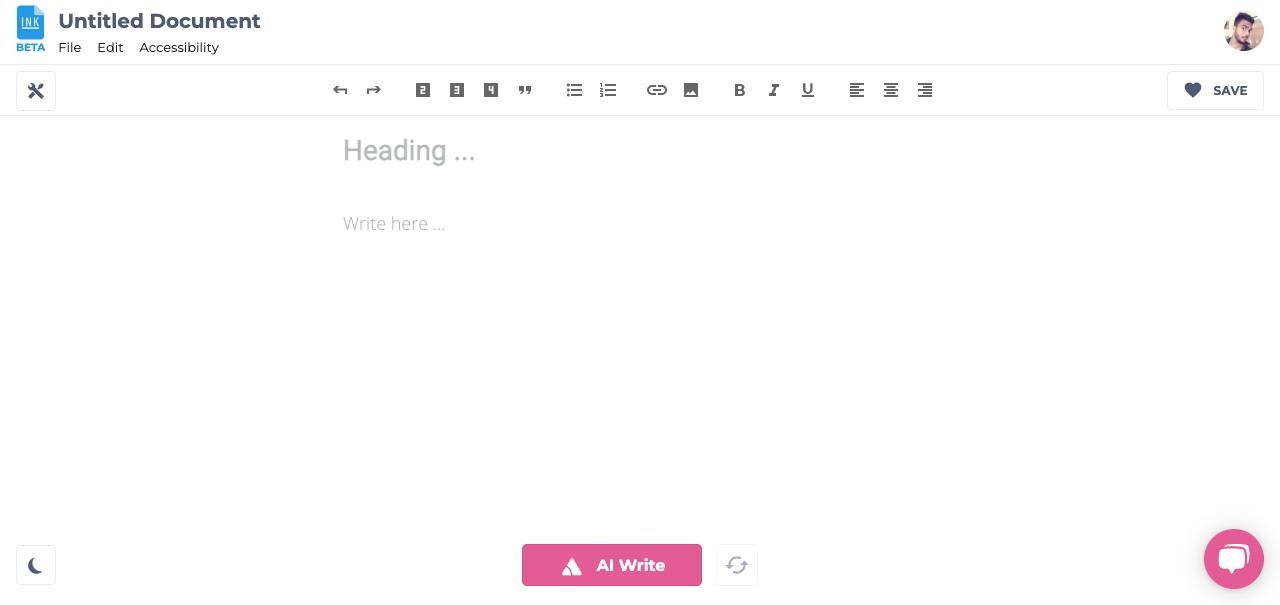 Now, here I need to enter a title… let's suppose, I want to write about "What is an AI copywriting tool?" and hit that pink button that says "AI write"…
Within a few seconds, AI writes down a human-like paragraph in less than 10 seconds. However, it requires a little human touch to make it even more compelling, but it won't take you more than 10 – 20 seconds. 
However, it has nothing much to say in terms of features as it has 65+ AI writing tools that are more than enough to produce high-end blog articles and ad copies. 
But there is one thing that set this tool apart from others its 8 Grammar check tools. 
Noun checker

Passive voice checker

Conjunction checker 

Adverb checker 

Verb finder

Pronoun checker

Preposition checker

Interjection checker
These small grammar tools can help you make your copy error-free. 
Features
Unlimited AI Text Rewriting (this feature is also available with the free version)

65+ AI writing tools

5,000 AI words per month for free 

Long-form AI writer 

Chrome extension

Email support 

You can get access to premium features like keyword search volume, SEMrush/Ahref integration, content planning, SEO optimization, and more if you upgrade to a premium plan.
INK for All Pricing
INK ai writer comes with two plans. One is the "INK suit free" plan and the second one is the "INK suit professional" plan. 
INK suite free plan has some basic features with limited functionality. But you can always upgrade to a professional plan and add tons of premium features and tools that can help you cope with writer's block. 
Who can use INK_for_All?
Beginner content writers & bloggers 

Social media managers; especially Facebook 
After testing this tool for almost a week, I would say that it's a great choice for new bloggers and content writers who have a limited budget but still want the most possible features to supplement their content writing process. 
10. AI-writer.com – Best for Micro niche bloggers or small content writers
AI-writer.com is dedicated to providing you with unique content that is ready to be used easily and quickly. It is best at producing tons of short-form content, which you can expand later on or hand over to a writing team.
AI-Writer touts itself as SEO-friendly, producing fresh, relevant copy, and it can save 50% of your time on the writing front. 
To get started, first head over to the "Research & Write" option from the top-left sidebar. Here you have to input the subject title, and an AI within the software scrapes relevant information from the internet and generates 500 or more words of articles in 5 minutes. However, you can increase the set of the number of words AI can write. 
Once you have a beautifully written article, you can go to "SEO EDITOR" and optimize your content for SEO. You can even add more subheadings to your article by simply using "Subtopic Discoverer". 
Features
Clean interface, easy to use & navigate 

Starting at $29/month

Content Research 

Article Rewriting 

SEO Editor 

Subtopic Discoverer
AI-Writer.com Pricing 
Basic – $29/month; 40 pieces of content per month

Standard – $59/month; 150 pieces of content per month

Power – $375/month; 5 users + 1000 pieces of content per month
Who can use AI-Writer.com?
Micro niche bloggers and freelancers 

Not a good choice for copywriters & marketers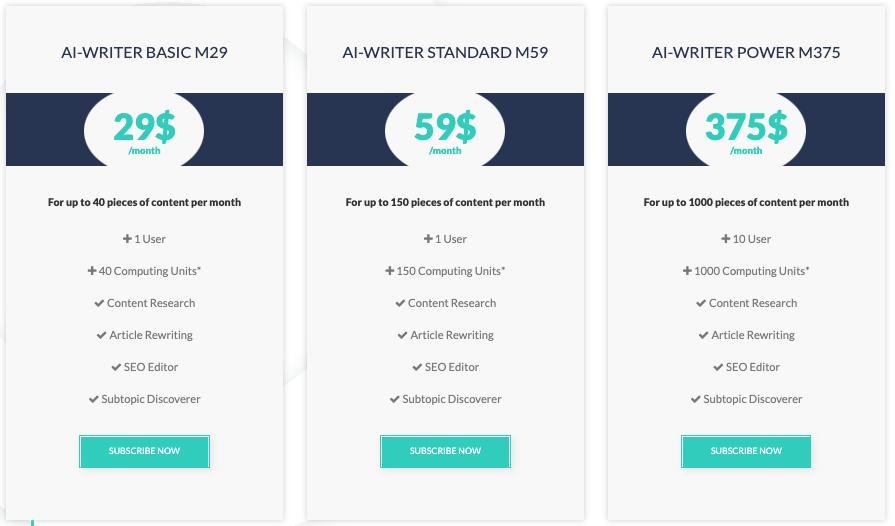 AI-Writer is best suited for bloggers who want to generate short -from content. One thing I like about this tool is its "Research & Writer" which allows you to produce content within 5 minutes. But it's not a great option for professional bloggers/marketers/copywriters as it lacks AI templates and advanced features. 
11. Copymatic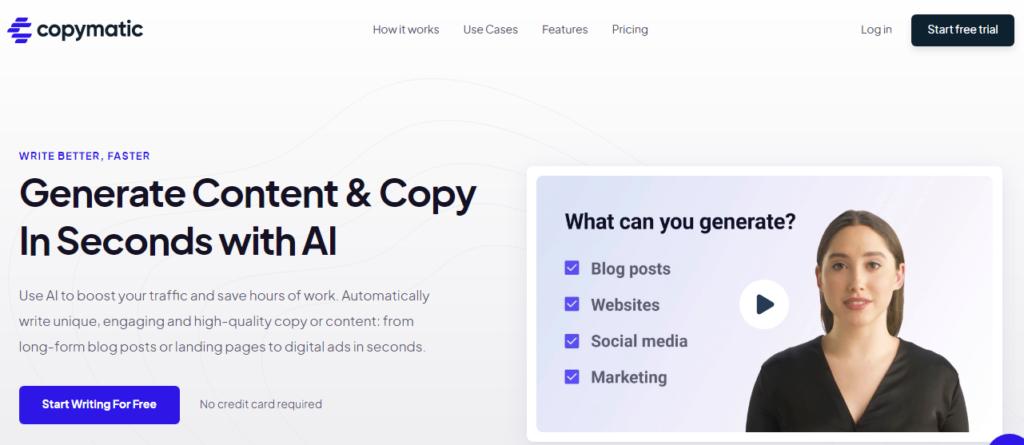 Copymatic is also one of the smartest ai writing tools you can use to generate content. with over 70+ AI-powered templates, Copymatic can generate almost anything from Website titles to the About us page.
An example of a "BLOG title generator". (I ask Copymatic to generate a blog post title about "transcription jobs from home". And here are the results. You can get up to 8 title ideas but I have set it to 3 ideas only. )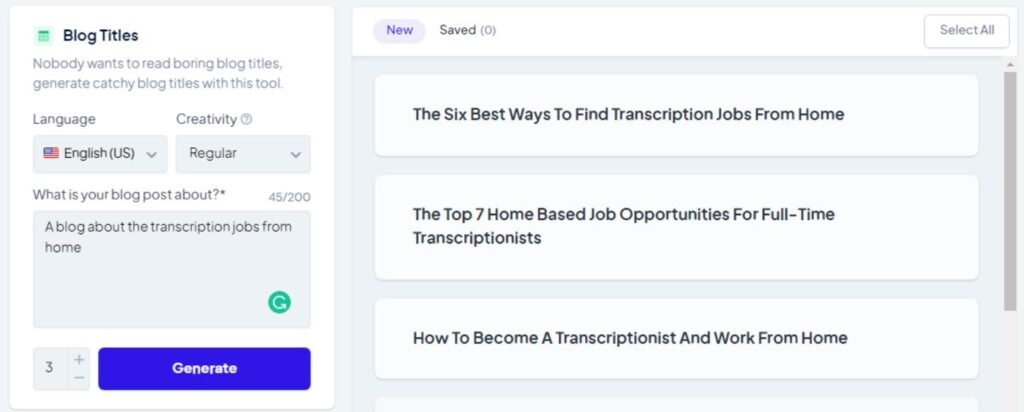 On top of all, you can generate a complete landing page, find SEO keyword ideas, and write high-converting emails to engage with your leads.
One of the best things about Copymatic is its user interface. It's very intuitive and you can find 70+ tools right in front of your dashboard.
Let's talk about the top features of Copymatic…
Features
Article Generator — Turn a title and outline into long-form content
Article Rewriter — Rewrite existing content in seconds
Blog Post Writer — The most advanced AI Writing assistant to write blog articles in minutes
Landing Page — Copymatic AI-powered landing page builder helps you create unique landing pages for your business in seconds — no writing, designing or coding required.
SEO Keyword IDEAS –  Find the best SEO keyword ideas for your next blog post
Easy to use, Intuitive user interface with 70+ AI templates.
Personal BIO – It can help you come up with interesting Bios for social media profiles.
As an email marketer, you can use Copymatic to generate cold emails, welcome emails, follow-up emails, cancellation emails, and confirmation emails.
1500 Words for free – try Copymatic today!
Copymatic Pricing
Copymatic has two pricing plans…
Starter Plan: $29/month; 1000 Credits
Pro pan: $49/month; Unlimited Credits
Who can use Copymatic?
Copymatic is best suited for bloggers, social media managers, marketers, freelancers, and content creators to generate all kinds of content with ease.
I have used Copymatic for more than a week and I'm 100% satisfied with the quality of content and ease of this ai writing tool. If I were to list the top 5 AI copywriting tools, Copymatic would be on the list. I recommend you try Copymatic no matter what type of content you want to generate.
Conclusion
So, here you have 10 amazing AI writing tools that can 5-10X your writing process. 
Whatever your choice of AI writing tools, the writing process becomes much more streamlined and quick. You can simply focus on developing its substance and let the tools take care of all the content writing and optimization. And because they are backed by artificial intelligence, they require little effort from you. 
So, are you ready? If so, Which one of these AI writing tools would you like to use to automate your content production process? Let me know in the comment section…