Writesonic is one of the most powerful AI writing tools that can help you to generate high-quality unique content with ease.
With this,  you can generate quality blog posts, high-converting Ad copies, and cold emails in minutes.
The best part about Writesonic is that it's very easy to use, so even if you are not tech savvy, you will be able to get started generating great content within minutes. You don't need any experience or knowledge at all.
In this Writesonic review, I will take a look at what it can do and how to use Writesonic effectively. I'll also discuss its pros and cons so you can make an informed decision about whether or not it's right for your business.
Let's get started…
What is Writesonic?
Writesonic is an advanced AI-powered software for generating high-quality blog posts, ad copies, emails, press releases, quora answers, product descriptions, landing page copy, etc. in just a few clicks. You don't need any technical skills or experience to use this tool as it comes with a user-friendly interface.
It delivers top-notch results by using artificial intelligence (AI) technology to automatically create amazing content for you. This means that you won't have to spend hours on research and writing. Instead, you can sit back and relax while Writesonic does the hard work for you.
It uses GPT-3 (Generative Pre-Trained transformer) technology. This allows the software to learn from millions of examples of text generated by humans. As a result, it can produce high-quality content without having to manually write anything.
GPT-3 powered software is capable of producing thousands of different variations of texts based on the input provided. This makes it possible to quickly create engaging content that can easily convert visitors into customers.
How Does It Work?
Once you have signed up for your Writesonic account, you have a dashboard with a list of AI templates that you can choose as per your project demand. These templates include blog post ideas, email messages, landing pages, sales letters, etc.
For example, let's suppose, you want to generate a blog post intro. For this, first, click the "AI article intro" template. 
Now, enter a project name, and a Title, choose a language and select the quality of content you want to produce. Lastly, click the "Generate" button to let Writesonic AI generate 3 sets of intros. 
NOTE: Writesonic consumes credits based on the quality of content you produce. For instance, 120,000 economy words are equal to 12,000 premium words. It means you need to spend 10 times more credits to generate premium words content than economy words content. 
I was impressed with the quality of content generated by Writesonic AI. In fact, I found it much better than my own writing. 
Let's try the Writesonic "AI Article Writer" template…
This AI Template works in 4 steps…
In the first step, it helps you come up with ideas

In the second step, it generates a blog post intro. 

In the third step, it generates a content outline. You can also edit it as per your need 

And in the final step, It generates your draft article. 
Now let's take an example to actually understand how the AI article writer template work.
To get started, first suggest a topic (example: 5 Ways to make money online). Select one language out of 20. And hit the "generate ideas" button from the left side.
Within a few seconds, Writesonic suggests 3 titles.
You can pick one title from the list. After that, AI asks you to generate intro ideas based on the topic/title you selected earlier.
The third step is to 'Get An Outline'. Choose one out of three outlines.
You can add, remove or edit any of these subheadings to make your blog post look super unique.
In the final step, AI generates your draft article in seconds.
This is how you can generate quality content within minutes with the help of the Writesonic AI writing tool.
One thing I like about Writesonic is its ability to write high-converting emails. I tried the "Email V2" AI template to generate a few email copies I was literally surprised by the quality of writing.
Let me take an example to give you an idea about how to use Writesonic to generate high-converting emails. 
First head over to the "Email V2" AI template…
Once you're in, enter a meaningful TITLE, recipient name, and recipient position, and add a description, language, and quality of the EMAIL. (Choose from Economy, Good, and Premium.)
Every time you click the "Generate" button, we will compose up to 3 unique Emails V2 for you.
Also, remember that the quality of the email also depends on the title you entered and the description you add.
Overall, I am really impressed with the quality of the email you can generate using Writesonic. 
The third most powerful Writesonic feature is "Long-form Writing Assistant (GPT-3)". This tool is pretty open-end and by far my favorite, especially since I'm a big fan of GPT-3.
You can use it to write articles, books, blogs, emails, resumes, and anything else you want.
The AI writes like a human does, with headers, paragraphs, and even subheadings.
And best of all, it works really well for long-form writing. So if you've been wanting to try out a longer form of writing, this could be a good place to start.
There are a lot of different ways you can use this, too. For example, you can use it to help you brainstorm ideas for a book, resume, email, or whatever else you want to do.
In addition, you can use it as a writing assistant, allowing you to focus on the creative part while the AI takes care of the rest. Or you can just use it to write short stories and poems.
Let's talk about MORE features…
Writesonic Features
Write 1500 words blog posts and articles

Rephrase your text using the paraphrasing tool

Summarize your article in one click with the help of an Article summarizer.

It Supports over 25 languages

Simple and attractive user interface

Easy to use

A free trial is available

Develop high converting landing page copies

Generate high-converting email copies

Long-form Writing Assistant (GPT-3)

Writesonic enables you to generate answers to questions on Quora, Create high converting ad copy for Facebook/google advertising, and craft epic product descriptions.

One-click WordPress export

Browser extension

A sonic editor like Google docs

60+ AI templates (Almost 70 templates)

Semrush and Zapier integration

Plagiarism checker
Writesonic Pricing
Writesonic has 2 pricing plans.
Short-form: Starting at $15/month; best for generating social media captions, Facebook ad copy, and product description

Long-form: Starting at $19/month; best for bloggers, writers, publishers, and freelancers.
Apart from these two plans, Writesonic has a trial plan where you can try all features for free to determine whether or not Writesonic is the right choice for you.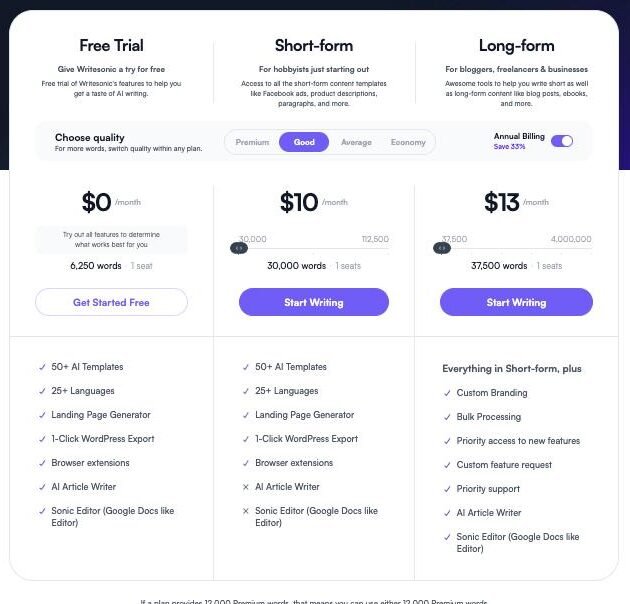 Who can use Writesonic?
Writesonic is the right choice for anyone who wants to create content from students to micro niche bloggers, freelancers, marketers, and agencies.
My Personal Opinion

I am a writer myself, and I use tools like Writesonic every day. After using the Writesonic AI writing software for 1 month, I can say that it's the best choice for advertising agencies, social media content creators, and bloggers to create all sorts of content.

There are many features, such as plagiarism detection, auto spell checker, and much more. You can try out the free version for 30 days, and see if it meets your needs.

I'm quite impressed with the ease of this tool and the number of features and AI templates it offers to help you cope with writer's block.
Writesonic Pros & Cons
Here are some of the Pros and Cons of Writesonic:
PROS
+ Easy to Use
+ Free 2500 Words of premium content
+ Generates High-Quality Content
+ Great Support
+ No Technical Skills Required
+ 7-day Money Back Guarantee
CONS
– Requires more Credits
– Editor is not so great; needs improvement
– Pricing plans are expensive when you choose to create premium content. 
Is It Worth Buying Writesonic?
I think if you want to get started with creating content fast and easily, then you should definitely consider buying Writesonic.
With Writesonic, you don't need any technical skills to start creating content. You just have to enter the title or a little description and press the "Generate" button. 
It can even be used by non-technical people to create content for their blogs, websites, and social media accounts. It has 70 AI templates that can help you write any content type faster than ever before.
If you're looking for a simple way to create content without having to spend hours researching topics, then you should definitely give Writesonic a shot. 
 Alternatives to Writesonic
You might also want to take a look at other alternatives to Writesonic. Here are some of them:
Jasper.ai

–

Jasper

is the leading AI writing software trusted by 50,000+ content marketers and companies including Google, Airbnb, IBM, and more. Jasper helps you write an in-depth article, create high-converting ad copies for your marketing campaign, and generate product descriptions in minutes. Just give a little context to Jasper and its AI will do the rest.

Frase.io

–  With this, you can research, write and optimize your content for SEO. It's an all-in-one content writing solution for bloggers, content creators, and marketers to produce high-quality content in less time.

ClosersCopy

– I've been using ClosersCopy for a while now and I have to say that I am impressed. I am a blogger and copywriter who is always on the lookout for new tools and ways to create high-quality content. ClosersCopy is one of those tools that help me do just that.
Helpful – 10 AI Writing Software Tools That Generate Human-Like Content
Conclusion 
In conclusion, I would recommend you to go ahead and try Writesonic. It's easy to use, has a lot of features, and is affordable if you go with economy or good content.
The cool thing about Writesonic is that they offer a money-back guarantee within 7 days of purchase. So if you are not satisfied with the service, you can simply ask for a refund.
So what are you waiting for? Go ahead and Try Writesonic today!