In the earlier guide, I discussed many different apps for bloggers. But now it's time to know some YouTubers apps that can help you grow fast.
You already know YouTube is one of the most powerful video platforms around. It provides you with the ability to watch videos, upload videos, and earn money.
Uploading a video is simple, but taking it to the next level is hard. So as a YouTuber, you surely want something that can take some load off. 
That being said, I'm introducing you to a list containing the 20 best YouTubers apps that you should install on your smartphone.
So without much ado, let's get started…
20 Best Apps for YouTubers
Google AdSense

YouTube creator studio 

PicsArt

 Animated Text – Text Animation Maker

Du Screen Recorder

YouTube Gaming

 CANVA

Fotor Photo Editor – Photo Collage & Photo Effects

Pixlr

TAG YOU

 Tag For YouTube

kinemaster

Power Director

Splice – Video editor & maker

FilmoraGo

Reddit

Facebook

Quora

Pinterest

Instagram

LinkedIn

TUBE Buddy
RECOMMENDATION
General Android Apps For YouTubers
I'm fond of these apps, and you may already know about these apps. In case you don't know, here it is…
0. Google AdSense
Whether you are a blogger or YouTuber, you all know about AdSense.
If you are a full-time YouTuber, AdSense could be your life-blood. So it's essential to keep on tracking what's going on inside the roof.
This app helps you show the critical data regarding AdSense earnings.
It includes earning data from top ad units, channels, countries, and more. With this, you can keep a watchful eye on CPC, eCPM, and page RPM.
Rating: – 3.8/5

1. YouTuber creator studio (YCS)
Even though you might be using the desktop version of YCS, as I told you in my previous article, a smartphone can give you easy access.
YCS is one you should take advantage of.
With this app, it's become easier to manage your YouTube channel. You can get traffic stats, live stats, comments, and even monitor video performance.
You don't need to log in to your desktop version to respond to comments. This app allows you to respond to comments right from your smartphone.
Moreover, you can update your thumbnail image, monetization settings, and schedule dates.
YCS is available on Android and iOS as well.
Rating: – 4.2/5
2. PicsArt

PicsArt is considered the #1 photo editor app available. With this, you can create amazing stickers, funny memes, and edit pictures for free.
There is no doubt, it could be one of the best YouTubers apps around. And why not, you can even create funny memes to add to your videos.
You can grow your Instagram profile by showing off your awesome editing skills.
However, you can use most of the features for free, but there are more advanced features that you can add as you upgrade to PicsArt Gold.
Being a YouTuber, you can create custom stickers, edit your thumbnail, and also create YouTube channel art.
Rating:  – 4.6/5
3. Animated Text – Text Animation Maker
With over 1M downloads, this app is powerful enough to make the animation of any text. It can help YouTubers to create a free intro to their YouTube channel.
That alone offers you 20 text animation styles to add to your text.
Unfortunately, this app is not available on iOS. Try the "Type-Art: Moving Text Videos" app if you are an iPhone user.
Results may be different, but you can find a good YouTube channel intro.
4. Du Screen Recorder
With so many screen recorders to choose from, you may find yourself gravitating towards the DU screen recorder. This one is the most popular among YouTubers who make screen recording videos.
With this recorder, you can choose the video resolution, video quality video orientation, and more. You can enable the notification bar to start recording, overrunning the apps or any game.
It is not the end; you can also go live, edit video, merge video & images, and convert videos into GIFs. You can even transfer video files using WIFI to your PC, edit images, and stitch pictures.
Rating: 4.3/5
5. YouTube Gaming
As a Google product, this app is an excellent choice to get in touch with gaming. With YouTube gaming, you can enjoy watching your favorite gameplay live streaming.
You can watch videos from more than 25,000 games. Additionally, you can start chatting with gamers while watching the stream.
Rating: – 4.1/5
Video Thumbnail Maker Apps
Thumbnail is the first thing that goes to the user's feed and encourage/discourage them to click through. The thumbnail can grow your CTR up to 150% (According QuickSprout).
If your thumbnail is clean and attractive, viewers are more likely to click on your video. It can help you make your video stand out from the top 10 results. That's why you should care about the thumbnail.

Below are some android apps for YouTubers that help you create thumbnails right from your SmartPhone.
I've discussed CANVA many times on my blog, and here is why: it's one of the best android apps for YouTubers and bloggers.
It plays a vital role in creating stunning infographics and images. You can create a beautiful thumbnail for YouTube videos too.
The cool thing about CANVA is "Free." CANVA gives you a ton of features for absolutely free, and it makes CNAVA unique. There are other products similar to CANVA like PitKoChart. But these have no access to the mobile application.
Rating: – 4.8/5
7. Fotor Photo Editor – Photo Collage & Photo Effects
Fotor is the place to start when you want to monetize your photography. An enthusiastic photographer can get exposure and also be rewarded with events.
As it's a photo editor app, you can create attractive thumbnails right from your mobile phone. It adds photo effects and filters daily to include several styles in your photo edits.
Rating: – 4.3/ 5
8. Pixlr
Like Fotor, Pixlr is also a good choice for YouTubers or bloggers to create professional thumbnails and featured images. With this, you can add over 2M combinations of free effects and filters to your photography.
Besides that, it allows you to add coloring blurring effects and help you make your edit looks ten times better than before. One more thing is that you can share your edits directly on social media sites like Facebook, Twitter, and Instagram.
Rating: – 4.2/ 5
YouTuber Tags Generator
Do you want to boost your YouTube channel fast?
Haven't you tried "YouTube Tags" yet?
One reason not to use tags is 'autosuggestions.' Yes, you don't have enough suggestions to add as tags. But here, I have some YouTubers apps that can help you suggest suitable TAGs for your videos.
Tags are some keywords that help YouTube algorithms understand your video content category.
In general, tags are relative words that help you improve search visibility and get more video traffic for free. I strongly recommend you use these apps to add tags to your videos.
9. TAG YOU
With over 500k+ downloads, "TAG YOU" has become the most popular Tag suggestion app among YouTubers. It generates TAGs on behalf of your focus keyword.
With TAG YOU, you can optimize your video for SEO that helps you bring more views, subscribers, and engagements.
Rating: – 4.5/5
10. Tag For YouTube
"Tag for YouTuber" is another simple app that allows you to copy TAGs from others' videos. You have to type in the video URL from where you want to copy Tags and paste that URL in the search bar.
Within a few seconds, it shows you all the TAGs, which you can copy and paste into your video. But remember, you don't copy all tags from a single video.
Rating: – 3.5/5
Video Editing Software For YouTubers
11. Kinemaster
The foremost YouTubers app allows YouTubers to do a lot of editing right from their smartphone. Especially useful for those who have no access to a PC / laptop.
Even if you are not a YouTuber, you can still use KIMEMASTER to create your video infographics for your blog post. I'm personally using it. It has many features, including keyframing, masking, and special effects.
A few more features you can find: –
Chroma key

Masking

Colouring

Adding background, filters, music, and more.

Layer effects

Add Text

Transitions

Split / Trim

Rotate video

Crop

Custom soundtrack

You can add or remove the voice from the video

Export edited video in full HD 1080p
The list is kept ongoing. You have to add a media file to the empty project and start editing your video.
Once you've done editing, go and click on the share icon as seen on the right-hand side of the screen. Now click 'Save the file to your media' and select video quality and resolution. Within a few minutes, your media file is ready to download to your device.
Rating: – 4.9/5
12. Power Director
Power Director is not different than KINEMASTER. It could be another choice for YouTubers.
Let's talk a little more about its features:  –
Split/trim the videos

Slow-motion

Reverse video play

4k movie production

Crop videos

Edit background with Chroma key

Video editor effects

Layer effects

Audio customizer

Rotate video
Rating: – 4.9/5
1
3. Splice – Video editor & maker
Although KINEMASTER is available on Android and iOS, you can try Splice video editor on your iPhone.
It includes all the features that you can find on KINEMASTER. For example, changing the background color, rotating video, transitions, filters, and more.
Additionally, you can adjust the playback speed to see the slow motion of your video. Unfortunately, the splice is not available on Android.
Rating: – 4/5
14. FilmoraGo
Similar to other video editing apps, FilmoraGo allows you to add soundtracks, transitions, special effects, reverse video playback, and more.
Well, it all depends on what you're trying to edit. It could be a short funny video clip or maybe a photo.
Apart from that, you can add sensational movie effects, insert animated text, and make your video stand out by adding motion graphics.
You can trim, slow/fast, duplicate, rotate, and mute the video clip.
The only downside is the 'watermark.' Not just FilmoraGo, all video editor apps mentioned above place their watermark.
But you can get rid of it. For that, either pay for a premium package or find the crack version somewhere available on the web.
Rating: – 3/5

YouTubers Apps  To Share Videos
Sharing your videos to the right platform could bring more views and help you grow fast. Thankfully, there are many social media apps to share your videos to get MASSIVE traction.
Let's discuss some of the most popular platforms: –
15. Reddit
Publishing your video on YouTube won't bring you potential traffic. If you want potential exposure, go with a different platform like REDDIT.
It has a purely different audience. You can find genuine viewers and convert them to your subscribers.
All you need is 'selecting a SUB-REDDIT' similar to your video content, and BOOM!
But before that, earn some trust. You need to follow the reddiquettes written by SUB-REDDITORS to get some comments and post karma.
Once you get recognition, you are welcome to share your videos.
Don't break the rules; otherwise, your participation in that particular SUB-REDDIT is suspended.
Reddit is all about ___ "add value and get the value." As you add value, Redditors will start valuing you.
16. Facebook
When it comes to growing your business, you never underestimate the power of Facebook.
Not just YouTube, Facebook has also enabled video monetization that encourages more creators to create a Facebook page.It's helping you earn extra money and bringing you more subscribers and followers. Besides that, you can join Facebook groups and pages to get massive traffic to your videos.
17. Quora
Quora is another one of the best android apps for YouTubers and bloggers. It's a question-answer app where people ask questions and get the possible solutions.
If you're curious to know about something, just place your question. You'll get a definite solution within 1-2 days.
On the other hand, you can write your answer if you know the solution to any question. Additionally, you can add your video URL and drive them to your channel.
With this, you can indirectly drive traffic to your video, and if viewers like your content, they will be your next subscribers.

18. Pinterest
Whenever you want visuals, I always suggest you go with Pinterest. In addition, to share blog links, you can also share the YouTube video link to it. It doesn't matter whether you use the desktop or mobile application; both have access to all features.
You may get maximum pins if your thumbnail is advanced. And this may lead to massive traffic to your YouTube channel. You can even upload a custom infographic for superior results.
Helpful Resource – Pinterest For Bloggers: How I Drive 10,000 Visitors to My Blog
19. Instagram
It's the most popular product introduced by Facebook.
Although you can't share videos longer than 1 minute, you can make announcements. Popular YouTubers use Instagram to provide the latest updates like upcoming videos, stories, and more.
You can share short video clips to let your viewers know that a new video has been published. Apart from that, you can also build a massive community that can help you grow fast.
Helpful Resource – How To Become An Instagram Model – 6K Followers In 3 Months
20. LinkedIn
Do you want to reach out to the professionals in your business? Why don't you use LinkedIn? It's a place where you can find people around your business and collaborate with them.
Remember, LinkedIn is just for professionals. If you're a funny YouTube creator, then stay away from LinkedIn. It won't work for you.
But if you publish video content about product services, blogging, SEO, business, marketing, lead generation, etc., then you're welcome.
YouTube Apps For SEO Optimization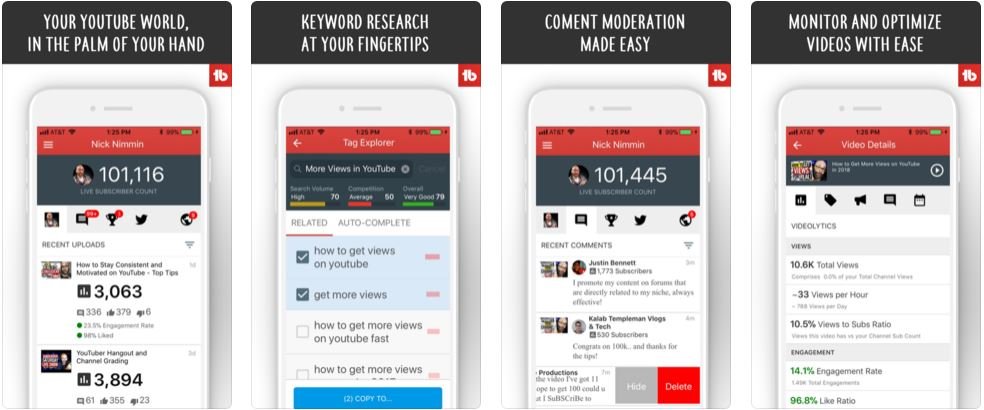 A potent Video SEO tool is now available on Mobile.
It's the world's most popular browser extension that allows you to optimize your videos for SEO and help you improve video rankings.
You can collect essential data from Tube buddy and measure the video performance thoroughly. If you're still wondering what you can do with TUBE-Buddy, consider the following…
Keyword research

It suggests the best tags that improve your search visibility.

Comment control: You have complete control over comments. With this, you can moderate comments add canned responses to similar comments.

You can track video topics.

You can keep a watchful eye on Engagement and SEO stats.

Live subscriber count
Rating: – 3.5/5

Alternative – YouTube SEO tool – VIDIQ – try it!
Conclusion
Any creative YouTuber needs to have these apps to grow its channel fast. You can't spend much time on your PC; that's why you need these YouTubers apps to utilize your idle time.
Undoubtedly, the smartphone helps you entertain, but it also allows you to work even when you are on winter vacation. So it's all up to you how you use your mobile phone. This way, you can devote idle time to work.
With these apps, you can create thumbnails, add filters, optimize videos for SEO, and promote videos easily. I hope you would love this guide; if so, share it on social media platforms.
What other YouTubers apps do you use? Leave a comment below…