Are you looking for a Youtube monetization network? OR Have you lost your AdSense account? Don't worry, monetise your youtube channel with these AdSense alternatives.
Yes, it is right you can monetize your channel without having an AdSense account. You only need to know about the MCN network.
Many MCN networks can help you grow your channel's earnings. But how do you recognize which one is good? You need to choose those that are reliable and popular among YouTubers.
So, In today's article, I will be introducing some Youtube monetization alternatives that can help you monetize your youtube channel without AdSense.
But before preparing the list of top networks, let me give you some advice on how to select a suitable YouTube network that fits you.
Attention:
Things that you need to remember before joining the Youtube networks
The network must be reliable, well-known, and certified by youtube.

Before participating, read the community guidelines to know network insights.

It must comply with YouTube's TOS & policy guidelines.

Optimal CPM rate.

Revenue share should be high (80 to 95%)

24/7 personal support

User-friendly dashboard

Easy access to the payment. (Like PayPal, wire transfer and check, etc.)

Offers content ID to their VIP partner to protect original content. (content ID claim.)

Promotes all types of video categories (like Entertainment, Education, Music, Vlogging)

Royalty-free music.

Should Give a feature to claim your stolen video.

No lock contract.
Above are some requirements that you need to remember before participating in any alternatives. Now let's come to our discussion.
Benefits of joining YouTube MCN networks
Provides more exposure to your video

Helps your videos to get ranked at the top of the YouTube

Also enables you to offer more sponsorship opportunities
A quick review of all YouTube partnership networks
Alternatives to AdSense for youtube monetization (OR YouTube networks to Grow your channel)
List of YouTube Networks: –
RouteNote

AdRev

MediaCube

Freedom

FullScreen

Creators Revolution

ESL video network

Film-Section

Machinima

Curse

Vidgenx
How Matt Par Runs 9 Different Profitable YouTube Channels and Make 6 Figures From Them
This course teaches you the EXACT strategies to start a YouTube channel from scratch and Grow it to 500,000 subscribers in just one year. Moreover, it reveals secret algorithm growth hacks, tips, and strategies to GROW your channel quickly and get your video content viral. The most recommended course where you learn how to make videos without showing your FACE. And the good thing is that you don't need to record videos.                                          
1. RouteNote (For small music artists)
Good news for all small music artists who want to get their music on iTunes, Google Play, Spotify, and Amazon.
This YouTube network really helps you grow your music channel fast. This network covers 90% of the music market.
The good thing about RouteNote is that it offers both free and premium distribution plans which enable small music artists to start free.
It is one of the best reliable networks among music artists.
Features of RouteNote:
Lock-in contracts: No (Leave anytime you want)
Revenue Share: 85%
Transparency: Nothing is hidden
Dashboard: Easy to use
Flexible: Change your payment method to anything you want.
Support: quick
Content ID: For that, you need to qualify YouTube's content ID acceptance level.
Referral program: It offers you sponsorship and referral programs.
Certification: It is certified by YouTube. That's why it is reliable.
Music library: Free music and image data is available for creators
Requirements to participate in 'RouteNote' YouTube Network
Your channel must have 10,000 views.

High-quality videos.

HD sound quality.
AdRev is another well-known YouTube-certified MCN network. It gives you the capability to monetize your music videos. It has monetized 56 million videos, 100+ billion annual views, and managed 14 million copyrights till now. It is the preferred music partner of freedom. It is mainly for the security of Music works. If you are a music creator on youtube and want to protect your music, then give it a try.
It has the following features:
Revenue shares: 70%
CPM rate: high (if the content is real and useful).
Dashboard: Pretty Amazing
Content ID: track music content on Youtube which is similar to your published one.
Special tools: DashGo (this tool is helpful for those who want their music off youtube into iTunes, Google Play, etc. ). Image-collect (This tool helps those who want to create celebrities' videos using images. It has tons of celebrities image collections that you can use for video creation)

Enables you to monetize sound recording, music video composing.

Payment Threshold: 5$ minimum payout. (this data has become one year old. so I am not sure whether it is right )
Payment options: PayPal (within 30 days)
Bonding or lock contract: 3 years

It runs a referral program to provide some extra revenue.
Requirements to participate in AdRev
I'm not sure about the number of views per month. But I think it may equal to 1000 per month because Adrev has a partnership with freedom.

You should be at least 18 years old.

Content should be used for standing.

Do not upload other content.

AdRev may be terminated immediately if your channel receives any copyright strikes.
It is an international multi-network YouTube channel. It helps you power up your creative videos and gives you massive exposure.
This YouTube partner program works well for any video content. So, there is no question about the content type.
The great thing about this network is that it offers you more than five payout methods which make it different from others.
Aside from all these YouTube networks, it also provides you with some great features.
Features of MediaCube:
Revenue share: 80%
Lock contracts: No
Content ID: It makes your video content protected so that no one can copy your videos.
Music library: AudioMicro & epidemic with over 30,000 tracks
Payment Methods: Paypal, Payoneer, Yandex payments & ePayments, and Dwell
Min payment threshold: 1$, but 20$ for Payoneer
Network Support: Great
Referral program: Yes, whenever a new creator joins Mediacube by your recommendation, you will get paid.
Dashboard: Great user interface and also supports over 15 languages. it has Full transparency means you can see your revenue in the revenue section of YouTube analytics.
Requirements to join this YouTube partnership network:
Video Quality

Upload frequency

YouTube content should be unique

No stricks and YouTube policy violation
Fullscreen is the most extensive network partnership owned by Otter media. It has a multi-platform monetization feature that allows you to access your content not only on youtube but also on other platforms.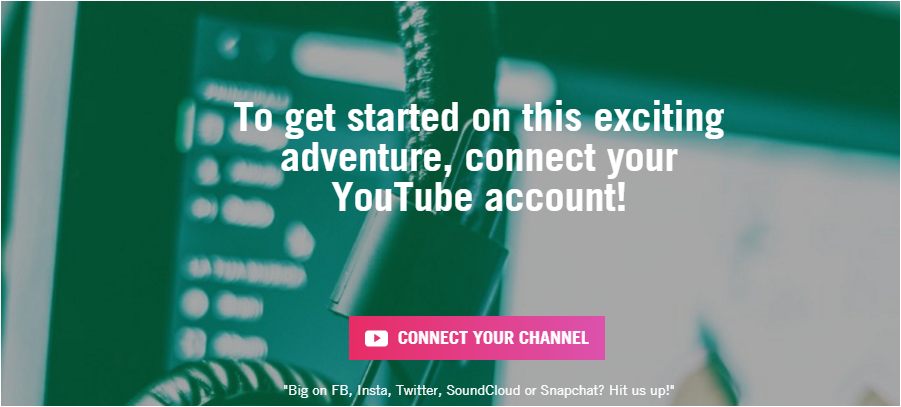 Every year it delivers hundreds of millions of dollars to its creators, billions of video views all over the world, tens of millions of dollars in subscription & merchandising, and schedule more than 100 live tours. It gives you an opportunity to match your content with world-class brands that help increase your revenue.
Features:
Revenue shares: 70% or goes up to 80%
Bonding or locking contract: 2 years
CPM rates: Depends on your content quality. (not fixed.)
Payment options: Paypal
Payment Threshold: 50$ (from Paypal)
Youtube certified: Yes
Special tools: Fullscreen Gorilla (this tool allows the creators to participate in branded sponsorship from advertisers), Facebook app tool & epoxy account.
Dashboard: easy to use & full transparency.
Music library: epidemic sound & reimagined
Content ID: yes
Support: pretty good (by email, response time 1 hour)
FullScreen partnership requirements 2018
There is no official recommendation about page views & the number of subscribers on the youtube channel. But prior partners of this network declared that they had only 200 subscribers and fewer page views (80 page views per day ).

Your channel must have high-quality unique content.

Publish your content on a regular basis.

You must be at least 13 years old.
5. Creators Revolution
Features of creators revolution
Revenue shares: 80%
CPM rates: Not fix, get change accordingly
Lock in the contract: No
Payment Threshold: No (you can withdraw any amount)
Payment options: PayPal, wire transfer, etc.
Music library: epidemic & Audiomicro.
Content ID: protect content piracy on youtube.

ESL video network supports this network.

Youtube certified: Yes

It runs a referral program, in which they ask creators to promote their network on youtube as well as on social media. They offer 50% (raised up to 75%-100%) commission to their creators.

There is a cash reward system in which you need to hit some specific recruiter goals to get some extra cash in your hand.

FREE sponsorship to earn the right amount of money.

Dashboard: Full control over it.
Support: good
Youtube network "Creator revolution" requirements 2021
Similar to the Fullscreen network 'creators-revolution' has not disclosed any recommendation to views & channel subscriptions.

You should be 18 years old.

Your video content must be real & unique.

No copyright strike.
Would you like to monetize your gaming videos? I have come across a reliable network that can help you monetize youtube videos without having an AdSense account.
Features:
Revenue shares: 80%
Payment Threshold: 1$
Support: they provide you multi-language support
Music library: epidemic
Dashboard: powerful dashboard
Referral program: Yes

Provide Sponsorships.

Youtube certified: Yes
Requirements for participating in ESL video network
All the recommendations & eligibility are similar to the creator's revolution network.
7. Film section
Film-section is an excellent AdSense alternative for youtube. Most of the famous YouTubers have joined this network. It has its global advertising sales department which selling alongside Youtube with an optimized advertising fill rate.
Features:
Revenue shares: 70%
CPM rates: 3$ to 10$ (Mostly depends upon your content creation)
Lock contract: Three months No lock-in (trial)
Payment Threshold: No (you can withdraw even one dollar )
Payment options: PayPal, bank transfer & western union (monthly payout)
Content ID: Anti-piracy protection system. You can earn also earn from your stolen video.
YouTube certified: Yes
Dashboard: easy to use, also gives good access to the panel
Support: 24/7 (reply within 48 hours)

It provides a boost to both channel & revenue.

Full transparency means you can see your earnings on your dashboard.

This network levies no tax.

Referral Program: Yes (earn 10% commission)
Requirements for participating in Flimsection network
Your youtube channel should have at least 3000 views per month

Content should be unique.

Stolen content is strongly prohibited

There should not be any copyright strike on your youtube channel.
Machinima is the Youtube certified Multi-channel network to grow your gaming channel. When I saw the profile of this network on youtube, I see there are more than 12M subscribers which is a direct indication of the greater partnership of YouTubers than others.
Features
Revenue shares: 70 to 80% and also offers 100% revenue share contract.
CPM rates: 2$ (May change accordingly)
Payment options: check, wire transfer
Payment Threshold: 1$
Lock contract: Yes but not sure about the period (maybe three years)
Dashboard: nice

Multichannel account services

Massive royalty-free music (more than 1,50,000)

Support: Great

It helps to grow the audience.

It provides the content to Verizon go90, Amazon, PlayStation Vue, AMC Networks International, and more.
Requirements to participate in this youtube monetization network
Your channel must be able to receive at least 300 page views per day. But in many blogs, I found 1500 to 5000 views per day.

More than 1000 active subscribers on your channel.

There must be 50 quality videos on your channel.

No copyright strike

No stolen content
Features:
Revenue share: 90%
Uncapped contract
Lock contract: No

5,00,000 Audio tracks

In-depth analysis of video performance to know which video is performing better.
Requirements to join curse YouTube network:
Your channel must have at least 1000 subscribers

4,000 visitors per month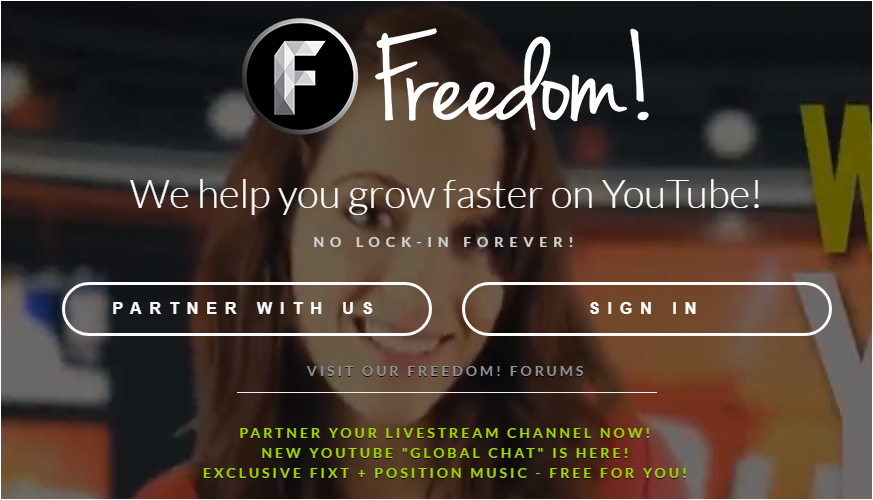 Freedom helps you increase your youtube network and also optimize your revenue. It is the most reviewable ad network by YouTubers. It has signed with Google contract to become a youtube partner. Freedom does not work for any company.
Features:
Revenue share: 60% and goes up to 95%
See real proof [FullAhBeans]
Bonding or locking contract: No
CPM rate: it depends upon the quality of your content. If your video content is most friendly with advertising, then CPM goes up to 7 to 8$. Otherwise, it will be 1$ or maybe less than 1$.

Full transparency (A partner can keep an eye on revenue every time)

Payout limit: No (you can withdraw 1$)
Support: Nice
Youtube certified: Yes
Payment options: ACH (automated clearinghouse), global ACH or e-check, wire transfer, PayPal,

No tax levies during withdrawal.

Music library: epidemic, position music & Audiomicro

Sponsorship prizes to encourage creators.

Suitable for gaming videos, fashion & beauty, etc.

If you promote your freedom's referral link on social media, you can earn 15% freedom. It means that if you make 100$, then 60$ get paid to you, and 40$ goes to freedom. Now if you refer freedom partnership to any other Youtuber, in that case, you will get 15% of 40$ as a commission.

Dashboard: Easy to use
Special tools: Heartbeat (Increase communication with other interested YouTubers), Video bar (Help to increase watch time on videos)
Content ID: track all the copies of your work on youtube.
Requirements to become the partner of youtube freedom Ad network
Your channel must have at least 1000 page views per month

Video content should be real and valuable.

No copyright content
Conclusion with a more in-depth review
Let me give you a closer look at today's article…
So finally I've listed out the MCN network which provides essential features to a youtube creator.
They help you to succeed with YouTube, protect your content, increase revenue, and expand your network all over the world.
Review: I have seen tons of review videos and read so many blogs. On behalf of this, I can say that these networks are not suitable for all creators. There are so many things that matter. It may be your content quality, the number of active subscribers, etc.
I found many negative reviews against them. But I also found some positive reviews. So, it is needless to say which one is best and which one is the worst.
If you own a youtube channel and using any network listed above, please share your experience with us. Give your suggestion in the comment section.
If I find anyone who shares his/her experience with us politely, I will mention his/her Youtube channel (or website) in this post.
If you find this post helpful please do share it on Facebook, Twitter & LinkedIn.
If you have any queries, then feel free to ask…