WhatsApp has now become the world largest text messenger having over 1 billion active users every month. People use this to send messages, media and also communicate with their friends. The best thing is that it's free, just requires internet which is now available in excess. However, WhatsApp is amazing but there is no such thing that can fully satisfy you. You might still be complaining about a reply to the message from the lock screen, blue ticks, sending pictures without losing quality and many others. It's up to you how you use it. But don't worry there are a few awesome WhatsApp tricks that can make it more interesting.
In this article, I am going to share with you some awesome tips that could make your WhatsApp messenger more attractive.
By the end of this article, you would learn how to keep your media quality as it is and how you can send a message to your friend without typing, how to reply to a particular text in WhatsApp and other 15 tricks to power up your WhatsApp usability.
Attention: – How to download the old version of WhatsApp
So, without further due let's get started…
10 Awesome WhatsApp Tricks You Must Know [With Neat Images]
#1. How to reply to individual message in WhatsApp group
Although, this is an inbuilt feature. But most of the people don't know how to reply to a specific message. But here is a very quick solution. You don't need to install an additional app on your android device. Just follow these instructions.
Open the WhatsApp and head to the exact conversation that you want to reply to.

Once you have found that message, long press on that specific message. At the same time, you'll see a back-arrow  icon in the header.
As you click the icon, it will allow you to answer to that particular message. Write your reply as usual. That's it.
It would be helpful if you are interacting with a group. If you have missed the conversation and now want to answer all those questions sequentially then you take benefits of using this trick.
#2. Send WhatsApp message without typing
The Time shortage becomes a big problem for today's generation. People have no time to do the laborious things which consume more time and efforts. So, if you are one of those busy guys and don't want to be stressed again. Stay tuned.
I come up with you two WhatsApp tricks that you can use to send a message by just speaking orally.
The first one is 'WhatsApp mic' I think this one is well known to you. But there is a problem. The message that you have recorded using WhatsApp mic is not going to type your wording. WhatsApp will send this message without converting it into text.
But do you know you can use the "Google assistance" to do the same? You don't even need to open your WhatsApp. Just switch to Google Assistance and speak your message.
You need 5 instructions to allow the Google assistance to reply to the message.
First, open Google assistance by saying 'ok Google' and speak "Send a message". Make sure your sound should be clear.
Name of contact who you what to send the message. For example 'shailesh Shakya'
Now you're asked for which medium you want to use to send your message. You need to just say 'WhatsApp'

Now speak what you want to say, Google will automatically convert your voice message into text.
Finally, say 'send it' and you have done.
In a nutshell, remember the following sequence. Means which voice command you need to say to proceed further.
OK Google

Send a message

Name of your friend who you want to contact

WhatsApp

Send it
However, it might be slow if you haven't practised. But once you have mastered it you can access it easily and frequently.
#3. Add a chat Bubble on WhatsApp
This WhatsApp trick is so cool and similar to Facebook messenger chat bubbles. It requires additional app which enables this feature. It gives you an extra flexibility to chat without interrupting your current process.
There are a ton of apps available in android play store. But I think these two apps are best.
Both apps are awesome. For instance, I am going to show you 'How to add a chat bubble on WhatsApp' by using 'WhatsApp bubble app'.
First thing first, download the 'WhatsApp bubble app' from play store.
After downloading, open the app and here you're asked for enabling the 'WhatsBubblesNotification-listener'.
As you enable this option, you'll find a dark green bubble in the middle of the corner.
Finally, click the back button and then the app will ask you to click the 'ok' button. This app also has some customization option where you can customize your design for chat bubble.
You have successfully enabled bubble feature for WhatsApp.
Benefits of using this feature
No interruption

Looks cool

It's easy to adjust the chat bubble
Disadvantage: –
Require an app to enable it

Extra space is required to store

App contains ads which may irritate you
#4. Reply WhatsApp messages from lock screen
Suppose your system is highly secured and have a strong password. Anytime you receive a message on WhatsApp, you'll have to put your password again and again.
If you are reading this guide then you don't have to put your password anymore. You can reply to any message on the lock screen.
This is an inbuilt function, so you don't need to install any application. Just follow these steps given below: –
Open your WhatsApp

Click the 'CHAT' option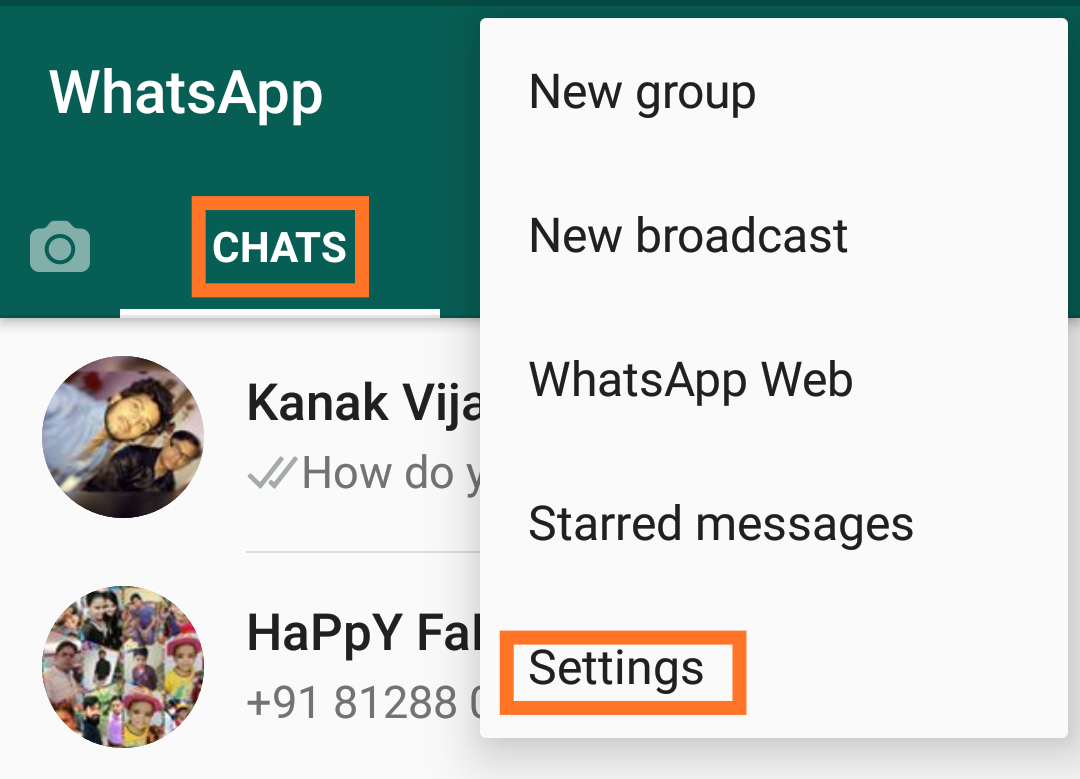 Click the three dot option > setting
Now head to 'Notifications > popup notification'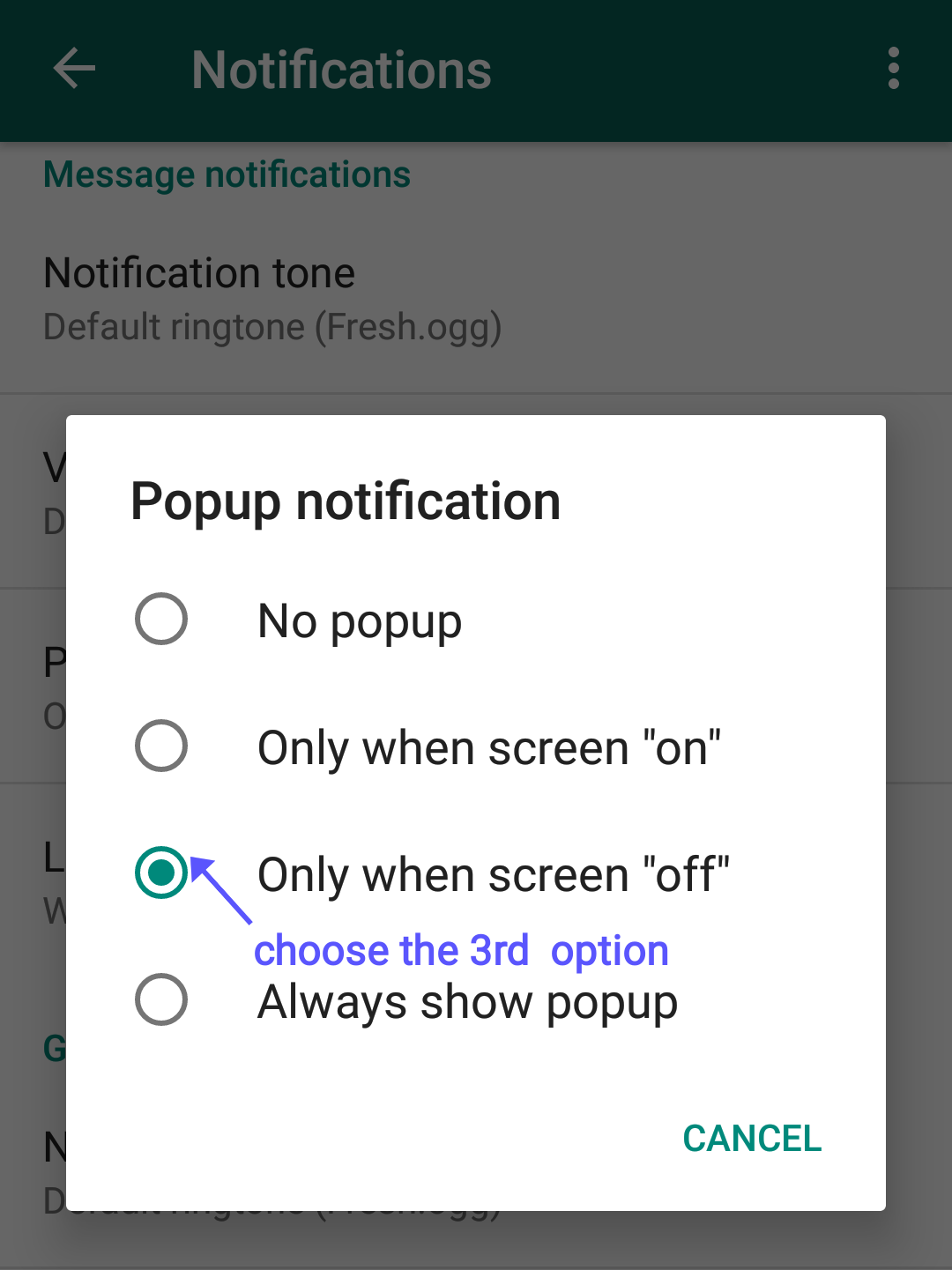 As you click the 'popup notification' option, you'll see a popup which asks for preferable options.

Select desired option out of those four options.
You have successfully enabled the WhatsApp lock screen popup feature.
#5. Read WhatsApp messages without knowing your friends
Do you know blue ticks meaning in WhatsApp?
Blue tick indicates that text has successfully seen by a viewer. If you don't see double blue tick you'll consider those message as unseen. But this is not always true. There is a trick which most of the people use to make others fool. You can also do the same by using this feature.
This feature is called as 'WhatsApp blue ticks disabling feature'. This feature let you allow to hide blue ticks from the sender's WhatsApp so that your friends won't be able to identify your visibility. And you can read all the message secretly.
It's a sneaky WhatsApp trick where you can secretly read the messages that you have received from your friends without knowing them.
How can you disable the double blue ticks? See below
There are two methods to hide blue ticks
Disable the read receipts option (Generally used to disable permanently)
First off, Open WhatsApp
Click the three dot option at the upper right corner > setting > Account > privacy > read receipts
By default, you find this option enabled. Just disable the option and done. Now you're able to read messages without knowing your friends.
Enable the Aeroplane mode (temporary solution )
This is up to you which method you like to excess. If you what to temporary surprise your friends then use this method. Otherwise, use the first method.
4 steps to disable the "message seen" blue ticks in WhatsApp using aeroplane mode
When you receive any message, don't open those messages directly that you want to check secretly.

First, enable the Aeroplane mode and disable your 'Mobile data' and WIFI connection.

After that, open WhatsApp and read those messages.

Once done, close your WhatsApp and again disable the Aeroplane mode.
In short, you must know three signs while chatting with your friends
Single grey tick: – Indicates that the message was successfully sent
Double grey ticks: – it means message has been sent to the recipient's device
Double blue ticks: – meaning recipient has successfully seen your message
#6. Use two WhatsApp on one android phone
Have you ever tried to download two WhatsApp in dual sim phone?  Obviously, WhatsApp doesn't allow you to download another APK from WhatsApp. But there is a simple hack that you can use to parallelly run two WhatsApp on a single device.
But before starting, I want to mention the mandatory requisites.
It's mandatory to have a dual sim phone.

Most of the mobile manufacturing companies provide App cloning feature. So, you don't need any third party app. But remember if your phone doesn't provide cloning feature then you need to download third party app.

Download the parallel space app if your device doesn't provide App Cloning.
Now you're ready to start with…
So, first ensure whether your phone is a dual sim or not. After that also check, is there cloning feature?. Though, most of the new models have app cloning feature like XIAOMI, VIVO, and OPPO etc.
Once you have ensured that your phone has App cloning feature. Then you don't need to install another third-party app. Just follow these steps to use two WhatsApp on one single android phone: –
The process is pretty similar to every dual sim device. But the option might be different like in XIAOMI, cloning option is 'Dual APP'. In VIVO, it's 'App clone'. I'm going to setup XIAOMI note 4.
Switch to settings

Look for 'Dual App' within the App setting.
Once you have found, click the 'Dual App' option.

Then you'll find a list of apps that support Dual App feature.
Now, enable this feature for WhatsApp.

Within a second clone is ready to use.

Set up the configuration as usual.
By the way, it might happen that your phone has no feature for App cloning. In that case, download 'Parallel space' App on your system. This app provides you with the same facilities.
Let see how you can use this app to run two WhatsApp on your android phone.
It is very simple to use. Just follow these instructions: –
First of all, download the parallel space app from play store. It has over 50 million downloads.
Once downloaded, it takes a few seconds to create the parallel space to run the similar app at a time.

It will show you a list of Apps. Select 'WhatsApp' and add this to the parallel space.
Finally, you're asked for installing the WhatsApp. That's it.
#7. Send a message without saving the contacts
Most of the time people ask that 'How to send WhatsApp message without adding a contact in android'. If you're one of those then keep reading.
There are two methods. The first is using the click2chat app and the second one is 'online method'. You don't need to add the contact that you don't what to keep in your contact book.
Let me discuss these ones by one
1st method: – Send the WhatsApp without adding a contact using 'Click2chat' app
Download click2chat app from play store.

There is nothing to set up. Just put the contact number who you want to message.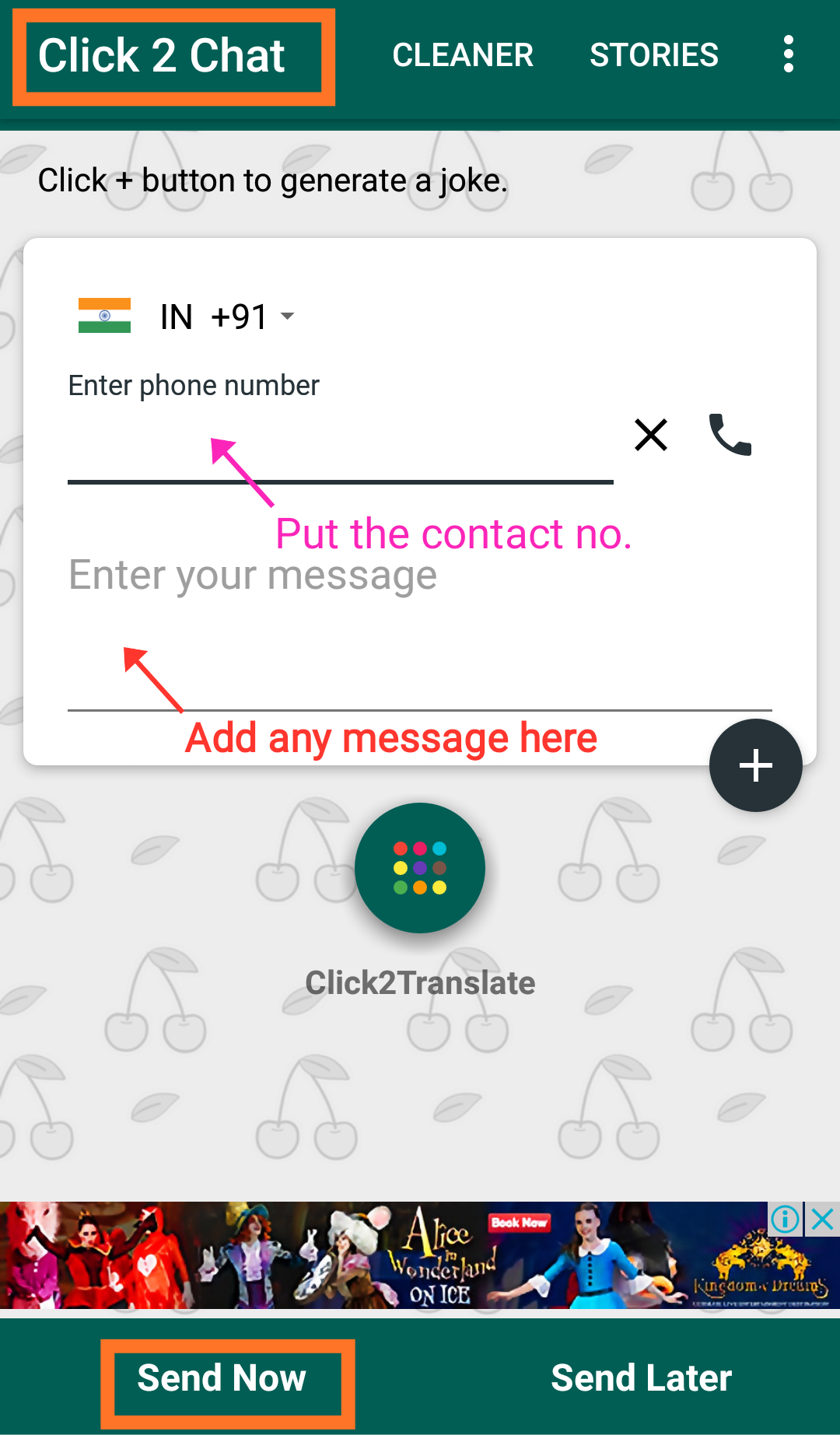 Click the 'Send Now' button. That's it.
2nd method: – using 'online URL'
Open chrome browser on your Android device that has WhatsApp.

Put the following URL in Chrome address bar http://whatsapp.com/send?phone=917891xxxxxx
If you are from INDIA then your number format must be '91xxxxxxxxxx'
Your URL would be http://whatsapp.com/send?phone=91xxxxxxxxxx

As you hit enter, you'll be redirected to your WhatsApp console. From here you can send your message without adding an unknown number to your WhatsApp.
#8. Mark your important messages
Sometimes you receive something funny or important and want to mark this as important. Then don't worry WhatsApp provides you with a feature to star those messages.
It is simple to do, just do the same as given below
Head to your important message

As you press the message, you'll see a header appears at the same time.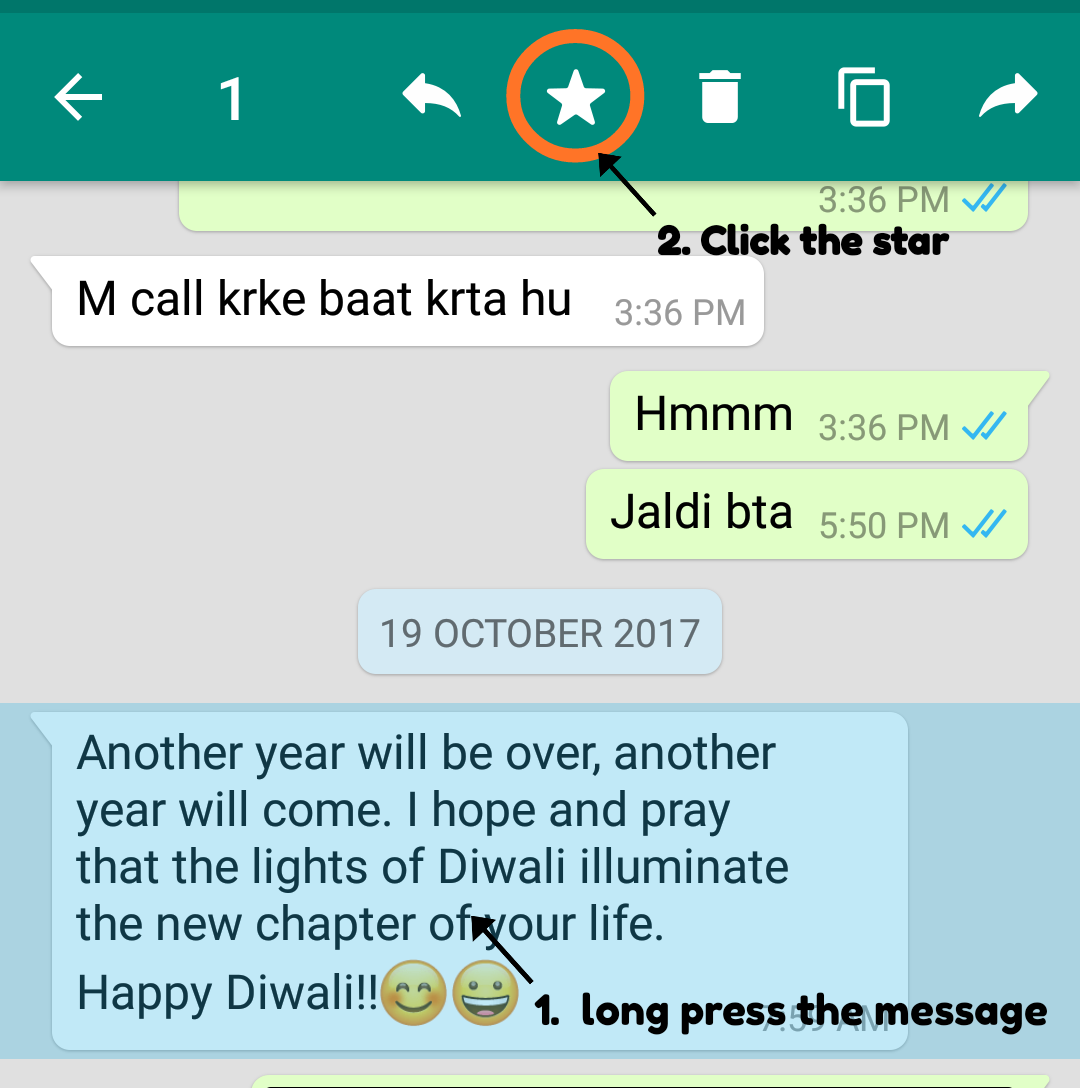 Here you'll find a star. Just click the star icon and that's it.
Often time I have seen that people ask that 'can other see my starred message on WhatsApp?'
My answer is no one can see your starred messages.
#9. Send images, videos and music without losing the quality
When you send any media, WhatsApp compresses them in order to transfer the file as fast as possible. But while compressing these files they lose their original quality. But there is a way to avoid image compression to keep their quality as it is.
There is a short trick that you can use to make it possible.
When you send media, don't choose gallery instead, choose document.

Once you click the document, WhatsApp will show you a list of document. There is also a browsing option where you can select your required media.

Choose preferable media and send.
If you follow the above process, WhatsApp will consider them as document and will keep WhatsApp photo and media resolution as it is.
#10. WhatsApp text formatting trick
Most of the time you might be noticing that your friends sending you messages that contain some different text formatting.
Don't worry you can also format your message with italic, bold and other formats.
Change your font style just putting these symbols along with the text.
Bold format: use star (*) at the leading and trailing position of your text. For example, If you want to bold the following text What's up bro. Put stars like that *What's up bro*
Italic format: use underscore ( _ ). Syntax  _what's up bro_
strikethrough format: use hyphen (~), place single hyphen on both sides of the text. Syntax: ~What's Up bro~
Monospace format:  place three backticks on both sides of the text. Syntax: "`What's up bro"`
#11. Hide the last seen on WhatsApp 
This WhatsApp trick is helpful for those who don't what to know others his or her online visibility. You can also use this to hide the last seen on WhatsApp for one person or maybe for all the contacts.
You need to do this little configuration, First of all, Go to settings > privacy > Last seen > Select the desired option.
You'll find three options
Everyone:  Everyone can see your online visibility.
My contacts: By selecting this option you can only be visible to your contacts.
Nobody: If you want to hide online visibility to everyone then select the 'Nobody' option