Are you unable to download the old version of WhatsApp in android? No worries, I am here to assist you. In this guide, you will learn how you can install the WhatsApp old version.
Before diving into the solution, let's talk a bit about WhatsApp and try to figure out why people are moving toward the outdated version instead of the latest version?
WhatsApp launched in 2009. It has been updating its initial version since 2009 for providing the better functionality and user experience. Recently, on 24 February 2017, a new update launched which includes a new 'status' feature that allows the user to upload videos, GIFs and pictures within the "status panel."
In fact, WhatsApp has introduced a neat feature, But There could be some disadvantages that are why people don't like it.
Disadvantage: –
#1. The new status will remain only for 24 hours. Means you need to update current status every day.
#2. Another reason is that WhatsApp is a chat messenger not like Instagram. However, this feature is already used by Instagram and Snapchat with an overwhelming response but this is not going to work with a text messenger app.
#3. This version interrupts the chat communication and includes an unnecessary step which irritates the users.
#4. People are unable to see the contacts that rarely updated because "contact tab" has been replaced by "status tab".
#5. A user is unable to see the profile pictures & updates until they update their status.
That's why people want to download the old version of WhatsApp to rid of this mess.
So, now let's move on today's topic: –
3 Easy Methods to Download Old version of WhatsApp [with Pictures]
There are many ways to revert to the old version of WhatsApp. But all of them would not work for you. Here are a few hacks where you could downgrade your latest WhatsApp version.
#1. Revert to the old version of WhatsApp using 'Rooting method.'
This method is only applicable if your Android device is in rooting mode. So before starting, you need first to root your device. This method could be risky. So be careful. I recommend you to consult with a developer who can do this business for you.
Here is a guide that can help you root your device: –
Everything that you need to know about rooting an android device
Now let's get started
Once you've rooted, you are ready to follow these steps.
Step-1
Or https://whatsapp-messenger.en.uptodown.com/android/download/1463647
After installing, you see the WhatsApp new version including WhatsApp status feature.
Step-2
Download a file manager app that can support root accessing feature. There are many apps which support root access like (file manager, total commander, file explorer, ES file explorer). You could download any of them. ES file explorer would be suitable for you. Before starting, stop the force updating of current version which is 2.17.77. For doing so, follow this trail: Settings > Apps > WhatsApp.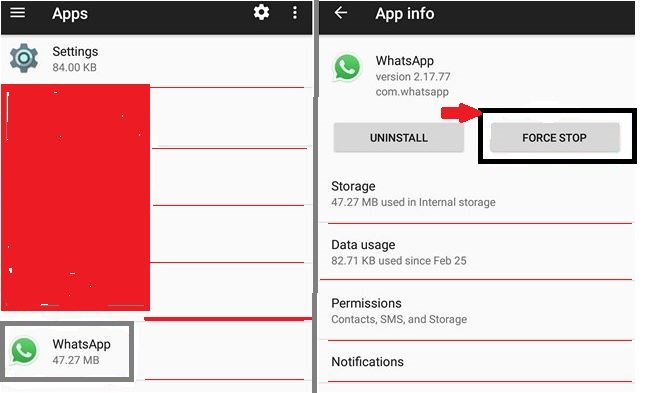 Step-3
3. Now open the file manager (ES file explorer) and enable the "root explorer" option.
Here select the read/write root path "RW".
Step-4
4. Next, go to the Local > device then click on data > com.WhatsApp > shared_prefs folder
Step-5
5. In "shared_prefs" folder, find the WhatsApp preferences xml file named as( "whatsapp_preferences.xml").
 Step-6
6. Once you've found, click on it and look for "status_mode value = 1" line code and replace the 1 with 0. After that, click on save.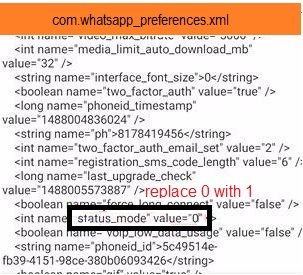 Step-7
7. You have successfully removed the status panel and revert to your older version of WhatsApp. This method surely works for you, but it is little risky for non-tech savvy users.
#2. There is another method. If you don't want to follow the above process, then you can follow the This method. However, sometimes it does not work, but you can try it. 
Step -1
Delete the latest version of WhatsApp from your Android device. But make sure before deleting, take the backup of your earlier data.
Let me show you how you can take the backup of WhatsApp media and text messages.
Open your WhatsApp and click on chats > three dot icon situated at the upper right corner > settings > chats > chat back up.
Once done, you can delete your WhatsApp.
Step-2
Then go to Settings > Additional settings > privacy > enable unknown sources.
Step-3
Now, it's time to Download the old version of WhatsApp from here.
v2.17.60 (This could work well)
or maybe this v2.17.50
Once you've downloaded, install and agree to WhatsApp terms & condition. Register your mobile number. As you register, you will automatically see a backup page from there you can recover your WhatsApp data.
#3.  The third method is very similar to the second one. Open your play store and click on setting > Turn-off the auto-update apps. Rest of the process would be exactly the same as the second method.
Bonus method: 
Step –>0
Backup your old chats [Backup method is given in the first trick]
Step –> 1
Uninstall the current Whatsapp messenger
Step –> 2
Go to settings >> Additional settings >> Privacy >> Allow the Unknow sources to install
Step –>3
Play store >> Search for 'WhatsApp' >> Click on the name of app >> uncheck the 'Enable auto update' option which is given on the top right corner of the screen.
Step –> 4
Download the WhatsApp from this link –> https://drive.google.com/file/d/0B_p_9ZPpP2i3SksxQUN0cjV3LUU/view
If you are unable to download from this link, then you need to find friends in your circle who are still using the old version of WhatsApp and then ask them to share with you.
Step –> 5 
Once you've downloaded successfully, you'll find the contact option on your WhatsApp wall.
 Conclusion

Here I have covered three methods including one bonus, and I hope any one of these method work for you. However, the rooting process looks a little tricky, but this method can surely help you download the old version of WhatsApp.
But the remaining two methods require three things mainly
Un-install

the previous version.

Download

an old version AP

pk

file (v2.17.50, v 2.17.60, v2.17.77)

Turn off auto updates. (Sync, play store auto updates)

Synchronize your device's date rage according to the previous WhatsApp version.
These are some hacks that you could use to download WhatsApp old version for android. [Remember that these methods are only applicable for Android devices]
Save
Save
Save
Save
Save
Save
Save
Save
Save
Save
Save
Save