In this post, I'm going to discuss 18 Apps to help you save money, and do Budgeting & Investing in one place.
These are the kind of Money Saving Apps that can help you make better financial decisions and also can add extra cash to your wallet.
So let's get started…
1. Revolut – From easy money management, to travel perks and investments.
With over 20 million personal users and 950K business users, Revolut claims to be the first global financial super-app.
Revolut can help you with your everyday spending to planning for your future with savings and investments.
The best part? you can book holidays directly from the Revolut app and earn cashback on card payments. The currency exchange in 27+ currencies can help you manage International spending.
Moreover, Revolut has recently launched a Revolut Pro account to help freelancers, gig workers, and self-employers manage income, payments, and expenses in one place.
A few more features – 
Remove unwanted subscriptions
Easy payment access in 200+ countries
Start trading with just $1
Buy gold and silver instantly
Your money is secured by regulated banks
2. iBotta – Cash Back Savings, Rewards & Coupons App
iBotta is an online cashback app that gives you cash back on every essential or grocery purchase.
It has partnered with top CPG (Consumer Packed Goods) and online retailer brands to give you more cash back options to save more money.
Just open the iBotta app and see if there is any cashback available with any product you're willing to buy.
You can earn cashback instantly with the 'Pay with Botta's feature. Shop and use pay with iBotta to get cashback in your iBotta account.
To save on offline shopping, first, you need to find cashback offers in the app for things you are about to buy. Go and Shop at local stores. And upload your receipt or link your loyalty card for instant cashback. And finally, withdraw your cashback via PayPal.
As simple as that!
3. Honey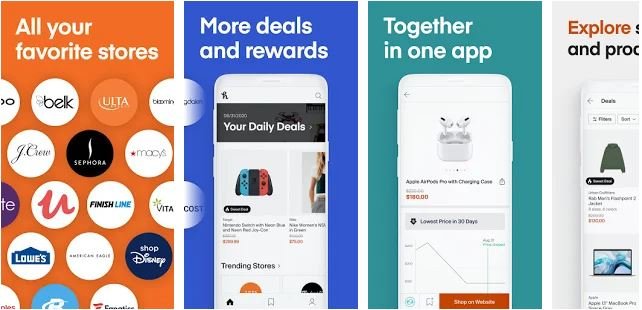 Honey is also one of the best money-saving apps on the list.
It's a smart shopping assistant that suggests valid deals & coupons for online purchases.
It has teamed up with 400+ online stores and brands to help you find valid coupons and deals in seconds.
You no longer have to waste another minute to find a valid coupon.
The cool thing about the HONEY app is that upon checkout, it suggests you some valid coupon codes that you can use to get a maximum commission.
Moreover, you can download its chrome extension for quick access.
4. Viggle
Viggle is a great option if you're an avid user of TV and have a cable connection. It's popular among TV users.
For rewards, you need to earn perk points. And To earn perk points, you can check shows & movies live on TV or on providers like Netflix, Hulu, and amazon prime.
Once you've enough perk points, you can then buy gift cards and redeem them for top brands like Amazon, PayPal, Walmart, and 200+ more.
Another way you can earn perk points is by taking surveys and playing games online.
You can join it for free and can get hundreds of gift cards to choose from.
5. FeeX – Finance Empowerment Through Data And Technology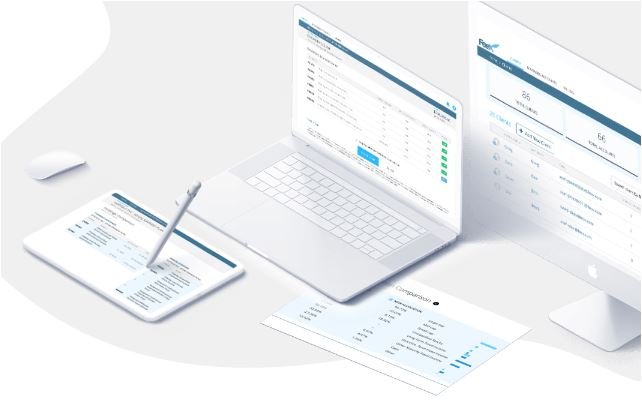 FeeX is a great choice for monitoring your financial budget to keep your investment less. It provides you financial empowerment through data and technology.
It's free software that enables you to add your investment accounts (Like 401K), analyzes the investment, and recommends some low-pay schemes.
Furthermore, FeeX brings transparency to your investment fees. I think it is one of the best money saving apps.
6. Trim – Save Money Automatically
Trim is an all-in-one money saving app you can use to manage your subscriptions, cancel unmanaged subscriptions and find ways to save on your bills.
It can even lower your monthly subscription price and save you hundreds, if not thousands of dollars every year.
With Trim, you can save money on cable, TV, satellite and internet, bank, medical bill, car insurance, and more.
The great thing is that Trim uses bank-level security with 256-bit SSL encryption to keep your personal & confidential data secure.
Moreover, trim can analyze your daily, monthly, and yearly expenses to save you money.
The only downside is that it's a paid app. You need to pay $8/month to take all these benefits.
7. HoneyFi – Budget, Bills, & Finances for Couples
It is a couple finance apps that can help you manage your budget with your partner or spouse together.
You can monitor your budget, bills, and investment to save for your financial goals.
With the honeyFi app, you can automate your saving faster. And you can withdraw your money at any time, with no additional fees.
In essence, you can sync your bank, credit cards, insurance, and investment accounts securely for quick savings.
8. Mint – Budget, Bills, & Finance Tracker
Mint is also one of the fewest money saving apps on the list you can use to manage your finance in one place.
It is basically a one-stop shop for all things finance analytics and savings.
With mint, you can track your savings, investments, and even your credit score.
Its easy finance breakdowns and analytics charts can help you understand your budgets and spending deeply.
Similar to any other finance app, Mint also keeps you updated on your bank account balance for retirement, and more.
One of the beloved features is its 'custom tips and savings' that make recommendations based on hundreds of thousands of checking, savings, credit card, brokerage, CD and IRA rollover offers to save you the most out of your budget.
9. Acorns – Invest, Spare, Change
Acorns can be your next choice to get more financial metrics and have smart money saving tips in one place. It has made investing easy for everyone.
This app comes in handy when you're looking for wise ways to invest for the future, save for retirement, invest for your kids, and even want to learn more about finance.
It is an incredibly powerful app that bundles its products into simple, transparent plans with a little subscription price of $1, $3, and $5 per month.
10. YNAB – Budget, Personal Finance
Whether you want to stop living paycheck to paycheck, get out of debt, or save money, you can try the YNAB app.
It's a great option for newbies to save up to $6000 in their first year. Even entry-level budgeters can save $600 in the first two months and $6000 in the first year with it.
The best thing is that you can try it free for 34 days.
Once the trial period is over, you can take its $12 monthly subscription to continue taking all premium benefits.
Similar to honeyFi, YNAB is also offering a couple-budgeting. With this feature, you can budget together, and access real-time information, from any device, anytime which makes it super easy to share finances with your partner.
11. GasBuddy – find cheap fuel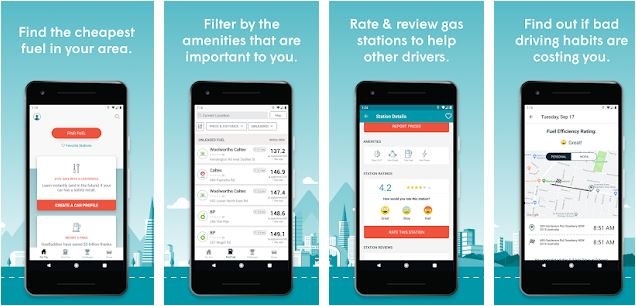 GasBuddy isn't necessarily the most recognizable name. But you can't ignore it as it can help you save money on fuel or gas.
This app uses gas price information provided by users to bring drivers together and help them save money on fuel or gas.
With GasBuddy, you can find the cheapest fuel near you. Also, you can find petrol stations by distance and price, and report fuel prices to help other people to find cheap petrol stations.
The only downside is that you can only get gas prices for the USA, Canada, and Australia.
12. Hotel Tonight – Book amazing deals at great hotels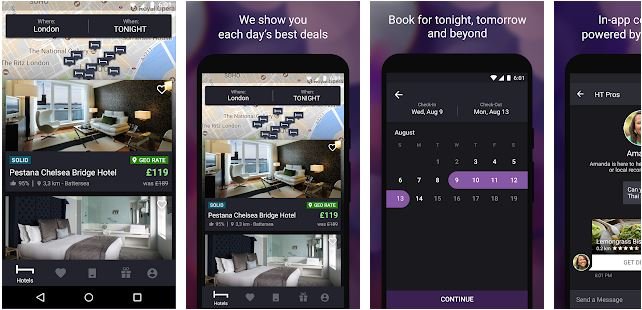 The Hotel Tonight app specializes in booking hotels. It helps you find and book last-minute hotels at cheap prices.
One who travels and wants to save money while booking a hotel can save money using this application.
It delivers great booking prices. Also, enable you to book a hotel in 10 seconds – that includes 3 taps and a swipe.
13. Saving Star – Grocery Rebates
Saving-Star is another money saving app that offers cash back on grocery products.
It's quite similar to the iBotta. But Saving-Star describes itself as an extraordinary grocery rebate.
When it comes to savings, it saves bigger than regular grocery coupons that go up to $5 or more.
The great thing is that you can even save on healthy products like fruits and vegetables.
Like iBotta, Saving-Start also asks you to capture a picture of your grocery receipt using the app to earn savings.
Once you have enough savings, you can withdraw this to your bank or PayPal account or even buy various gift cards.
14. Snip snap – Get Coupons
With so many money saving apps, snip snap is not different than SavingStar and iBotta.
All you have to do is snap a picture of the printed offers and this app will convert all barcodes, text, or images into a valid offer.
This app has some great features that can save more money every time you purchase something from a store.
I'm impressed with features like 'in-store reminder' that send you a notification about saved coupons in a store, 'scan all coupons', and also send you coupon expiration alerts.
In short, just show the cashier your phone at checkout and save money.
15. BillTracker
While many of the apps on this list help you save money, BillTracker can be your finance manager to track & save all your bills and monthly expenses.
With this app, you can track your bills and their payment dates, track your business expenses to stay within budget, and also share bills with your business partners, clients, and family members.
Besides all, this little app also comes with print functionality that enables you to take print of your bills to add them to your bill diary.
16. Chime – Mobile banking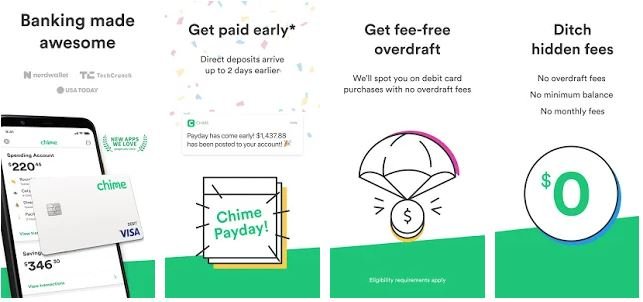 Chime is a mobile banking app with some advanced features to help you save money on the way.
Plus, you can do online banking with no hidden fees (No foreign transaction fees, no minimum balance requirement, and no overdraft fees.) and also get your paycheck up to 2 days early with direct deposit.
If you prefer online banking with Chime, you can set up a free account. After that, you can request a debit card.
Also, you can expect chime to send you real-time transaction notifications, daily balance alerts, an in-app card-blocking facility, and more.
17. Digit – Save Money, Pay off debt, No overdrafts
Digit is a personal finance app that helps you improve your financial health and save a decent amount of money effortlessly.
Not only digit save you money, but also discover how to save, invest for retirement, and pay off debt.
The app gathers your income and spending patterns to give you a better move to save more.
One good feature is overdraft prevention which avoids overdraft fees and moves money back into your checking account.
Moreover, it cuts a perfect amount of money from your current account and adds it to the Digit saving account. And then divide the amount towards your goals.  
18. Clarity Money – manage your budget
They called it an AI-powered financial champion.
It uses machine learning to analyze your personal finance and based on that data make smart decisions to help you save money.
With this, you can organize your bills & expenses, identify or cancel unwanted subscriptions, and also monitor your credit score.
Summary
There are lots of money saving apps available out there. But the 17 recommended in this post are definitely going to work for you.  
Whether you want to save money or monitor your financial bills, you choose one from the list.
Which one is the best option for you?
If you're confused then make sure you take a look at this post. This will make it much easier for you to sort out the list.
Do you like this post? Then don't forget to share on Facebook, Pinterest, Twitter, and LinkedIn.