It's quite overwhelming to produce videos every day. I know how time-consuming it is to come up with interesting topics and publish them on YouTube or other social media platforms on regular basis. It's even more painful when you don't want to show your face and record your voice.
Well, I've discovered a simple solution to this problem. And in this post, I will teach you how to leverage the power of ChatGPT and a video AI tool to make money on YouTube with ChatGPT. And most surprisingly, you don't need to write a script, find video assets, add voiceovers, or even background music. You have everything in one place, you just need to make use of these things.
So, here are the steps that you need to take before you can start with the process…
Sign Up with ChatGPT (it's free. But a paid version is also available.)
Get this AI video generator tool (Both free and paid versions are available.)
Once you have all this, you need to understand what makes a video stand out and what types of video content you want to create.
So, let's make use of these tools one by one to create a video.
First Use ChatGPT —
I hope you are already aware of ChatGPT; an AI-powered tool capable of generating human-like responses with just a click of a button.
If you want to learn more about ChatGPT, you can read the following articles…
If you've read the first article from the above list, you probably know how powerful ChatGPT is. And there is no question about why you shouldn't use it to generate powerful content ideas.
So, here I am going to create a video idea with the help of ChatGPT…
To get started, you need to learn to use the prompts wisely, so that you can come up with better ideas.
Let's suppose, you want to create a video about a topic in "Relationships". It could be anything from a toxic relationship to a few tips to revive your relationship. It's up to you. However, you can use ChatGPT to come up with more ideas.
You can write a Prompt like this to generate some ideas…
Prompt: Please brainstorm content ideas about a toxic relationship
You can tweak prompts to generate even more meaningful content ideas. For now, I'm quite impressed with the response. So, I would like to go with one of these content topics to generate a script for my video.
For the sake of this article, I am going to take the last idea from the list.
"The importance of setting boundaries in a toxic relationship"
Once you have the right topic in your hand, you can move to the next step to create a video script around that topic.
And for this, you can again use ChatGPT to generate a compelling script. Try to feed every single key points you want to talk about in your video.
Your prompt could be like this…
Prompt: Could you please create a YouTube script outline about the topic "The importance of setting boundaries in a toxic relationship"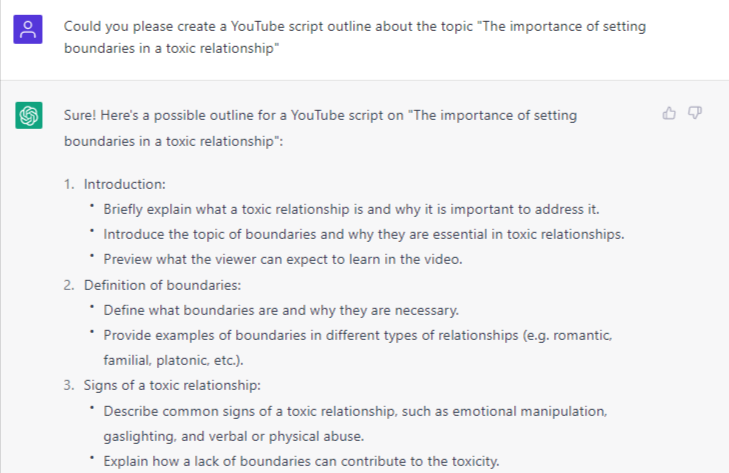 Simple prompt results in a 7-step outline to structure your video script. You can add important points to make it even more helpful and informative. For this, you can Google your focus keyword to collect key points and include them in your outline before generating the complete script. It helps ChatGPT to come up with a powerful response.
Let's take some time to ask ChatGPT to generate a compelling script…
Prompt: Please use the above video script outline to generate a compelling Video script

Within a minute, ChatGPT generates a well enough YouTube video script. You just need to read this script carefully to find the weak points to add more value to it. It won't take you longer because you already have a script.
Okay, now, you have the compelling title for the video and the script.
Now, the most interesting part of this lesson is using Pictory.ai to create a video from the script that you generate earlier.
Let's make use ofPictory.ai: An AI-powered video generator for content creators" to generate a video with just a click of a button.
Use Pictory.ai
Pictory is a simple video generator tool that uses AI technology to do leg work for you. With this, you add stock images, videos, voiceovers, and background music with just a click of a button.
In fact, you can repurpose your existing content into videos with just a few clicks…
You can turn a script into a video
You can turn an Article/Post into a video
Or you can turn visuals into video
To use one of the above features, sign up for Pictory. Head over to the "Script to video" option, Copy the script from ChatGPT and paste it and click the proceed button.
As you click the 'Proceed' button, it asks you to choose a template and the video screen aspect ratio. For example, if you want to generate a video for YouTube, you must select an aspect ratio of 16:9 aspect ratio. Or if you want to generate a video for social media platforms like Pinterest, Instagram, etc, you can select 9:16.
Once it's done, it will take some time to collect all the media, background images, etc. for the video. And finally, redirects you to the main page where you can change or upload your own media, add background music from the library, add AI voice-over, etc.
Top features of Pictory that you are going to use more often.
Pictory features…
Visuals — you can find visuals like stock images and videos to add to your video. However, Pictory takes care of it, but in case, you are not okay with it, you can find and add the most relevant media from the Visual library of Pictory.
Elements — you can add stickers, emojis, and gifs to your video.
Audio — you can find background music for your video. And also add AI-powered voiceover to your videos. (You can even upload your own voiceover )
Text — you can add or remove text from a video scene.
You can delete a scene, and trim unwanted parts.
You can preview individual scenes and make modifications accordingly. Or you can preview the entire video to see if it is going well.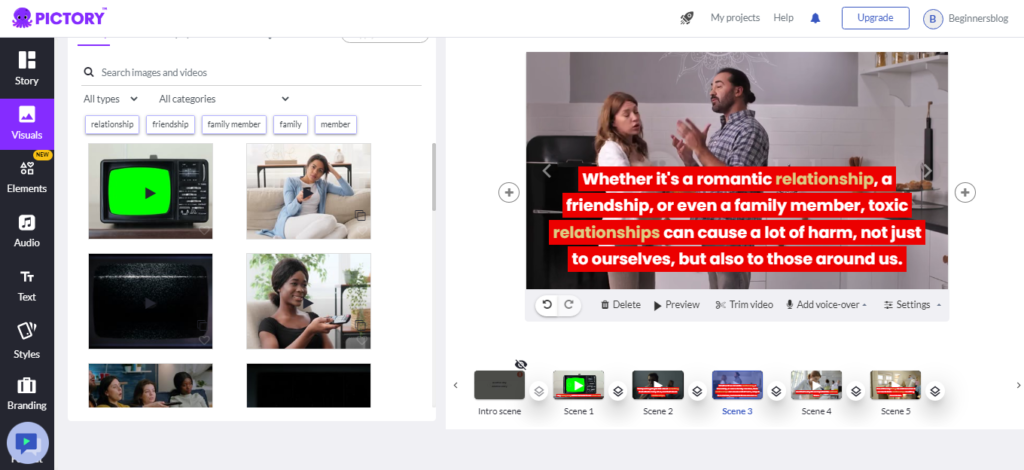 Once you're happy with the end result, you can preview your final video and click generate button to start exporting the video.
NOTE: Please make sure to check the voiceover and the background music before clicking the Generate button.
This is how you can create a video with the power of ChatGPT and Pictory.ai. 
Best YouTube Channel Ideas you can start with ChatGPT and Pictory —
Motivational Quote channel
Top-tips type of video.
Mystery channel — You can start a YouTube channel that talks about the top mysteries in the world.
You can start a YouTube channel that talks about relationships, and health.
You can start the TOP-DEAL channel that talks about top deals going on in a particular market.
Create professional quality videos with no technical skills required and no software to download. With Pictory.ai, you can transform scripts into jaw-dropping sales videos, add captions automatically, and boost search engine rankings. Create high-conversion video sales letters with stock footage, music, and voiceovers in just minutes! Try Pictory.ai now for free and start making the perfect video for your business.
I hope this post helps you learn how to make money on YouTube using ChatGPT.