Are you a content writer or a blogger and looking for the easiest ways to monetize your writing skills? then I have got the top three recommendations for you to make money as a writer
These are the best writing opportunities where you can earn money by writing articles or blogs on various topics and niches. 
So let's get started…
According to Vocal Media, "Vocal is a platform for supporting, discovering, and rewarding creators. Vocal provides the storytelling tools and engaged communities for writers, musicians, filmmakers, artists, and all types of creatives to get discovered, and fund their creativity."
How does Vocal Media work?
To get started with Vocal, first, you need to create an account. There are two distinct accounts for creators. One is free and the second one is paid. 
But a free account is more than enough to post your stories in vocal communities, make money off the amount of engagement you receive, and collect tips from your fans. 
Generally, you can make up to $3.80 for 1000 reads on Vocal Media.
However, if you plan to upgrade to Vocal; which is an optional, paid membership for creators. You can 1.57 times your earnings; which is around $6 per 1000 reads and able to receive monthly pledges. However, if you prefer to upgrade, you can do it at any time. 
Moreover, once you start getting enough views and reads on your Vocal stories, you can also receive tips ( $1 – $50 max) and pledge ($2.99/month) from readers. 
NOTE: Vocal has a human-led moderation team for content moderation. That means you need to comply with its community guidelines to get your stories published and monetized. 
There are 4 ways you can make money on Vocal Media – 
Reads – $3.80 per 1000 reads. $6 per 1000; if you upgrade Vocal+

 Tips – You can receive a tip of $1 – $50 from your readers

Pledge – You can allow your readers to receive monthly pledges of $2.99 (Only for Vocal+ creators)

Affiliate marketing – make product recommendations
Key points 
Create an account on Vocal Media

The best part? you can republish your medium stories or blog articles and monetize them easily. 

Post your stories in various communities

Earn $3.80 per 1000 reads

Receive Tips & Pledge from readers

Upgrade to Vocal+ to earn more

Get Paid Monthly Pledges 

Collect tips from readers

Payment method – Stripe 
Substack is another popular website to monetize your stories. It has been named one of the fastest-growing writing platforms. Substack makes it easy to find high-quality, underappreciated writing online. 
How does Substack work?
Anyone from the world can create an account on substack and start getting paid for their writing. 
With substack, you can create subscription-based email newsletters and charge readers to access your content/stories through your newsletter. You can charge a minimum of $5 per month subscription fee to allow readers to access your stories. 
This way, you can easily monetize your content (stories, posts, or podcasts) without having to worry about silly monetization methods like displaying ads and all. 
Just publish the best of the best content and the rest is taken care of by substack.  
Key Points 
Write quality content that people want to read

Charge readers to subscribe to your newsletter

Payouts are made via PayPal

Best for writers, and podcast creators

Substack charges 10% of whatever you charge readers to access your newsletter.
Medium is a free online publishing platform where people can publish their work. You can choose what topics you want to write about and how often you'd like to post. Once published, you can view stats on how many times your story was viewed and how long it took someone to finish reading it.
If you're interested in making money as a writer, then Medium is the perfect platform for you. 
How Does Medium Work?
Medium is the best alternative to Vocal Media. The only downside is that the Medium partner program is limited to only a handful of countries. 
Currently, enrollment in the Partner Program is only available in the following countries:
United States, United Kingdom, Australia, Austria, Belgium, Canada, Czech Republic, Denmark, Estonia, Luxembourg, Mexico, Netherlands, New Zealand, Norway, Poland, Portugal, Romania, Singapore, Slovakia, Slovenia, Spain, Sweden, Switzerland, Finland, France, Germany, Greece, Hong Kong, Ireland, Italy, Japan, Latvia, Lithuania.
So, if you are a resident of any country not mentioned above, you cannot enroll in the Medium Partner Program and are unable to monetize your stories. 
However, Medium has recently enabled the TIPPING feature to allow readers to send tips to reward the writers or authors. Currently, this feature is in the beta phase, so to enable this feature you can Go to Medium.com > Settings > Audience Development > Tipping…
And from here, you can enable and manage the tapping feature.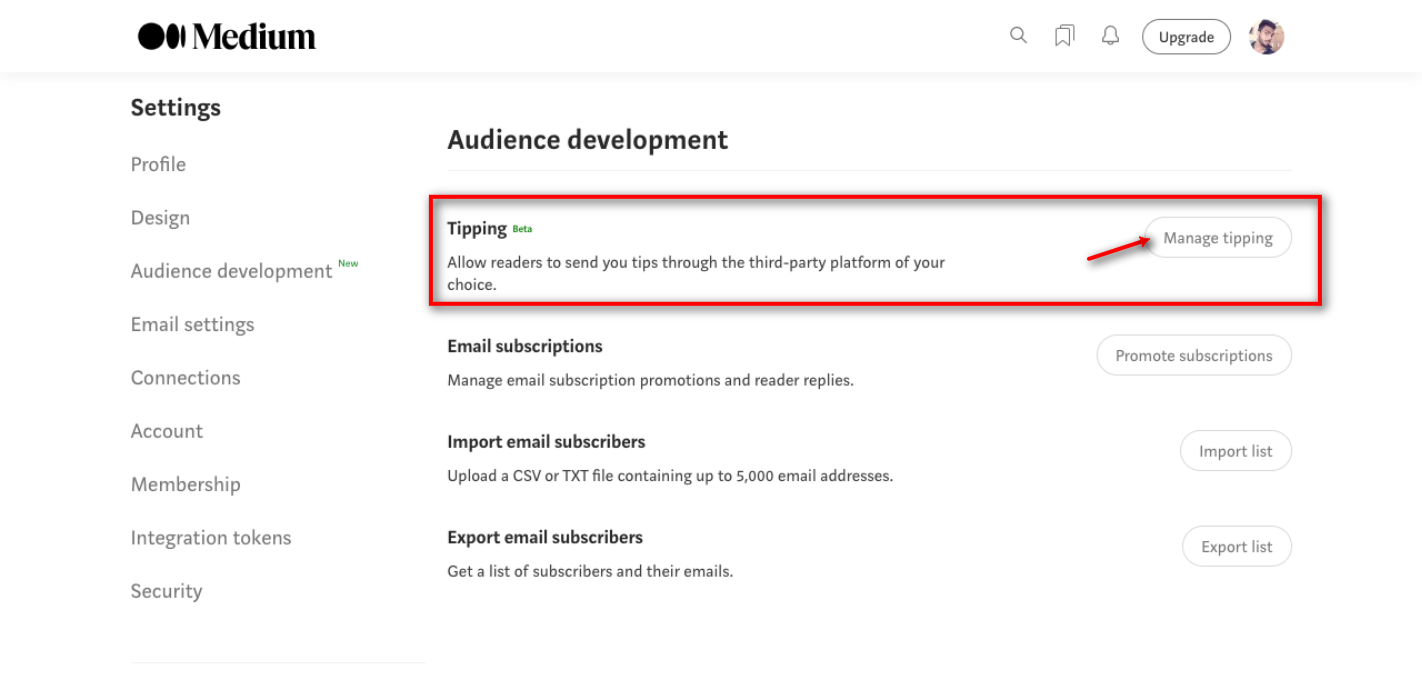 There are 3 ways you can make money on Medium –
Get paid based on Medium Story Reads & Member reading time 

Tipping – Receive tips from your readers

Affiliate marketing – Make product recommendations

Referred Membership 
Key points
Get paid when your audience reads your stories

Get Tips from readers 

Best for all types of content creators

Payouts are made via Stripe
Conclusion
Vocal Media and Medium are the best options for writers who want to monetize their content. 
Both platforms have pros and cons, but they both offer great opportunities for writers. So, which one should you use? That depends entirely on your needs and preferences.
Substack is an amazing tool for writers looking to build a community around their writing. It also allows you to create membership programs. It's a very powerful tool, and I highly recommend checking out Substack.
I hope you enjoyed reading this post! If you did, please share it with your friends on social media platforms.