Are you looking for some actionable ideas to make $100 a day? Then you are in the right place.
In this post, I'm going to share with you 7 lesser-known ideas to make money online at home.
And the crazy thing is that you don't need to be an expert. All you need is a smartphone/laptop/ PC and an internet connection.
That's it.
But remember, the number 7th method requires a little bit of experience in the Facebook advertising and marketing field.
By the way, you still have 6 ways to make $100 fast with no experience and money.
So without further ado…let's get started…
RECOMMENDATION
Bonus: If you want to start an online proofreading home business that can earn up to $50,000 or more per year, then try this course by Caitlin Pyle.
By taking this free proofreading workshop, you'll be able to start a proofreading business from home and can easily make $100 a day.
Depop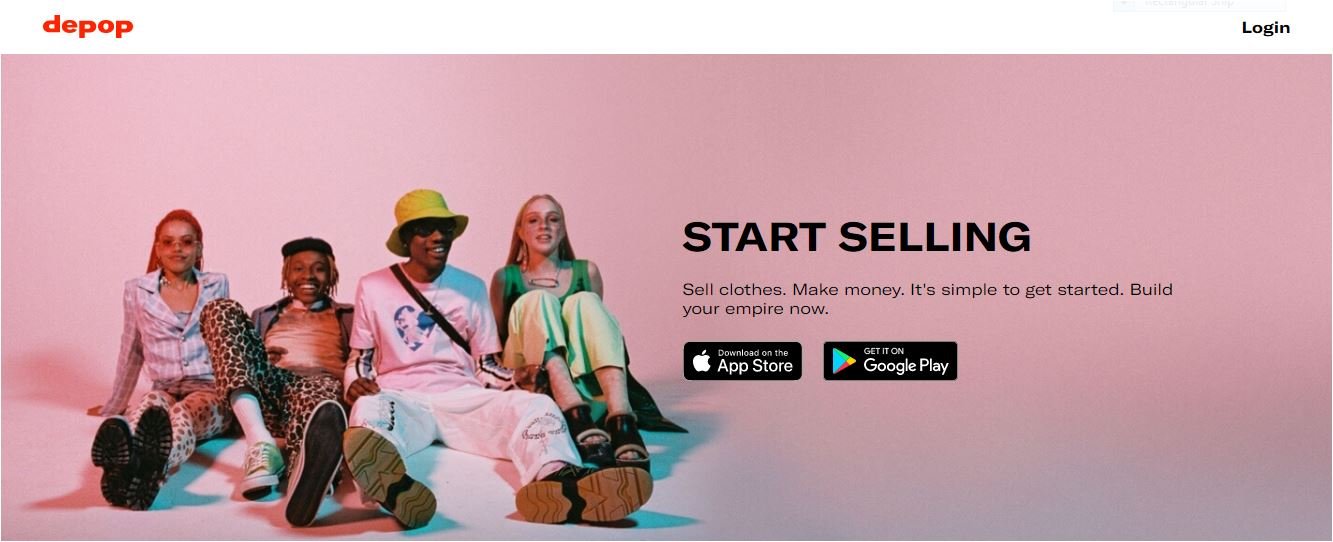 Depop is a fashion marketplace where you can buy, sell, and discover unique art, vintage and luxury fashion, illustrations, books, records, and trainers.
It's a big social media product marketing community where you can flip your old product or new products and earn some extra cash.
Fliping in the sense, you buy trending fashion dresses, outfits, or any other product from local stores at a cheaper rate. Then you put your own pricing and flip it on Depop. That's it…
Let's say, you buy a $50 handbag from your local store. You come home, add pricing with some profit margin. Let's say your new pricing is $70. Next, you replace the old price tag with your new price tag.
And finely, you go to DEPOP, click some high-quality pictures of you with a handbag or whatever product you are going to sell. Lastly, upload it on DEPOP.
Once it's done, you can promote your product on DEPOP and if people love your product, they will love to buy from you.
This is how you can start making a profit.
---
Sell Your Used Phone
Another way to make $100 a day is by selling your used phone.
There are times when you need instant money. If this is the case, then you can sell your old unused phone for a reasonable price.
There are several online platforms where you can put your mobile for sale.
Some of them are listed below: –
You can choose any one of the above mobile marketplaces to sell your unused cell shop at a reasonable price.
---
Honey App
Do you love online shopping? Then you probably search for promo or coupon codes to save some bucks.
You spend hours or even days looking for the best deal. But at the end of the day, you get nothing.
Although it's easy to spend money online, you can't negotiate to price.
Product pricing changes buying behavior. And you don't buy a product if the price doesn't fall in your budget.
But don't worry, here I've come with a web application called 'Honey' that suggests you the best deal (it looks for a valid coupon code/promo code, if available.) every time you check out from your cart.
This means you don't need to waste hours finding useless coupon codes. Just go and download the Honey chrome extension and start grabbing the best deals for your purchases.
Let's see how it works…
You select a product that you are willing to buy.

You add that to your cart.

On the checkout page, it shows you a little pop-up at the top right corner. (It will appear only if you have Honey Chrome Extension Installed.)

And from there, you can look for valid coupons that you can apply and check how much you save.

Once done, go and make your purchase.
That's it…
---
Sweat Coin
Have you ever thought that you could get paid to walk? Probably, not. But SweatCoin makes this possible for you.
Of course, you won't get rich but it can help you buy some products and services for free.
Actually, it converts your steps into a currency (sweat coin) to spend on products and services. It means you don't make money directly.
So the question comes out what can you buy with your sweat coins?
The company offers Goods, services, and experiences ranging from high-tech shoes to iPhones, from anti-gravity yoga classes to Apple Watches.
So, you can have great products and valuable services in your hand for free. Isn't it cool?
Now, what you need to do to start with this…
Before starting, first, you need to know what products and services are available. For this, you can add your email.
Once it's done, they send an email letting you know the selected market available. With this, you get to know what products they are offering.
Stay healthy and earn!
---
Write Online
One of the most popular ways to make money online is writing.
YES! If you're proficient in writing, you can make $100 a day easily.
The first and foremost thing you can do is publishing articles in big publications and magazines to build a strong portfolio.
By doing so, you'll become an authorized writer in a certain industry and people can easily find you.
Or you can do guest posting to improve your skills first and then approach big publications to become a well-known contributor.
Once you become a popular writer, you'll start getting pitches from bloggers, professionals, and corporates. And they will ask you to write content on their behalf and pay you $100, 200, or even more depending on the category, content quality, length.
In case, you don't get pitches, you can find some of the high-paying websites that pay up to $1500 per article.
---
Read Books
The easy way you can make $100 a day is by reading books. YES, you can actually make money online reviewing books and get paid up to $100 or get a book for free.
If you love to read books, then I suggest you try one of these websites that enable you to review books and make money.
Some popular sites: –
Learn more: 7 Legit Sites That Will Pay You to Read Books
---
With The Help Of Google Maps And Facebook Pixel Helper
Another great way to make $100 a day is with the help of Google Maps and Facebook Pixel Helper.
But it requires a little knowledge of running Facebook Advertising, optimization, and targeting.
Don't worry, a little knowledge can work great.
Even if you know nothing, you can hire an expert from FIVERR.COM at a cheaper rate. And ask him to manage Facebook advertising on your behalf.
Now let's see how you can make money online with this method.
To get this idea in action, you need two tools. The first one is Google Maps and the second one is the Facebook Pixel Helper Chrome extension.
Once you have both of these tools, you are ready to take the next step that is heading to Google Maps and installing the Facebook pixel helper chrome extension.
The next thing you can do is search for local businesses on google map. Let's say you search the "Dental clinic" in your local area.
As you hit enter, Google Maps pulls up some businesses that are listed in the "Google my business" directory.
Here you can see a sidebar on the left-hand side to scroll and hover individual business.
You can pick one and look at whether or not the business has a website. Repeat the process and make a list of 5- 10 business websites.
Now you have a list of companies. And what you can do next is go to these sites one by one and check whether or not these companies running Facebook advertising to get more business. If not, then it's a good opportunity for you.
Once YOU have an opportunity, you can somehow convince the company to offer your Facebook Advertising management service at a cheaper rate.
It can help companies get more business. And also help you make good money by just managing Facebook advertising for companies.
Now, let's do some math…
Let's suppose, you find a company that accepts your proposal and ready to hire you as a Facebook advertising manager for $200 per campaign.
Make sure you give what you've promised as it helps you build a long-term relationship with the company.
And with this, you can even earn more, if the company hires you again.
But remember, companies hire you only if you bring more business to them.
And this is how you can make $100 a day.
But wait a minute… (The second possible scenario, in case you know nothing about Facebook advertising.)
If you don't want to do it yourself then you can hire someone from FIVERR.COM at $25 – $50 to manage all this stuff for the company on your behalf.
And in this scenario, you can still make $150 – $175 per campaign.
Believe me, if you do it correctly, you can take it as a business.
Final Thoughts
The longer you work online, the more opportunities you can find to make money online.
Because good things take time and you need to do some work to even make $1 a day.
Sponsorships, affiliate marketing, and creating online courses are other ways you can make money passively.
But these are not the cut and paste methods, you need to so indulge in the online world, learn daily, and execute fast to develop all these skills. Then only you are capable of making $100 a day.
People are making over $1000 a day or even more because they have been in this online world for years.
So take your time, learn good things, and try what works for you and what doesn't.
This is it…