Are you running a business? And want to promote products/services. Then it will be risky for you to do expensive advertising activities. But guerrilla marketing may be the best option for you. 
Using these advertising strategies, you can promote products and services with less investment. This is the best way to promote the product in a very creative way.
It is the best way to promote the product in a very creative manner.
In today's article, I will be discussing all guerilla advertising. So, let me first tell you: –
What is Guerilla Marketing?
It is an unconventional way that relates a creative moment to a product or service to make your brand memorable and enjoyable among people.
OR
Guerrilla marketing is a marketing strategy that relates a creative activity with your product so that people understand the importance of your product.
Other definitions
According to Wikipedia," It is an advertisement strategy concept designed for businesses to promote their products or services in an unconventional way with little budget to spend."
According to Creativeguerrillamarketing, " it is an advertising strategy that focuses on low-cost unconventional marketing tactics that yield maximum results."
This marketing strategy is effective only when you have a creative mind. Creative thinking plays a vital role in this advertising strategy. 
This strategy is effective Because of…
 Cost-effective campaign.

A memorable and compelling presentation

Great ROI

Good performance

More notable moments that attract people

Word of mouth

The precise goal of promotion.

It targets people's emotions, which makes this strategy more effective.
Let's take an elementary example, assuming you have a food product (say ice cream), how would you develop a method to get people's attention. 
You need to do something that people like to watch or buy. You can make a giant ice cream model and put it where more people are going through. 
This activity can be a type of attraction for people around because people like to see different and strange things.
 You need to spend a small amount on this project, and less investment is the great thing about this marketing concept. 
Although it has low penetration, it is beneficial for your product. I found another excellent example of Captain Tony's Pizza on workzone.com while searching for Guerilla Marketing. 
In this example, Captain Tony had increased his pizza coupon sales rate to 30%. He hired a distributor and posted coupons to all the houses around his pizza shop. 
He was sure that people who like pizza would get this coupon. Therefore, this is the strategy he uses to increase conversions. 
This was Captain Tony's thinking. You can think of different ways that fit you. So here you have seen how effective this method is. So it is not just limited to small businesses, and big companies have also started adopting it.
Different kinds of Guerilla Marketing



Ambient marketing
This marketing concept does not include commercial products; it consists of some relevant images of the creative model to identify the business product.
Viral marketing
 When a business product goes viral through some medium such as an email website, that type of marketing technique is called 'viral marketing.
Undercover marketing
This type of marketing strategy includes the ability to create word-of-mouth recommendations. This strategy is proper when a business wants to promote its new product. 
For example, if you have started an automobile spare parts business. Then how do you promote it? You need to use this marketing concept to discuss your product/service. 
Collaborate with similar local businesses and encourage others to talk realistically about products and services. 
Marketers use this marketing concept with the help of social media. Many companies are allowing their businesses to grow on social media sites. 
42% of companies use Twitter to bring in customers from this marketing strategy. Similarly, 67% are received from Facebook and 57% from blogs.
Presence Marketing 
 SEO can be a great process to increase business presence. You can transform a consumer-brand relationship into a deeper consumer-person relationship with presence marketing techniques.
Wild posting Marketing
Wild posting is an advertising method where large-sized posters are placed in different-2 places to attract public attention. It can help companies attract new prospects and increase brand credibility.
Presume Marketing
Companies use this advertising concept in TV shows, movies, and social media sites. However, it is similar to traditional marketing. But the presentation of the product is done so that it enhances the recognition of the product in public places.
Ambush marketing
Ambush means 'surprise attack'. This advertising strategy uses a concept in which products are promoted secretly. This marketing campaign mainly targets significant events like Cricket World Cup and Football. 
Let's take an example; let's say the Cricket World Cup series will start. Domino's has sponsored the event. But your brand (cold drink) does not sponsor it. 
During the series, Domino's shows its advertisement around the cricket ground. But your brand can also advertise outside the event venue because your business has relevant products. This way, you can get exposure without giving sponsors for your brand. 
This is not always beneficial but can be helpful for your brand.
There are thousands of guerrilla marketing ideas. But they are not all practical, so here I will show you some excellent examples that will blow your mind. 
But before that, I wanted to tell you how you create an attractive marketing campaign to increase brand exposure and credibility?  
Here are some tips to know before starting your campaign.
Observe your audience: Analyze what your audience is watching. What are the things that can make them happy? Once you get to know your audience, you will be ready to move to the second stage. 

Give your audience something free because this can lead to a call-to-action activity that helps you know what people want. 

Launch your campaign locally: First, launch your campaign among local groups. 

Run campaigns that have the potential to attract more viewers. 

Create impressive creative ads that attract people.
Now, Let's get started with some fantastic examples: –
1. A small guerilla trick to invest the cash in viral trends
This is the best example of a marketing strategy to promote products. Jessica used this concept of a fidget spinner to promote her cookies brand. 
I found this technique on the Youtube channel. Click here to see the video source. 
Nowadays, a fidget spinner has become the most viral trending toy. Everyone likes to buy them, and hence the magic happened here. 
She created a 'Fidget Spinner Cookie' and uploaded a video to YouTube and other networks. Fortunately, the video went viral, and the results became overwhelming as it received thousands of orders. I think it might be a good idea to get people's attention.
2. Duracell marketing campaign
Duracell is a trusted brand that manufactures battery products. It produces inverters, marine batteries, general battery devices, etc.
Duracell created a very effective advertising campaign that affects people's feelings. A short video clip shows how this stunning bus shelter helps people take a moment of warmth, which is a great way to attract attention.
From here, you get a way to use the product's functionality to create something interesting. You don't know how these fantastic moments affect people's buying behaviour and can bring you thousands of customers.
3. Coca-cola "Happiness machine" campaign
The campaign surprised people when 'Happiness Machine' started distributing pizza, a burger, with Coke as a surprise.
People started reacting to these unforgettable moments, and immediately it became a viral campaign, which earned millions of YouTube views and reached thousands of customers.
4. Colgate "By hiding a brush type of shape inside the ice bar" Campaign
The campaign served as a reminder. The concept was straightforward, and what the company did they leave a hidden message at the tip of the ice stick. When consumers buy and eat ice cream, they see a small note on a toothbrush's shape like a stick that says, "Don't forget."
However, it was not so practical, but it caught children's attention.
5. Copenhagen Zoo campaign



The Copenhagen Zoo is the most visited place in Denmark. The concept was very creative and looked very real. They designed the campaign so that people would be surprised to see it.
The Danish advertising agency developed a very fictitious advertising campaign that was compelling.
The advertisement looks as if a giant snake has crushed a metro bus. And it brings 'wow' to the faces of the public.
6. Swiss Cancer Foundation
The main goal of this campaign was to make people aware of skin cancer.
This advertising campaign spread a critical message saying, 'our skin never forgets. The method was quite simple.
A person punches a bunch of pink notes on his body to spread awareness among people around the garden. Each sticker had a short note about the skin against cancer.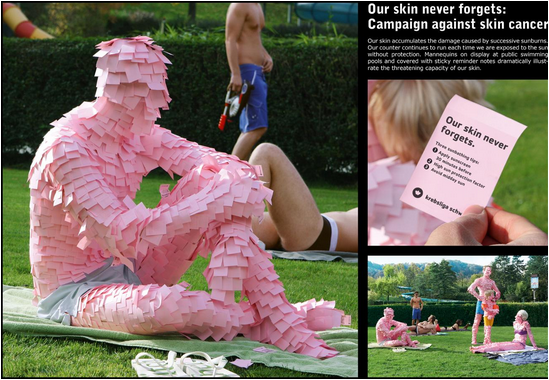 7. Alfa Romeo car advertising
Another very creative guerrilla marketing concept to surprise people. The company placed a small shopping cart to attract people to this campaign.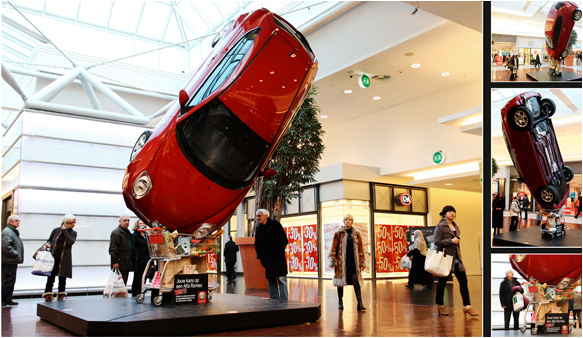 8.Dos En Uno Balloon
Dos En Uno has been a famous bubblegum company since 1959, and it has provided giant bubbles to children of all generations.
In 2009, it was the 50th anniversary of Dos en Uno. They flew 50-foot balloons that resembled giant bubblegum in different cities to celebrate.
This whole campaign attracted a lot of the public to buy the bubblegum product.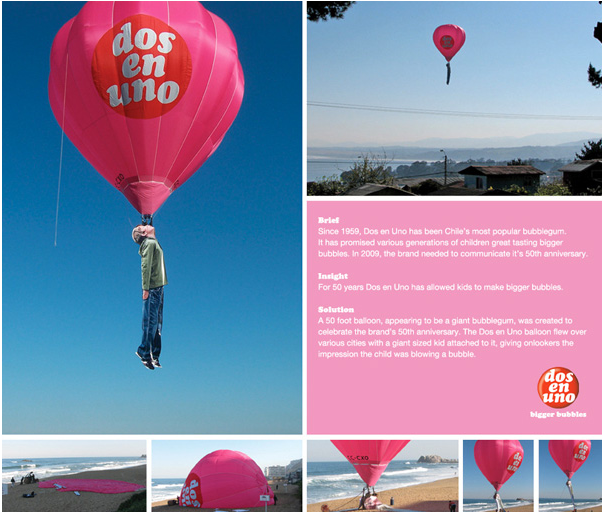 9. Swiss Skydive advertising campaign
As the top view of the buildings inside the elevator, a sticker presents the traveller with a fictional experience of skydives. It is an excellent way to grab people's attention.
10. Big pilot's watch guerilla campaign idea
The campaign was released in May 2005. An exciting marketing concept targets 'security strips' hanging on a metro bus or metro train. These straps look like wristwatches.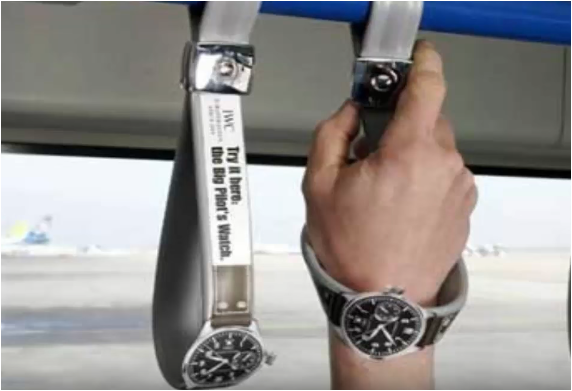 11. iPhone guerilla marketing campaign
It's even more creative.
12. Amazon India marketing campaign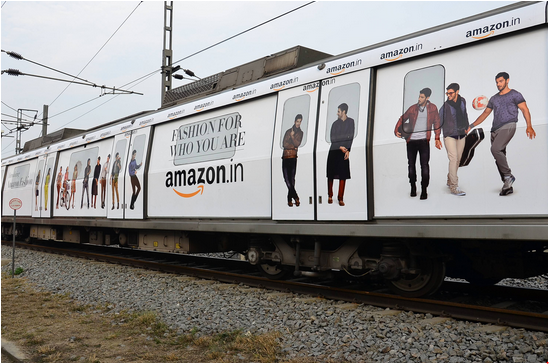 13. KLM economy comfort product guerilla marketing campaign
The KLM company operates a beautiful advertising campaign at Manchester Airport.
In this campaign, a man sits on an invisible chair that looks weird and attracts tons of viewers.
The video showed how a creative incident surprised people at the airport. (Video source)
There are some of the best creative street guerrilla marketing ideas that help increase the reach of your business.
14. Ad by Vijaysales
It is a very cheap and affordable street marketing idea.
VijaySales is an e-commerce website selling all types of electronics and gadgets.
This advertising technique uses an inexpensive concept to get people's attention. A barbecue was placed near the drain with a message saying, "NEED A BARBECUE? CALL VIJAY SALES AT 24216010/17". However, this is not so surprising, but it has a call-to-action to generate immediate sales.
15. Coca-cola 3D street advertising
Conclusion
Brand awareness is a primary concern if you are running a business. Without awareness, no one buys a product. Nowadays, traditional marketing has become common and people are ignoring these advertising strategies. 
Many people have gone on the Internet, so traditional marketing will not work for you. You need to go ahead and implement some other strategy that may work for you.
Creating unique campaigns can create an emotional bond between the public and the brand, and it can help you communicate with the public and lead to thousands of conversions.
Did you know that some of the recently launched marketing campaigns? Then leave them in the comments section.
If you liked this article, do not forget to share it on social media sites.
Save
Save
Save
Save
Save
Save
Save