DFY Suite is a done-for-you social syndication system that promises to automate your link-building process. As I am not good at link building, so I decided to give it try.
However, they claimed to be the top social syndication system to help you rank your videos and niche websites on the top of search engines like Google, it's quite an absurd claim. So, I just want to try the DFY suite to figure out if it can really stick to its promises.
So, with this in mind, 6 days ago (from the day I published this article), I bought the DFY Suite 4.0 Agency plan for $97 (monthly subscription) to test it with one of my blogs.
For your convenience, I am going to document this review in 3 sections to give you a clear picture of DFY suite 4.0. In this DFY Suite 4.0, you get to know the following…
First, I'll give you an overview of DFY suite 4.0
Next, I'll create a few campaigns for my niche website and track the result. (Please don't ask me to reveal the URL. I have to do this confidentially.)
Lastly, I will analyse the reports and results to show you whether or not it is worth buying DFY Suite 4.0. However, rankings may take time, so I could publish more posts in the future.
That's all!
This can help you make an informed decision about whether or not you should buy DFY suite 4.0. Well, I'm very excited to see how it is going to work.
So let's begin…
Overview Of DFY Suite 4.0
Once you purchased the DFY Suite 4.0, you'll receive three emails.
The first email is a Jvzoo receipt.
The market price was $97, And I got a $9 discount. So my actual price went down to $87.
The second email is a welcome email that contains my credentials.
And the third email is a bonus email. As I purchased the Agency plan, I got 5000 credits. If you buy the Standard plan of DFY Suite, you'll get only 1000 credits. So, it's up to you how much credit you want.
Okay, Now I have my credentials, so I can simply log in to my DFY Suite account here.
So, this is what the DFY suite dashboard looks like… to me, the dashboard is quite simple and easy to use. You don't need any training or video tutorial to learn to use it. And the learning curve is quite linear, everything is straightforward.
Let's discuss each of these features in detail. I have designated 4 red out-lined rectangles with numbers. See below…
The first number shows the total number of credits you have right now.
The second number shows the number of the campaign that is marked as complete.
The third number shows the number of campaigns that are currently pending.
And the last one is the total count of links that have been made by all users on DFY in a month. (Not important!)
Now let's discuss the more important options available on the left sidebar.
There are three main sections…
1. The "main menu" has three sub-items…
Dashboard
Campaign
Network info
2. The "account" has 6 sub-items…
A profile option to edit the profile
A credit & subscription option to manage subscriptions/or buy credit
Subusers; you can invite users to handle your project
Integration; DFY Suite 4.0 uses a third-party content spinner. If you already have an active subscription, you can integrate it with the DFY suite to spin your content.
Bonus; I have got 7 bonuses because I bought an Agency plan. However, to me, these bonuses are useless.
My products — More products from the vendor.
3. Support
Here you can find the video tutorials, FAQs, and helpdesk.
Well, I must say that the support is quite fast. You can expect to get a response from support in less than 24 hours.
NOTE: Don't be overwhelmed by too many options, you just need the "campaigns" options to get started.
Before wrapping this up, I would like to show you what's inside the CAMPAIGNS.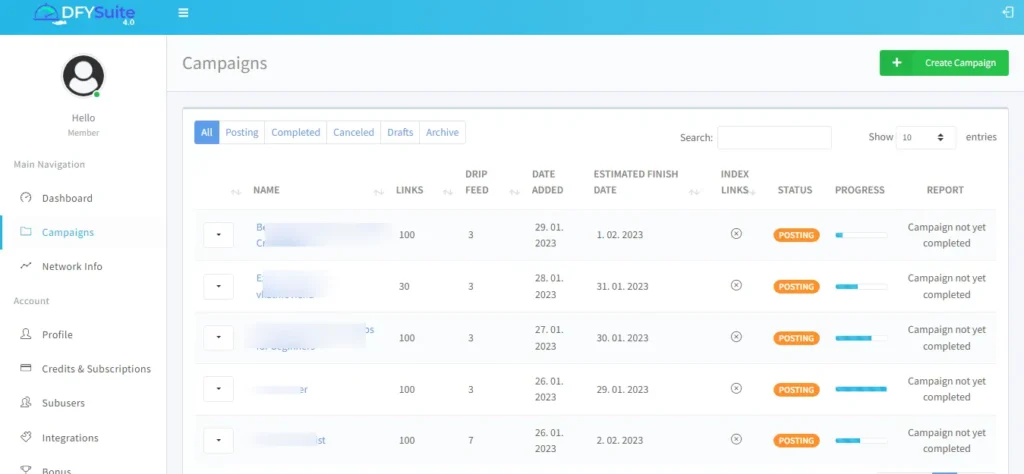 Here you can set a campaign which I am going to discuss next.
RankerX is the best tool when it comes to 2.0 web profile link building. They have a premium web 2.0 collection where you can build quality links for your website.
How To Set Up a Campaign in DFY Suite 4.0
So far, I discussed what is DFY Suite, and also give you an overview of this social syndication system.
In this section, I'll walk you through the campaign settings, and features, and also show you how to set up a campaign in DFY Suite.
Okay, let's begin…
First, I want to list out DFY suite 4.0 features…
DFY Suite 4.0 Features
According to DFY Suite's official page, you have a 100% Done-For-You Syndication And Ranking System.
You don't need to download any software.
ZERO Social Account Creation Required on Your Part
With DFY Suite 4.0, you can create HUNDREDS of Social, Wiki, and Web 2.0 Links.
NEW DFY Suite 4.0 has a Done-for-you Google Map Embedding feature to help you outrank the local competition.
They have Done-for-you GMB(Google My Business) Citations so you can rank yourself (or your clients) in Google's 3-Pack
You can submit any URL, whether it's a YouTube video URL or a website URL.
NO Captchas or Proxies to Deal With
You can also use Twitch Video embeds
4.0 BONUS: Agency Access Included for a VERY-Limited Time
PLUS you get ALL of their 3.0 features like DFY Video embeds and much much more…
Along with these features, they also have an index feature and a Content spinner feature. But in order to use these features, you need to pay extra money. Index feature can help you speed up the indexing process. It cost you an extra $67 a month. It's huge. No worries, initially, you don't need it.
And they have an integration with the Spinwriter tool. it will cost you an extra $47/month.
So, to get full access to this tool, you need to pay $200/mo in total. However, it won't change the fact of how the quality of the links they build. It won't make backlinks strong. So, I won't recommend you pay extra money in the beginning.
Okay, now let's jump into the Campaign creation process.
How to set up a campaign in DFY Suite 4.0
First, log in to your dashboard and click the "Campaign" option from the left sidebar.
Once you're on the campaign page, just click the "Create Campaign" button from the top-right corner.
Now here you can set up your campaign…
You just need to complete 4 simple steps to set up your campaign.  The first step is General info, here you need to enter the following details…
Enter your campaign name
URL on which you want to build links
Keywords on which you want to rank
Now click the Next button from the bottom right corner. It takes you to the second step which is Content.
Here you need to set up the following options.
Automatic Content generation — you can enable or disable this option. If you enable this, it will generate content for you.
Content generation method— There are two methods you can create content. the first one is "Create content by scraping for campaign keywords". If you choose this option, you are telling the DFY system to create and generate content based on keywords. However, if you choose the second option which is "Create niche content by using AI (powered by Creaite)", then it will use AI to generate content. You can try both of these options to see which one of these is producing the best content.
Language: DFY supports 20 languages. Out of which only 12 languages are available for a content spin.
Video Embed: If you want to include a video in your content, you can enable this option. It could be YouTube/Vimeo/Twitch
Google map embed: You can enable this option to add Google MAP to your article.
Add Google citations: You can enable this feature to add business information to your article.
Once it's done, just hit the NEXT button.
In the third step, you need to set the number of links you want to build, schedule your campaign, and set the number of days you want to drip-feed your links for a natural-looking link profile.
You can also activate the Index link feature to stimulate your indexing process. It's up to you.
The last step is a preview of your campaign settings. It is just to confirm that you have chosen the right options and enabled desired features.
After reviewing all your content settings, you can click the "Create" button to complete the content setup process.
Okay, now you have successfully learned how to set up a campaign.
Now I want to show you the real report from 3 of my campaigns to give you a clear idea of whether or not it is a good idea to use DFY Suite.
(Truth Revealed) DFY Suite 4.0 Review + Backlink Report + Conclusion
I came across several articles on google, and they all are bulls**t. They didn't even use the DFY suite and recommending this to their reader. But believe me, my reports are going to blow your mind. So read this carefully.
I'm a real user of DFY suite 4.0 and I know the truth.
In this section, I'm going to show the real link reports delivered by the DFY suite 4.0 social syndication system.
Okay, let's begin…
I have been using DFY Suite for almost a week. However, in the beginning, I was so excited to see the results.
But To be honest, I've not happy with the results. let me show you the actual report from DFY Suite.
NOTE: I set up 5 campaigns with DFY Suite. I got a total of 411 links built for me. And 3 out of 5 are completed. SEE the screenshots below…
From the above screenshot, you can clearly see that 3 campaign reports are ready to download.
I was quite nervous but also excited to see the reports and this is what I saw…
The first report – (30 backlinks)
Second Backlink report of DFY Suite 4.0 (100 Backlinks)
The third Backlink report of DFY Suite 4.0 (100 backlinks)

My analysis

After analysing these reports I came to the conclusion that DFY suite 4.0 doesn't worth buying.

I also found that these domains are worthless, they have no value and, page authority, no traffic, nothing. These are some shitty links that never going to work.

I don't recommend you use this for your tier — 1, tier — 2 link building.

However, you can try this for tier 3 and tier 4 to see if it helps, but don't use it to build links on your money site.

Another thing that I want to tell you is that you shouldn't be using these types of link-building strategies for highly competitive niches. They are never going to work.

But it's okay to use it for low competitive niches.
Wrapping up …
I don't know why the owner of this product is confident to make fake promises, even though he already knows that the DFY suite is never going to fulfil the promises. Maybe people who are using this tool, know how to use it correctly. Whatever the reason. To me, it's totally worthless.
In fact, I also used other tools like Money robot and RankerX. And I found them much more powerful than DFY suite 4.0.
RankerX is the best tool when it comes to 2.0 web profile link building. They have a premium web 2.0 collection where you can build quality links for your website.