Are you an active Facebook user and also a blogger? If yes then this article could help you to learn 'how to sign up to the instant article to enable Facebook instant article feature.' This feature is good for those businesses or bloggers who are quite active on Facebook.
The instant article feature of Facebook has an ability to supercharge your articles.
Benefits of Facebook's instant article feature
Improve user experience

Available for all Android and IOS devices

Instant loading of published web page on Facebook (10 times faster than your hosting server loading speed)

You can monetize your page, blog articles and Apps.

Rich content
So, let's get started
Full Guide: How To Sign Up To Instant article For Accessing Facebook instant Article Tools
This could be a time-consuming task for a newbie blogger because it has a lot of configurations. But after reading this guide, you would take only a couple of minutes to complete this task.
So, let me give you a step by step guide to finishing this process.
#1. Create your page
Without creating a page you can't initiate this process. So, first create a page which describes your business or work. Don't just go ahead and start creating the page. There is a lot of what you need to know before creating a page.
Read these guides to learn how to create Facebook page

8 Ways to Drive More Traffic to Your Facebook Page
#2. Select page for which you like to access instant article tool
After creating the page, next step is the switch to Facebook instant article sign up page.
Here you see the list of all pages that you have created. Now select any page to access this feature. Click on 'Access instant Articles tools.'
I have three pages one is beginners-blog, second is mesothelioma & asbestos and the third one is dummy beginners-blog. I select dummy beginners blog and click on the green button.
It takes you to the next step where you get this notice which asks to click on continue.
#3. Configure Facebook instant article

Finally, you will at the 'Facebook instant article configuration panel.'
There are three sub-steps that you need to follow.
    #A.Connect your Site: Verify authorship by putting a simple HTML meta tag within the <head></head> tag and then add your blog URL.
     #B. Connect your RSS feed to the instant article.  Provide your RSS feed URL (www.domain..com/feed/instant-articles). Put that URL into 'connect your RSS feed URL.' (Remember that before putting this URL install ' instant article for Wp'). This plugin helps you to generate Rss feed for instant article.
     #C. Create a Facebook page app
If you are using 'instant article for wp' plugin then you need to do further some configuration for publishing your articles directly from WordPress post editor.
To configure this plugin first you need to create a Facebook page App. So, now let me tell you 'how you can create a Facebook page app.'
Go to Facebook for the developer.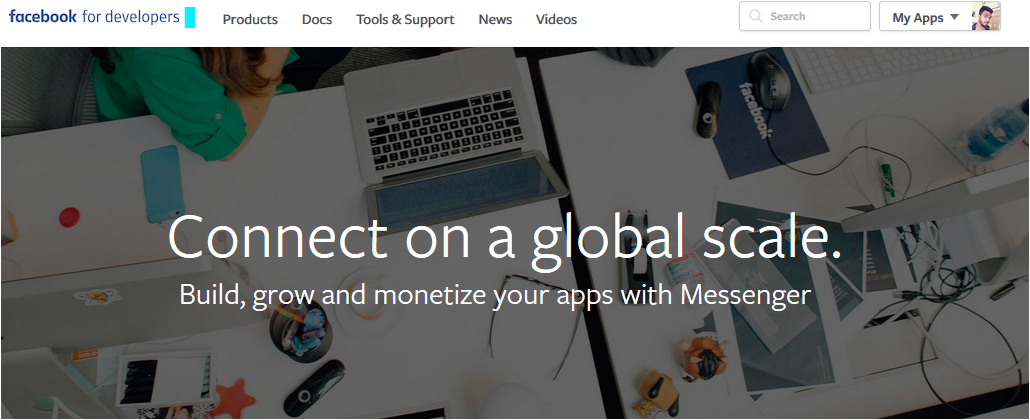 Now go ahead and click on 'My App' option at the upper right corner of the page. As you click on it, you'll see an option to create a new page app.
A popup asking you to select a platform. You need to Select 'WWW' (Website) icon.
After Selecting, A new box will pop up. Here you need to provide the Display name for app that you want to show on your app wall and then click on 'create App ID.'
This action will show you another box which asks for providing contact email and categories.
Click on 'create App ID' button. Now it asks you to put your website URL.
Click next to continue. It asks you to fill out some other information. But these are not so important. Simply skip all those options by clicking on 'skip quick start' shown at the right upper corner.
As you skip you will be redirected to your App's dashboard.
Now you have almost done just head over to App dashboard and copy your App ID and App secret.
#4. Facebook instant article settings
Switch to your WordPress dashboard and go to 'instant article for Wp' plugin which asks you to put your App Id and secret that you have earlier copied from facebook page App.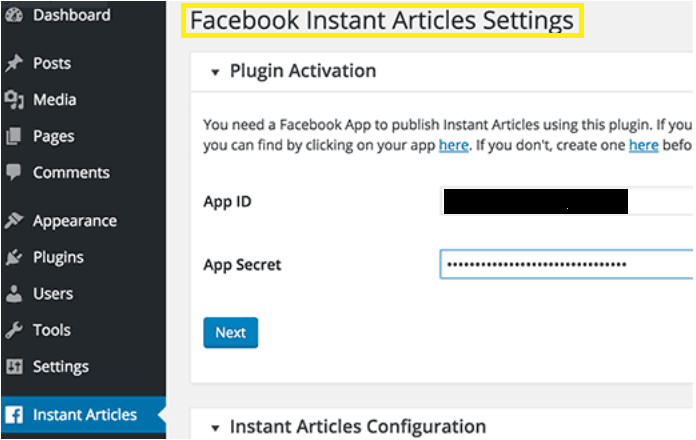 Fill out both the section and click next button to continue the login process with Facebook.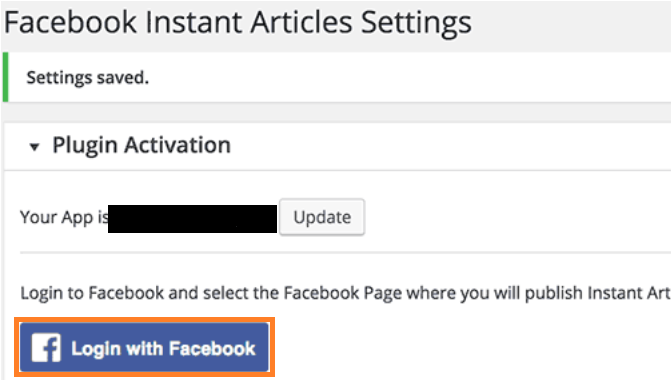 When you complete login with Facebook. You will again be redirected to the current page which asks you to select "Fb page" where you will publish instant articles.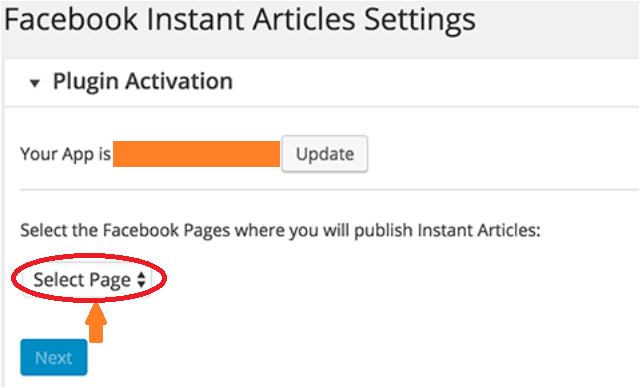 At the end, you will see the page something looks like this screenshot given below.
Now, you have finished your configuration process. There is only one thing that you need to do is that write some good quality content so that you can submit them for review. You should have at least 10 articles. You can also select articles that you have already published on your website.
How to submit your articles for review
For very first submission you need to go to your facebook page and click on publishing tools > configuration > Submit for review
My instant article feature has already been activated, that's why you see this green tick instead of "submit for review" button. In your case, you need to click on the "submit for review" button. It will take 3 to 5 days for verification.
For regular submission, you need to go to Instant article feed URL (www.yourdomain..com/feed/instant_articles). If you find your posts in the feed then you don't need to update your blog's articles. But if don't then first update 10 articles by clicking on 'update' button into WordPress' post editor.
After approval, you will see a notification for informing you that your post is available for the instant article just below the WordPress post editor.
But if your article is not available then you will see following error given below.
If you are not a developer then simply tick 'Submit this article with warning'
Facebook reviewing team will take 3 -5 days to review. Once they approve, your articles will start showing on the Facebook page with a thunder icon on the post thumbnail. (like this)
If you find this thunder icon on post thumbnail it means Facebook will serve that article as an instant article.
In many cases you will not see any icon it means your article will not serve as an instant page. This may happen due to some code formatting errors (see above). You can hire any web developer to collapse these errors.
Bottom Line
This feature provides a good user experience and also helps to increase page engagement. However, I am not active on my Facebook page so I have almost 0 engagement. But I know this could be a good idea for all the bloggers and businesses to increase their traffic and engagement.
In this article, I described each point of action. So, you don't need to bother about anything. Just start reading this article carefully and everything will be fixed.
If you like this article then don't forget to share on social media networking site.
If you have any query then feel free to ask.
Save
Save
Save
Save
Save
Save