What is Affiliate Marketing
It is nothing but online Marketing. A way through which one can earn money (in the form of commission) by promoting other's products. This is the way to boost business affiliation, sales, and conversions.
Let me give you an example…
Suppose you are the owner of a Web Hosting company and you want to sell your Hosting services. In this case, you need someone who can publish your services fast.
So for that, you need to hire some publishers and allow them to promote your products.
In this process, you have to pay a little cut to the publisher, if he/she makes any sale on his own recommendation. This is called affiliate marketing.
There are many affiliate marketing programs like web hosting affiliate marketing, Email Affiliate Marketing, etc.
But today I  am going to introduce you only to Web Hosting Affiliate Marketing.
As we all know that there are many web hosting companies like Hostgator, Bluehost, SiteGroung, and many others. They all use affiliation to promote their services.
1. Hostgator

Affiliate  Program
This HostGator Affiliate  Program is one of the most popular affiliate marketing programs out there.
You can earn a commission per successful sign-up. The amount of commission varies from 50$ to 125$ depending on your successful sign-up per month.
| | | |
| --- | --- | --- |
| number of successful signs up per month | Earn per successful sign-up |     Total Earning |
|                             1 – 5   |    50$ /sign up |     50 -250$ |
|                              6-10 |   75$ /sign up |      450 -750$ |
|                              11-20 |   100$/sign up |       1100 -2000$ |
|                   21 or more than 21 |    125$/sign up |       >2625$ |
How to become an affiliate  of HostGator
Before diving deeper, let's have a look at how you can join the affiliate program.
First of all, you need a blog associated with a single niche like web Hosting. If your blog is able to get targeted traffic then you can apply for it. For the application, you have to simply follow some steps.
Sign up

  for becoming an affiliate

You see an application form LOOK like this.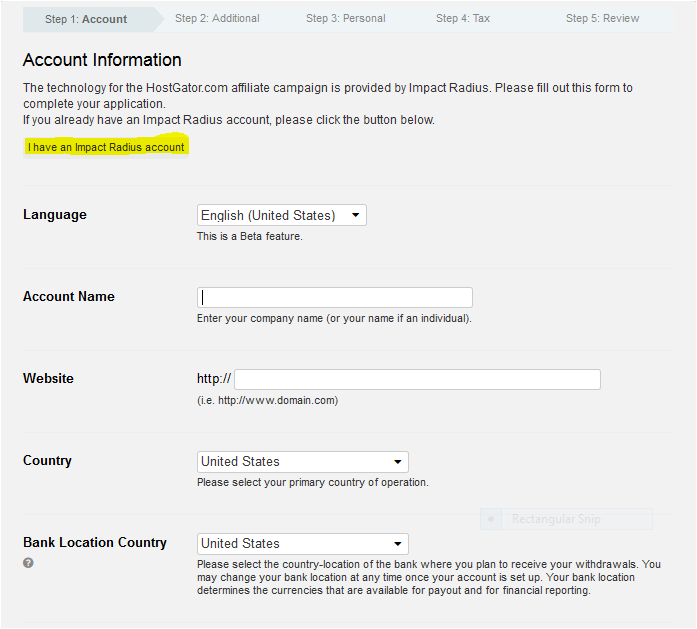 Fill out this form carefully. Remember that if you have already an impact radius account then you can directly click over the yellow highlighter.

After that, click on continue. You will land up to the page named as additional information. Here you can fill in your website information.

When you have all done it, submit it for review. In this process, your website is quickly scanned by Hostgator companies in order to verify your website information.

After 2 to 3 days you will receive an email about affiliate confirmation.

Now you have almost done. you have to just add your referral link to your web page.
How does affiliate marketing work
You can get paid via PayPal, check, or ACH on a monthly basis. PayPal is one of the best reliable online payment services.
2. Bluehost Affiliate Marketing
This is also another affiliate program. Signing up for Bluehost affiliate marketing is similar to HostGator.
The only difference is that Hostgator pays according to the number of successful sign-ups per month as I mentioned above and Bluehost pays 65$ per qualified sign-up.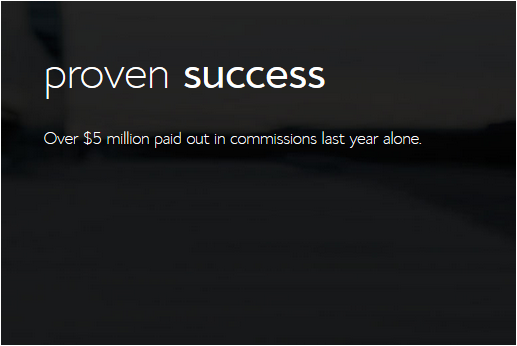 Most people think that they can earn money with affiliates by making fake traffic or fake sign-ups.
But this is not a genuine way to make any sales. But of course, it's a good way to get your affiliate to disable it.
Your affiliate account may be deactivated if you follow these steps
If Bluehost finds any misleading or fraudulent activity at their discretion, It results in the immediate deactivation of your account.

If you are already a reseller web hosting company. then do not apply to affiliate marketing. Because if Bluehost finds this involvement in their discretion. then it also results in the immediate deactivation of your account.
NOTE:  All the terms and conditions are similar for all web hosting affiliations that I have mentioned above.
3. Arvixe  Affiliate Marketing Program
ARVIXE is another highest payout affiliate marketing program.
One can get paid up to 135$ /sign up. The commission changes according to the number of signs up per month.
| | | |
| --- | --- | --- |
|  SALES PER MONTH |  PAYOUT PER SALE |  TOTAL AMOUNT / MONTH |
|                1-6 |             70$ |        70-420$ |
| 7-12 |            90$ |        630-1080$ |
|             13-19 |            115$ |        1495-2185$ |
|               19+ |            135$ |          >2565$ |
4. Wp Engine affiliate market program
The application form is exactly similar to the Hostgator affiliate program. you can follow all the steps to fill up the account form.
Wp Engine offers the highest payout commission.  The amount of commission for every successful sign up is about 200$. Which is much more than others.
A few reasons to join the WpEngine affiliate program
highest payout

Rich affiliate network
5. InMotion  Affiliate Marketing
InMotion Affiliate marketing provides you an average payout of about 50$. All the things are similar to the other affiliate programming.
Features
Monthly payout

Affiliate referral Bouns

Highest Commission 50$

Control Panel is easy to use

Account tracking regularly
Save
Save
Save
Save
Save