Today I am going to discuss How You Can find the best Blog Topics for your related blog niches.I think this is a Very Common problem faced by every blogger.Because When you have Published Decent amount of Posts then you notice that it become very hard to find further More topics for your blog. So if you are Suffering from the Same Problem then you are at the right place.here you will get some best Tactics to find blog topics for your blog.
Best Ways To Find The Best Blog Topics
Let's Discuss These Topics One by One:-
Quora: quora has now become a popular tool to Explore the Knowledge among the people which is Valuable for all of us.I think it will help you to find your blog topics.You have to only go to quora and join it.Add your interesting topics (which are related to your Blog niche) and give Answers of Questions that are asked by the audience.Interact with Audience and observe what types of questions they are asking for.if you feel that any of the questions has much weight.Then select these questions as the blog topics and describe these topics in your blog post.
How You Can Find the Blog Topics On Quora
It is Very Simple to Use Quora As a Blog Topics Finder.You have to simply Follow my steps:-
Sign Up

to Quora (You can either Continue with Google or Facebook account)

Follow those Topics which are related to your Blog.

Find your friends on quora.

Ask your First Question.

Add a short description about what you know.

Answers the Questions: Once you have Improved your Quora Feed.Then Automatically audience will find you and Ask Questions to you and these different-2 Query may be your Blog Topics.
Reading Other's Blog
This is a very Great way to find the blog topics. However, You can't copy other's Blog Content but you Can Get an Idea from the Other's Blog Content.You need to do Digging of Some Popular Blog posts.
If your blog is about Blogging tips or Something like that, then you can Check these following popular Website to Grab your topics.
BuzzSumo Is a Content Research Analyzer Tool.this tool allow the users to Search for the Topics which have most Popular Social Shares.You Can use the free version of this tool for 30 days.
This tool has Several Features:-
Most Shared: This tool analyzes all the topics which are most Shared on the Social Media Like Facebook, Twitter, Linkedin, Pinterest, Google+ etc.. you can use this feature to Check the Most Popular blog topics on Social Media.
Trending Topics: It Pop-ups all the Trending Topics on facebook, Twitter, Linkedin, Pinterest & Google+ etc.
There are also other features like Backlinks, Content Analysis & Facebook Analyzer.but you don't  need to use these features.Only two features that I have Mentioned above are enough to find the best blog posts.
[rec]
This Free tool also helps you to find the related blog topics. For example, if you are writing an article let's say Google Adsense. without using this tool you can only write something like what is google Adsense?, How to earn money with google Adsense?. you can not think furthermore without using This Tool.But as you use this tool you can find some other related keywords which can assist you to write an another blog post.
How you can Google Keyword Planner Tool To Find Blog Topics
Click on Search for New Keyword Using a Phrase, Website or Category.

Put any Topic that you want (Say Google Adsense).Click On "Get Idea" Button.

After Doing So you will get a very good amount of Keyword Phrase which can give a way to write a new post.
This does not work every time. But can give you an overview to find your topics.
This is one of my favorite Blog Searching tools.this tool helps you to let you know all the popular blog update.for example, if Shoutmeloud.com Publish a new post then these Updates are Directly Interpret by this tool with the help of RSS feed.
You Can easily Create a Personal Online Magazine Rack of your Favourite Blog.You can either add the blogs that I have mentioned above or search others to the Magazine rack.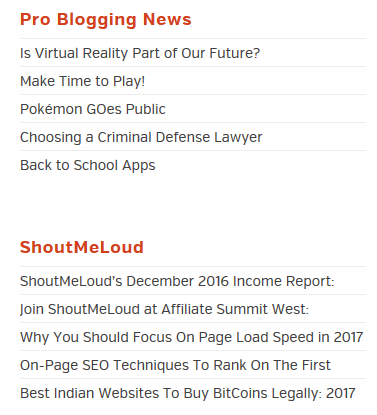 if you are not using this tool then you have to go google and search for blogs.But if you using this tool then you don't need to go anywhere.Just Open Alltop.com and Search your blog niche.
For More Information Read The alltop.com Tutorial
Here if you don't want to make any rack then no problem.you can use it without having any rack.
Read the Comments On other's Blogs
This is very basic Technique to find the different topics for your blog.because in comment section people ask about Something that they could not find in your blog post.So if you read the comment queries then you can find very good topics for your blog.
Conclusion:-
In all the Cases you need to do Some research so that you can find better, fresh & and Unique Topics for your blog.generally, I use Quora, Alltop.com, Reading other's blog & reading comments on other's blog to do my research. This whole thing assists me to find my blog topics easily. I also take Suggestions from my friends and relatives. because Sometimes It really helps me to get rid of this pain.
If you find this post helpful then please do share on facebook, Twitter, Pinterest etc. If you have any query regarding this topic then let it drop into the comment box.
[adToAppearHere]
Save
Save
Save
Save
Save
Save