The world is becoming increasingly aware of the dangers of being tracked online. In fact, more people are turning to VPNs to protect themselves against surveillance. But what exactly is a VPN? And how do you choose one? Here's everything you need to know about VPN services.
VPN stands for Virtual Private Network. It allows you to connect to the Internet through a secure tunnel from another location. This means you can access blocked websites or apps without being detected by the ISP (Internet Service Provider).
A VPN service encrypts your data before sending it over the Internet. The encryption makes sure no one else can intercept your information. In addition, some VPN providers also offer anonymity features such as Tor integration.
There are many reasons why you might want to use a VPN. For example, you may want to unblock Netflix in countries where it isn't allowed. Or maybe you want to browse anonymously. Whatever your reason, there are plenty of great VPN options out there. And in this post, I'm going to share the best VPN services that'll secure your network.
How VPNs work
When a VPN works. All data (incoming and outgoing) from your device is routed through a secure service to VPN servers. When you exit the VPN, the connection is terminated and your original IP address is returned.
The benefit of using a VPN is that it hides your true identity when browsing the web. You can be anywhere in the world and still appear to be connected to the website you want to visit. This way, if someone tries to track down your real location, they won't know where to look.
The downside is that you have to trust the VPN company with your personal information. If their servers get hacked or compromised, all your sensitive data could be at risk.
So how do you choose which VPN to use? Let's take a closer look at this…
How to Choose the Right VPN Service
Choosing the right VPN service is essential to keeping your security and privacy intact. There are so many options out there, but not all of them are created equal. To find the right fit for you, here are some factors to consider.
1. Speed
When choosing a VPN provider, speed is king. You should look for a company that offers fast speeds, especially when downloading large files or video streams. The faster your connection, the more secure your data will be.
2. Security Features
When looking at VPN providers, you want to make sure that they offer strong encryption protocols. Look for ones that use 256-bit AES (Advanced Encryption Standard) or higher. Also, make sure that they offer military-grade encryption.
3. Customer Support
You never want to go into business with someone who isn't willing to help you out. Make sure that the company you choose provides 24/7 customer support via phone, chat, or email.
4. Pricing
While price shouldn't be an issue, you don't want to pay too much either. Check out what each provider charges per month and how long their contracts last.
When comparing prices, keep in mind that cheaper plans often come with fewer features than their pricier counterparts.
10 Reasons Why You Need a VPN (Virtual Private Network)
VPNs are becoming increasingly popular among consumers and small businesses as well. They're used to encrypt traffic sent over the internet to prevent someone else from snooping on what you do online. In fact, many people use them to secure sensitive data like bank account numbers, passwords, and credit card info while browsing the web. But there are plenty of reasons why you might want one too. Here are five of the biggest ones.
1. Unblock Websites & Apps
If you live in an area with strict censorship laws, then you'll probably be familiar with the frustration that comes with trying to watch movies or play games online. Many governments around the world have been known to block certain sites or services due to their content. And if they don't outright ban them, they often heavily restrict access to them. This includes things like Facebook, Twitter, YouTube, Google Play, Spotify, and even Amazon Prime Video.
In these cases, using a VPN will allow you to bypass any restrictions imposed by your local government. That way, you can still enjoy all the entertainment you love without having to worry about getting caught.
2. Browse Anonymously
If you're worried about your privacy when browsing the web, then a VPN could help. Some VPNs come with built-in anonymization tools that make it harder for anyone to track your activity online. These include:
Tor – A free browser extension that routes your connection through several different servers to hide your IP address.
IPVanish – One of the most well-known VPN companies, offering unlimited bandwidth and excellent customer support.
3. Protect Your Identity Online
The best VPNs aren't just useful for watching videos and playing games. They can also protect your identity online. If you're concerned about hackers stealing your personal information, then a VPN could be a good option. Plus, it's always handy to know that your email and other important accounts are safe.
4. Access Blocked Content
Some websites and streaming services are only available in specific regions. So if you live somewhere that doesn't have access to those services, you won't be able to get them. Fortunately, a VPN is a quick and easy solution. It allows you to connect to a server located in another country, which means you can gain access to blocked content.
5. Secure Wi-Fi Networks
A lot of public places offer free Wi-Fi nowadays. Unfortunately, this usually means that you need to share your login details with others who are connected to the same network. While this is convenient, it does mean that you leave yourself open to attack. By connecting to a VPN before accessing the network, you can ensure that no one has access to your private information.
6. Protect yourself on public Wi-Fi
Public Wi-Fi networks are great because they're so cheap and easy to set up. However, they're not exactly secure. Anyone nearby can easily see what you're doing online, whether it's shopping, banking, or chatting with friends.
That's where a VPN comes in. You can connect to a server located anywhere in the world, ensuring that nobody can eavesdrop on your activities. 
7. Avoid Geo-targeting
Geo-blocking is becoming more common as technology improves. For example, Netflix recently started blocking users from countries outside the US. But thanks to a VPN, you can avoid being restricted by location. 
8. Combat internet censorship
Countries around the world have been censoring the internet for years now. Whether it's because of political reasons or simply because they want to control what people view, there are many examples of this happening. Luckily, a VPN makes it possible to circumvent such restrictions.
9. Prevent ISP throttling
VPN offers a list of servers located all over the globe. This means that even if your ISP decides to throttle your speed, you'll still be able to browse at full speed.
10. Secure your online gaming
Do not expose yourself to DDoS (distributed denial of service) attacks that threaten your security. With a VPN, encrypt your gaming session so that you minimize lag during gameplay.
Who Needs a VPN?
VPNs are great for those who use the internet on public networks like hotels, airports, coffee shops, etc. Because most people don't know how to poorly secure their connection, it's easy for someone on the same network to see what you're doing. This makes it difficult to do things like browse privately, download files without being detected, or even read emails. A VPN encrypts your data, making sure no one can see what you're up to.
A VPN is also ideal for travelers looking to connect to a private network while abroad. If you travel to China, for example, you'll want to make sure you aren't connecting to a Chinese server because doing so could put you at risk of arrest. With a VPN, you can connect to a US server and surf freely. You can also use a VPN to circumvent government censorship, such as in countries where certain things are banned.
Finally, a VPN is perfect for anyone working remotely. Whether you work from home or spend time traveling, you should consider purchasing a VPN service. Doing so ensures that your company isn't spying on your activities. And since many remote workers use their computers to check social media and perform other tasks, they may not realize that they're leaving themselves vulnerable.
Free vs. Paid VPNs
There are plenty of free VPN options available, including some that even offer unlimited data. Here we'll take a look at the pros and cons of having a free or Paid VPN service.
Pros:
Free VPNs tend to be more straightforward than paid ones. In addition, they often include features that allow users to stream videos, play games, and access geo-restricted content. 
Some VPNs have free options with premium features but require you to pay an annual fee. For instance, TunnelBear offers a free version that includes basic security features.
Cons:
The biggest drawback to free VPNs is that they're limited by their free tier. Most free VPNs will cap your monthly data usage at around 1GB per month. Some services go further, limiting you to 5GB per month.

Free VPNs typically lack advanced security measures. As a result, they might expose your IP address when you're using them.

Also, free VPNs usually limit bandwidth usage. That means you won't be able to use all the resources available to you.

Finally, free VPNs are generally less reliable than paid ones.

They may slow down your browsing speed, disconnect unexpectedly, or block access to certain sites.
The Bottom Line: Free VPNs are useful for casual users who just want to surf basic information on the internet. But if you plan on streaming videos, playing games, or downloading large files, you'll probably want to invest in a premium subscription instead.  
There are plenty of great VPN services out there, but finding the right one for you can be tricky. Luckily, I've done the legwork for you and compiled a list of the top 10 VPNs below. 
1. NordVPN
With more than ten years of experience, NordVPN is a leading VPN provider. NordVPN gives you military-grade protection online, and you can access all your favorite sites without restriction. NordVPN never logs your activity when using their servers, which are operated under the jurisdiction of Panama, where there are no mandatory data retention laws. So you can always trust your privacy to NordVPN.
NordVPN has recently launched a new feature called "Meshnet" which is like a DIY virtual private network which allows you to connect to one of your own devices. 
NordVPN Features »
NordVPN uses AES with 256-bit keys, which is recommended by the NSA for securing classified information, including the TOP SECRET level.

Strict no logs policy – NordVPN does not log into "browsing history, traffic information, or IP addresses.

Easy to  Setup

Its threat protection feature protects you from ads, trackers, and blocks malicious sites.

DoubleVPN

–

Multi-hop connection – NordVPN routes your connection through a second  secured server to double your security

DNS leak protection

Streaming support

SmartPlay

–

With this you can

securely access all kinds of content

Lightning speed

Secure up to 6 devices simultaneously

Dedicated IP address

Split tunneling using a new feature called Mashnet

No kill switch on Android 

VPN apps for various devices

Browser proxy extensions

Block ads

NordVPN has

5,539

servers in over 59 countries around the world.

NordPass

password manager and NordLocker encrypted file storage make NordVPN more powerful.  

Static IP addresses for an extra $5.83/mo

Dedicated servers

NordVPN now has 10Gbps servers that will be able to handle 5G data consumption

Dark web monitor 

Onion over VPN

Protocols: NordLynx

, and 

IKEv2 are available for iOS and macOS 

24/7 customer support –

live chat & email support

30-day money-back guarantee
Benefits of NordVPN: 
NordVPN is the best option to access the Dark web

It works great with popular streaming sites like

Netflix, BBC iPlayer, ABC iView, Apple TV, Disney+, etc…

While comparing NordVPN to others, it offers the highest downloading and uploading speed. (300Mbps is minimum)

Despite all, NordVPN offers 5500+ servers in 59 different countries. (It's the second highest in the industry)
Pricing: 
NordVPN comes with three pricing plans.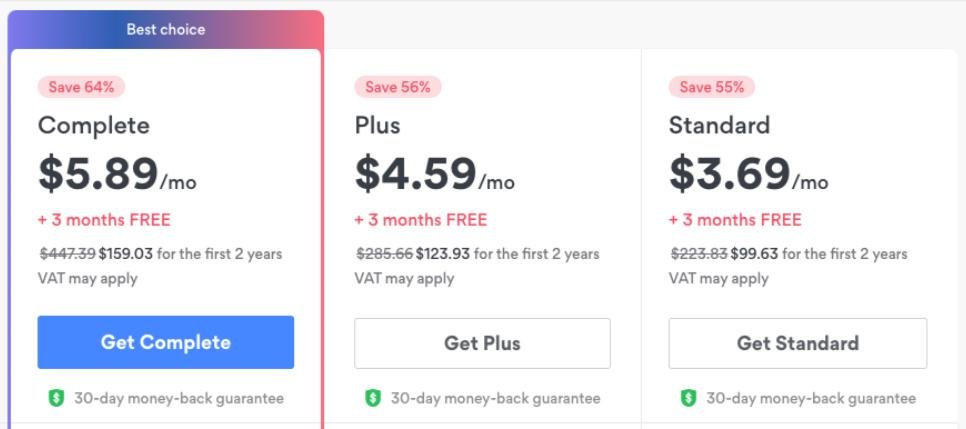 Standard:

$11.99/month; if you choose a monthly subscription, $4.99/mo; if paid annually, $3.69/month; if you choose a 2-year subscription plan
Plus:

$12.89/month; if you choose a monthly subscription, $5.89/mo; if paid annually, $4.59/month; if you choose a 2-year subscription plan
Complete:

$14.19/month; if you choose a monthly subscription, $7.19/mo; if paid annually, $5.89/month; if you choose a 2-year subscription plan
             64% Off for a 2-year subscription plan 
2. ExpressVPN
The VPN market is full of companies claiming to offer faster connections and better security than others. But ExpressVPN stands out among the crowd. In addition to offering fast speeds and good security features, ExpressVPN also has a strong focus on educational features like ExpressVPN trust center and Game better making it a super powerful VPN.
ExpressVPN Features »
Easy to setup

Use 5 devices simultaneously

Strong encryption (AES-256)

Protocols: Lightway, IKEv2/IPSec, OpenVPN UDP/TCP, L2TP/IPSec

IPv6 split tunneling to help you choose which device you want to secure

High-speed 3,000 Servers across 94 Countries

VPN apps for almost all devices including Windows, Mac, iOS, Android Linux, Amazon fire TV, etc. 

Fastest connection speeds

Its "Game Better" functionality helps lower the ping and overall lag while playing online games. 

Zero-logging policy

Kill switch keeps your data secure even if your VPN connection turns off.

VPN split tunneling allows you to split some traffic from the VPN and the rest accesses the internet directly.

IP address masking to hide your actual IP

One-click connect

24/7 email and live chat support

30-Day money back guarantee
Benefits of ExpressVPN?
ExpressVPN is one of the best choices for unblocking popular streaming sites like Netflix, Amazon prime video, DAZN,  Hulu, Disney+, etc…

ExpressVPN of the best torrenting VPNs – ( Affordable alternatives are Surfshark & NordVPN)

One of the best things I like about ExpressVPN is its Pricing Plan. No matter which plans you select, you get all features. The only difference is the subscription period. 
The only downside is that ExpressVPN doesn't offer multi-hop connection and Tor anonymization networking. 
 ExpressVPN Pricing:
ExpressVPN offers three subscription plans…
6-Month: $9.99/month for a 6-month subscription
12-Month: $6.67/month for a 12-month subscription
             48% Off for a 12-month subscription plan 
3. CyberGhost VPN
CyberGhost VPN provider boasts over 6500+ servers in ninety-one countries. It's one of the most popular VPNs available today. 
The cool thing is that CyberGhost VPN is one of the most affordable VPN services available to you if you choose a 3-year subscription plan. It offers unlimited bandwidth, unmetered usage, and an easy-to-use interface. 
You can easily install CyberGhost VPN on multiple platforms such as Windows, macOS, Android, and iOS.
CyberGhost Features »
$2.29/month for a 3-year plan

45-Day Money-Back Guarantee

Connect up to 7 devices at once

Easy-to-use app for Windows, macOS, Android, iOS, and Linux. You can even configure CyberGhost VPN with your router, Smart TV, Amazon Fire TV Stick, or game console.

256-bit AES encryption.

No log policy

Stream live sports, download large files, and play online games with one of the fastest VPNs on the market.

24/7 Support
 CyberGhost Pricing:
1 Month: $12.99/mo -Billed $12.99 every month
1 Year plan: $4.29/mo – Billed $51.48 every year
2 Years: $3.25/mo – Billed $78 every 2 years
Grab Your 82% Discount While You Can Enjoy 3 Years of Unrivalled Anonymity for Only $2.29/mo. 
4. ProtonVPN
The VPN market is crowded, but ProtonVPN stands out among competitors because it offers unlimited bandwidth and servers in over 75 locations. In addition to being able to connect anywhere, ProtonVPN allows you to use unlimited devices simultaneously without having to pay extra fees. To keep things simple, ProtonVPN offers free unlimited bandwidth.
ProtonVPN Features »
Unlimited Bandwidth

A free subscription plan is available

10 Devices Simultaneously

Unmetered Usage

No Log Policy

ProtonVPN comes with a feature called NetShield to help you protect from malware, and block ads.  

Protocols:

OpenVPN, IKEv2, and WireGuard

1700+ Servers in 64 countries

30-day money-back guarantee

Access content & streaming services from restricted regions. (Netflix, Disney+, Prime Video)

P2P/BitTorrent

High-speed server

24/7 Live Chat

DNS leak prevention

Kill Switch and Always-on VPN

Proton VPN comes with Tor support built-in. You can route your network through the Tor network. 
ProtonVPN Pricing 
Free subscription

– 100+ servers in 3 countries (US, NL, JP), Medium VPN speed, 1 VPN connection, and a Strict no-logs policy.

1-Month Plan: $9.99/month

1-Year Plan: $5.99/month (Save $48)

2-Year Plan: $4.99/month (Save $120)
5. TunnelBear VPN
TunnelBear encrypts your internet connection to keep your online activity private on any network.
TunnelBear is a free VPN service that allows you to browse the web privately and securely, even when connected through public Wi-Fi hotspots or unsecured networks at coffee shops, airports, hotels, etc. It's easy to use and works with all major browsers including Chrome, Firefox, Safari, Opera, etc. 
TunnelBear offers 500 MB secure browsing with its secure browsing. However, with a small price of $3.33/month, you can have unlimited secure browsing. Not just that you can add 5 devices simultaneously. 
TIP: You can make a tweet about TunnelBear to get an extra 1GB
TunnelBear Features »
A free plan for browsing 500 MB of internet securely

Its vigilance mode keeps you safe from unreliable and unsecured traffic.

No logging

TunnelBear offers lightning-fast speed and a safe wifi connection.

You can connect to the fastest server in 48+ countries on TunnelBear VPN.

AES 256-bit encryption

Add up to 5 devices 

TunnelBear's GhostBear makes your encrypted VPN data less detectable to governments, businesses, and ISPs.

TunnelBear is available on Mac, Windows, iOS, and Android. It also offers free browser extensions.  

Priority Customer Support
TunnelBear VPN  Pricing
Free 500MB Secure Browsing

Unlimited

– $3.33/month

Team

– $5.75 per month
6. Mullvad VPN
Mullvads VPN is a fast, reliable, and secure way to access the internet but not a suitable option for unblocking streaming services like Netflix. The service uses strong AES 256-bit encryption and is based in Sweden, which means it has no ties to the US government.
MullvadVPN is not only great for torrenting but also for protecting yourself while using public WiFi. If someone tries to hack into your device, they won't be able to see any of your personal information because it will be protected by the VPN.
MullvadVPN is completely anonymous. In fact, they don't even ask for your email address. so there's no risk of having your identity stolen. Plus, the company doesn't keep logs of user activity, so you don't have to worry about accidentally revealing something embarrassing.
MullvadVPN  Features »
Fastest VPN speeds

Simple setup

Fully transparent 

Connect up to 5 devices simultaneously 

Strong AES 256-bit encryption

No logging policy

Protocols: OpenVPN and

WireGuard (Recommended)

Anonymous Browsing

Free apps for all major platforms (iOS, macOS, Windows, Android)

Open source code

Integrated kill switch

Support IPv6

24/7 customer support (Dedicated support team)

SOCKS5 proxy (Shadowsocks proxy )

No third-party trackers on the website

Mullvad VPN supports port forwarding, slipt tunneling, and torrenting. 

Externally audited 

Custom DNS server 

Safe jurisdiction

Multihopping

In-app problem reporting 

Ad and tracker blocking

Automatic WireGuard key rotation

30 days money back guarantee 
Mullvad VPN Pricing
Mullvad VPN pricing is quite impressive. 
1 Year: €5/month

1 Month: €5/month

1 Decade: €5/month
7. PureVPN
PureVPN lets you break free from internet restrictions and censorship. So you have unrestricted access to websites, videos, live events, and more. In addition, it provides a secure connection with 256-bit encryption for your online privacy.
With the best VPN service, you can browse any website anonymously without worrying about being tracked or monitored by anyone. You can also use the best VPN to bypass geo-restrictions on streaming services like Netflix, Hulu, Amazon Prime Video, etc.
With over 6500+ servers in 78 countries, PureVPN comes with a fast & stable VPN service. 
The best thing about this VPN service is that it supports 20+ devices including Amazon firestick, Routers, Xbox, etc…
PureVPN features »
Unlimited bandwidth

300,000 IPs with 6,500+ servers in 78+ countries.

PureVPN allows you to use 10 devices simultaneously

256-bit encryption

Split tunneling

Kill switch

Zero log policy

Multi-platform app – Gaming platforms, TV, routers, desktop, and mobile. 

Private browsing and dedicated IP for maximizing your overall internet security

3 days money back guarantee

Purekeep Password manager

With the port forwarding add-on, you can access your device or web service from any location securely.

Anonymous Surfing

IP address masking

Dedicated Streaming Servers

DDoS protection 

IPv6 leak protection

WebRTC leak protection protects real IP addresses from leaking

ISP throttling & P2P protection

PPTP, L2TP, SSTP, IKEv2, WireGuard, OpenVPN & IPSec protocols.

24/7 Live support 
PureVPN Pricing
24 + 3 months deal – $1.99/mo;  Get 82% off for the first 27 months 

12 Month plan – $3.24/mo; Get 70% off for the first 12 months

1 Month – $10.95/mo; No discount
8. IPVanish
One of the most popular providers, IPVanish, offers something different. In addition to offering unlimited bandwidth, it provides competitive speeds, an interface encouraging learning, and unlimited simultaneous connections.
It also includes many other useful features such as DDoS mitigation, advanced kill switches, and DNS leak protection.
IPVanish has a pool of 2000+ servers in 75+ VPN locations with 40,000+ IPs. 
IPVanish features »
Unmetered connections (connect unlimited devices)

SOCKS5 proxy to maximize speed

Secure Media Access 

Combat internet censorship

Kill switch

DNS leak protection

10 simultaneous connections

24/7 support via live chat, email, and phone

High-speed surfing

Prevent ISP throttling

Secure your online gaming

Avoid Geo-targeting

Protocols: WireGuard®, OpenVPN, IKEv2, and IPSec.

30-day money-back guarantee
IPVanish Pricing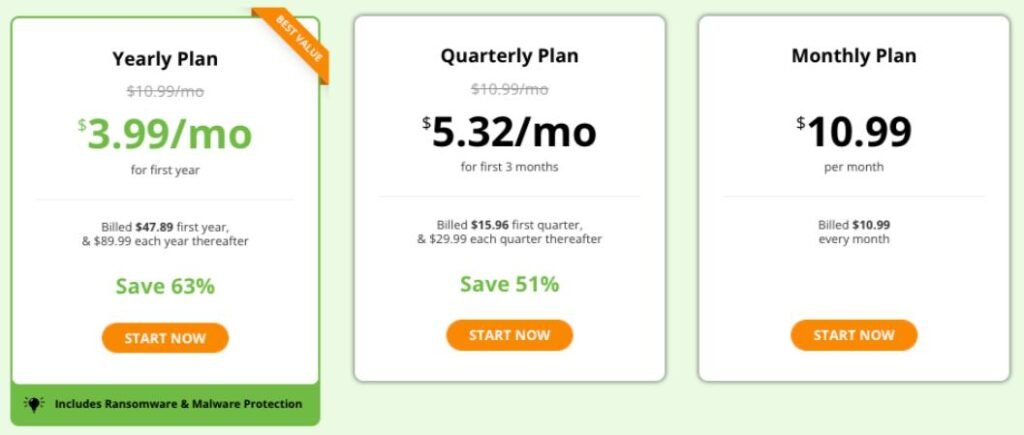 Yearly plan: $47.89/yr for the first year (which is $3.99/month)

Quarterly plan: $15.96  for the first three months and then $29. ($5.32/mo)

Monthly plan: $10.99/month
9. Norton 360 With LifeLock Secure VPN
Norton is known as an antivirus solution for PC/Laptops. But it also offers VPN services with its "Norton 360 with LifeLock" to protect you against hackers, identity thieves, and other cyber criminals while surfing the web. Norton Secure VPN encrypts your traffic so that only you can read it. This way, nobody else can see what websites you visit, what content you download, or any personal information about you.
Norton Secure VPN Features »
Encrypts your Internet traffic

Block ads and trackers

Unblock geo-restricted content

Connect & secure  up to 10 PCs, Macs, smartphones, or tablets

Anti-spyware, Antivirus, Malware, and Ransomware protection

Password Manager

Smart Firewall

Pc safe cam – blocks unauthorized webcam access to your PC.

Darkweb monitoring

Lifelock identity alert system 

Million Dollar Protection™ Package is here to help – it helps you with personal expenses you incur and money stolen as a result of identity theft, up to the limits of your plan. We will also provide lawyers and experts, with up to $1 million, if needed to help resolve your case. (Say's Norton)

SNN and Credit Alerts

ID verification monitoring

No logging policy

Total server locations: 200 servers in 30 countries

24/7 technical support

60-day money-back guarantee

Available on Mac, iOS, Windows, and Android
NOTE: Norton Secure VPN doesn't support Bit Torrent, Linux, and set-top boxes. And also limit the use of Netflix and streaming.
Norton 360 Lifelock Pricing 
$9.99/month for the first year then $17.99/month

$99.48/yr for the first year then $180 per year.  
Norton secure 360 might seem expensive at first. But remember it's a total security system. It not just secures your connection but takes care of your PC and other aspects of security. 
10. Surfshark
Surfshark offers excellent value for money, but there's no compromise in terms of quality. It allows for limitless device connections, and it lets you access Netflix, Disney+, and other streaming services without any trouble.
Surfshark works well with US Netflix, connecting to its Boston VPN server location. In total, the VPN unblocks 10 Netflix regions at high speed. Surfshark is affordable, with a Smart DNS tool for added device compatibility.
Surfshark Features »
Affordable on a 2-year subscription plan

GPS spoofing setting on Android app

Unlimited device connections

High-speed content delivery

Advanced features and extra options

Streams Netflix, Hulu, HBO Max, and more.

30-day money-back guarantee

Connect with the two servers at the same time using the MultiHop feature

Ad blocker

No Logs Policy
Cons
Un-audited logging policy

By default, kill switches aren't enabled.

Slow connection speeds to some websites

No port forwarding

No IPv6 leak protection
Pricing 
According to Surfshark VPN, it costs 2.49$ a month if you get the 2-year plan. The average price of any VPN is around 3$ per month. If you wish to opt for a monthly subscription, Surfshark costs $12.95 per month.
So these are a few best VPN services that will help you to protect your privacy online.
A few things that you need to know about  VPNs (Virtual Private Networks)
#1. Are Free VPNs Good?
A lot of people assume that there must be some sort of catch, or that a free VPN simply won't do what it says on the tin. But the truth is that many free VPNs actually offer quite a lot. Some even let you pay later, rather than signing up for a whole year upfront.
But they still come with limitations – usually, the number of devices you can connect to, or how much data you can use each month.
So why bother paying for one? Well, it depends on what you want from VPN software. If you want something simple, like a way to browse anonymously while away from home, then a free option might be fine. Or maybe you want something more robust, such as a service that lets you access US Netflix without being blocked in your region. In those cases, you'll probably find that paid options give you better value.
#2. Are VPNs legal?
The truth is, there isn't one simple answer. Some governments around the globe have taken steps to make sure people aren't accessing blocked sites via VPNs, while others haven't cracked down on VPN usage at all. In fact, many countries simply don't care what you're doing online – even if it's illegal.
But, depending on where you live, you could find yourself in trouble for using a VPN. For example, some countries have laws that might get someone into trouble in certain situations involving VPNs.
In addition, some companies have policies against providing VPN services to customers in certain regions. And, in some cases, ISPs might throttle connections to VPNs.
So, before using any VPN service in your region, make sure to conduct a little research on Google or check with the local government to decide if it's okay to use VPNs in your region.
#3. Features to look for in a VPN service
VPNs aren't just for privacy anymore. You can use one to access geo-restricted apps like Spotify, watch TV without cable, and even play games online. So how do you know whether a VPN service is worth it? Here are 14 things to consider.
No-logs Policy

AES-256 encryption – The most secure form of encryption available today. It's used by banks, military agencies, and other organizations that require absolute security. 

Support Multiple Protocols –

Most VPN providers now offer multiple protocols so you can choose which ones work best for you. These include OpenVPN, L2TP/IPsec, PPTP, SSTP, IKEv1, IKEv2, IPSec, SSL/TLS

Number of Servers

Number of Countries Supported

Fast speed for better streaming or browsing. 

Look for affordable Pricing and Unlimited Bandwidth

Customer Support 

Kill Switch –

It keeps your data safe even if your VPN connection drops, blocking all internet traffic until protection is restored.

DNS Leak Protection –

DNS leak protection prevents third parties from tracking your activity by changing your IP address. This feature is especially useful when connecting to public Wi-Fi hotspots.

Multiple Devices Supported –

Windows, macOS, routers, Xbox, Android, iOS, or Linux.

Data Encryption –

Data encryption means that no one else will ever see your information. It also protects your identity so that nobody can steal your personal details.

Port forwarding  –

Port forwarding allows you to set up a secure connection through a router. This makes it easy to connect to servers located outside your network.

Browser extension –

A browser extension is an add-on that works within a web browser. They allow you to connect to a VPN server directly from your browser.
Conclusion
There are many more VPN providers out there, but these are some of the best ones.
ExpressVPN is my favorite because of its ease of use, great performance, and excellent customer service.
If you're looking for something simple, cheap, and reliable, then I recommend using CyberGhost VPN.
I hope this article helped you find the right VPN for your needs. If you have any questions, feel free to leave them below. Thanks for reading!